Roman Polanski's wife turns down offer to join Oscars body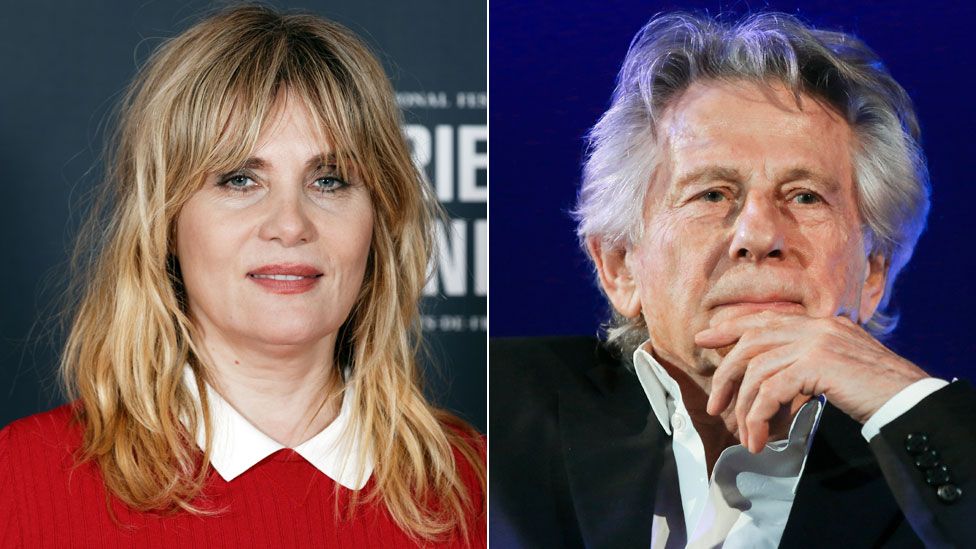 Roman Polanski's wife has rejected an invitation to become a member of the awards body behind the Oscars, extended weeks after it expelled her husband.
French actress Emmanuelle Seigner accused the Academy of "insufferable hypocrisy" over the incident.
Polanski, who admitted unlawful sex with a 13-year-old in the US in 1977, was ejected from the Academy of Motion Picture Arts and Sciences in May.
Seigner, who was one of 928 artists invited to join the Academy as part of a bid to boost diversity last month, gave her response in an open letter published in France's Le Journal du Dimanche newspaper.
She said: "I have always been a feminist. But how can I ignore the fact that a few weeks ago the Academy expelled my husband, Roman Polanski, in an attempt to appease the zeitgeist - the very same Academy which in 2002 awarded him an Oscar for The Pianist! A curious case of amnesia!
"The Academy probably thinks I am enough of a spineless, social climbing actress that I would forget that I have been married to one of the world's greatest directors for the past 29 years."
Seigner has worked with her husband on films including Bitter Moon, Venus in Fur and The Ninth Gate.
The 52-year-old has also appeared in The Man Who Laughs and The Diving Bell and the Butterfly.
Why was Polanski expelled?
In December the Academy issued a new code of conduct for its members that outlined its plans to address sexual harassment in the film industry.
It came in response to the allegations of sexual misconduct against Harvey Weinstein and others in the ensuing #MeToo campaign.
Academy CEO Dawn Hudson wrote a letter to all 8,427 members telling them they would be expected to abide by the new guidelines.
"There is no place in the Academy for people who abuse their status, power or influence in a manner that violates recognised standards of decency," she wrote.
Polanski admitted unlawful sex with Samantha Geimer, who was 13 years old in 1977, and served 42 days in prison.
The Rosemary's Baby director subsequently fled the US over concern that a plea bargain deal would be scrapped.
Has anyone else been expelled?
Weinstein was the first person to be kicked out of the Academy in recent years, in the wake of the sexual abuse scandal.
Weinstein has denied all allegations of non-consensual sex and pleaded not guilty to rape and sexual assault charges earlier this month.
Actor Carmine Caridi lost his membership in 2004 for sharing copies of film screeners.
Has anyone else been affected?
Retired NBA star Kobe Bryant had his invitation rescinded earlier this month, despite winning an Oscar in March for animated short Dear Basketball.
It was reported that Bryant had been approved for membership but that the decision was overruled by the Academy's governors committee.
Who else has been invited this year?
Get Out's Daniel Kaluuya, Game of Thrones actress Lena Headey and Star Wars star Daisy Ridley are among the British performers to have been invited to join.
Harry Potter creator JK Rowling has also been invited after writing and producing the Potter spin-off Fantastic Beasts and Where to Find Them.
This year saw the largest number of new members ever invited to join the Academy.
More than a third are from minorities, part of a push to double the number of women and ethnic minorities in the institution by 2020.