Simon Le Bon denies sex assault claim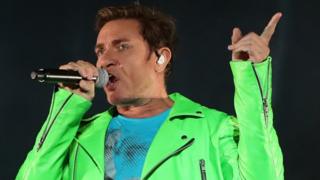 Duran Duran star Simon Le Bon has denied sexually assaulting a fan, saying her story is "simply untrue".
Shereen Hariri said the singer groped her while signing autographs at the record store where she worked in 1995.
Writing on Facebook, she said Le Bon was posing for photos when he grabbed her "butt cheek" and started "making his way down my butt to my genitals".
"I was shocked and completely frozen," she continued, adding that she is not seeking compensation, only an apology.
Hariri, who is now 47 and works as a therapist in Los Angeles, said she was "afraid of the consequences" of confronting the star after the incident.
"If I made a scene, I'd be in the press: The 'Girl Who Accused Simon Le Bon'. I'd probably be fired, rejected, ignored, even hated," she wrote.
She changed her mind after the release of Donald Trump's notorious "grab them by the pussy" tape in October 2016.
"I decided that time's up. I'm not holding this secret anymore," she wrote in her statement.
"I want everyone to know what this man did to me. I hope he comes clean publicly. I hope he make amends to his wife and daughters."
In response, Le Bon posted a message on Duran Duran's official Facebook page, challenging her depiction of the 1995 incident, at The Wherehouse music store in Los Angeles.
"The behaviour that Ms Hariri has accused me of, would have been just as inappropriate and unacceptable to me then as it is today. But the allegation is simply untrue.
"When Ms Hariri first contacted me about her claim months ago, I proposed meeting with her in person so I could set the record straight. Instead, she has decided to pursue this publicly.
"I have always been one who can admit to my mistakes and apologize for my failings. But I cannot apologize for something I did not do."
Underneath his statement, Duran Duran's publicist and assistant Katy Krassner added her own defence of the singer.
"I was also at the in-store event in 1995," she wrote, "and I can tell you that what he is being accused of DID NOT happen.
"Simon was never out of my sight that entire day, as each of the people on the Duran Duran team were 'assigned' to a band member to help with the record signing.
"Apart from anything else, as any fan knows, these kinds of events are a whirlwind of quick handshakes and photo calls which literally last a matter of seconds.
"The idea that he sat there, right next to his band mates, in front of a bunch of cameras, reaching behind him to sexually assault someone that day is simply ludicrous."
Speaking to the Detroit Free Press, Hariri's lawyer said Le Bon had pulled out of a proposed meeting with her client - which prompted her to go public with her story.
"We were within a hair's breadth to do a sit-down with him," Sarah Prescott said.
"At first he was kind of, 'Yes, well, maybe later.' It was just not gonna happen. Her view was, 'Let's just let the sunlight in.'"
Follow us on Facebook, on Twitter @BBCNewsEnts, or on Instagram at bbcnewsents. If you have a story suggestion email entertainment.news@bbc.co.uk.