Mira Sorvino: Casting director gagged me with condom when I was 16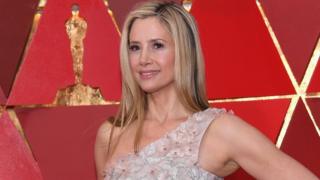 Mira Sorvino has said a casting director gagged her with a condom when she was aged 16.
The actress was auditioning for a horror movie scene, and said in order to scare her, she was tied to a chair and her arm was bruised.
"I was 16 years old, and then he gagged me," she said during a podcast for the Hollywood Foreign Press Association.
"At the end he takes the gag out of my mouth and he said 'sorry for the prophylactic'."
She added: "So he had gagged me with a condom. It was so inappropriate and what the heck was a casting director doing with a condom in his pocket in an audition?"
Oscar-winning Sorvino, 50, did not name the casting director.
She said that audition was one of her first introductions into how the acting system works and explained that "when you're young, you don't question".
"When you're young, you're like 'Oh, OK I've got to be tough, I've got to be down to really perform.
"If that means they need me to go this extra mile... you see, many times we have awards given to people for giving particularly raw performances, in very brutal sexual scenes or things like that," she said.
She also recalled another sexual harassment encounter with an unnamed director.
Sorvino said it was one of many instances where she was harassed whilst auditioning, having been told by friends "you're going to absolutely have to have sex with all kinds of people to advance your career."
When asked about the effect of the #MeToo movement, the Mighty Aphrodite actress believes it's made the public realise how widespread the issue of harassment in the entertainment industry is, and believes it will affect the law.
"You're seeing legal ramifications, hugely powerful abusers who were formerly untouchable, such as the Bill Cosbys and the Weinsteins of the world are now facing serious legal consequences, criminal consequences," she said.
Weinstein has denied engaging in any non-consensual sex acts and recently pleaded not guilty in a third sexual assault case.
Sorvino is one of more than 70 women who have accused him of sexual misconduct.
---
Follow us on Facebook, on Twitter @BBCNewsEnts, or on Instagram at bbcnewsents. If you have a story suggestion email entertainment.news@bbc.co.uk.