How David Bowie helped inspire a Fantasia stage show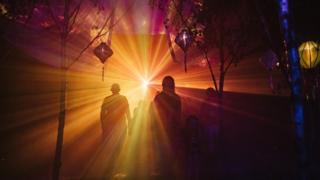 Released in 1940, Fantasia was Walt Disney's third full-length film - a unique attempt to match classical music with animation. It might appear the least likely Disney classic to put on stage. But Sounds and Sorcery: Celebrating Disney's Fantasia is far from standard West End fare.
Kieron Vanstone had been running the live venue The Vaults beneath London's Waterloo Station for five years.
It specialises in the unpredictable - from old Broadway musicals to contemporary art to children's shows. Overhead, the UK's busiest rail station rumbles ceaselessly.
Vanstone says he doesn't go to traditional theatre much; he prefers finding new ways to do things. Neither of the shows which got him thinking about a possible new Fantasia for the stage has an obvious connection to what Disney was doing 78 years ago.
"I was watching a great show Simon McBurney did at the Barbican called The Encounter. There was a head on stage with him which contained a binaural microphone (which creates 3-D stereo sound). Simon McBurney walked around it and the audience, who were all wearing headphones, felt they were up there on stage with him.
"So I was thinking about audiences and headphones when I remembered how I was blown away by something I'd seen at the Victoria and Albert Museum - their show on David Bowie. People walked about wearing headphones and hearing Bowie's music and him talking."
Vanstone began to think how audiences in headphones, moving about at will, might transfer to a venue like The Vaults. Before long he and his team were talking to Disney about a show inspired by Fantasia, using the same classical pieces by Schubert, Stravinsky and others.
The show doesn't try to recreate the cinematic experience of the original and it doesn't use Disney characters. But it tries to match the film's creativity using new technologies.
Daisy Evans is the director, with a background mainly in opera.
"Because people can now walk around listening to fantastic music on high quality and reliable wifi, you no longer need audiences to sit staring at a proscenium arch for two hours," she says.
The original recordings were made by the Philadelphia Orchestra under Leopold Stokowski in an early form of stereo which Disney called "Fantasound". It was technically advanced for 1940 but the show is using versions newly recorded in Prague.
The show isn't being produced with Disney Theatrical but the company has had to give approval for what's done in its name. Daisy Evans says people who loved the film and who love classical music are going to be a big part of the audience.
"But I think lots of people will love this strange subterranean world they enter - it's not quite like any other show.
"Two of the elements have real live performers - including The Sorcerer's Apprentice, which has always been one of the most loved parts of the film. In that case, the audience comes in and watches something like a traditional story on stage - but there's no Mickey Mouse."
The show's designer Kitty Callister says other bits of the experience have a different feel.
"When you enter you're invited to lie down on something like a sofa-bed and watch a video installation," she explains.
"But when it came to reinterpreting Tchaikovsky's Nutcracker Suite I was very influenced by the fantastic colours the Disney animators used in the flowers - so we made our own and we're doing magical things with the lighting. too."
Daisy Evans thinks telling stories in new and immersive ways is liberating for a director.
"If people go to Hamlet or to an opera in a traditional theatre, generally, they get a fairly traditional production," she says. "But when they can walk about they'll accept - and maybe even demand - something more adventurous."
As a producer, Kieron Vanstone has watched a new audience develop: "Of course some of the audience for our version of Fantasia will be people who would go to the National Theatre or to a classical concert.
"But there's a new audience which is very relaxed about what they define as entertainment. Look at Punchdrunk's immersive mystery Sleep No More which has been running in New York for years - it's a huge example of an audience being free to wander about and explore an engrossing narrative.
"People now walk the streets looking at their phones all the time: we have a different relationship with the world about us.
"Headphones and virtual reality goggles are an extension of that. It's not going to replace sitting in the stalls and gazing at actors but we are moving in new directions all the time."
Vanstone says in the middle of setting up Fantasia he was approached about a very different immersive experience.
"The idea is to use VR in an escape room narrative with a theatrical feel. The audience would be in a black box but as soon as the goggles go on they see a sophisticated escape room about them. And then a story can start. So the boundaries of what is and is not theatre are changing quickly."
Sounds and Sorcery: Celebrating Disney Fantasia is at The Vaults in London