Now That's What I Call Music: How one compilation came to rule them all
By Mark Savage
BBC Music reporter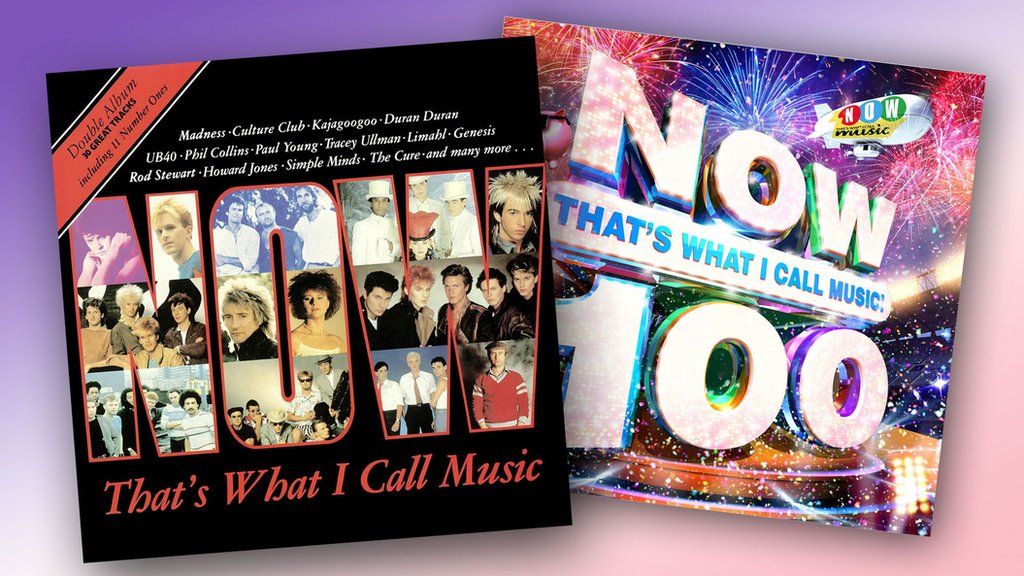 Now That's What I Call Music is the biggest-selling compilation series in the world, with more than 120 million records sold and 654 weeks at number one.
Since 1983, the series has arrived three times a year, anthologising the biggest hits in the UK - from Phil Collins to Dua Lipa and even Bob The Builder.
The average UK household owns four Now albums, and the compilations have thrived through multiple changes in music consumption, from vinyl and cassette to CD, via Mini-Disc and digital downloads.
The series has even remained resilient in the face of streaming - selling 3.2 million albums in 2017, more even than Ed Sheeran.
But where did that name come from? Why has Madonna never been on a Now album? And can it survive in the age of streaming?
We spoke to the people who created and developed the compilations, as well as the artists who featured on them, to find out.
Although Now! is one of the most well-known hits collections, they didn't invent the format. Before the series launched in 1983, Ronco and K-Tel had huge success with cut-price compilations of chart hits, cramming up to 20 songs on a single album.
Pickwick Records also released a series called Top of the Pops - nothing to do with the BBC series - which featured knock-off cover versions and, for some reason, scantily-clad models on the front cover.
Don Reedman (head of 1970s record label K-Tel): Until Now came along, K-Tel dominated the compilation hits market. We had various titles - Dynamic Hits, Power Hits, Greatest Hits, Latest hits. So K-Tel were the first [label] to take the original artists with the original hits.
Limahl (lead singer, Kajagoogoo): When I was a kid growing up, it felt a real cop out to buy one of those Top of the Pops compilations with the dodgy girls on the front. You didn't tell anybody you had those albums - but if you couldn't afford lots of records, as I couldn't, that was a reasonable substitute.
Ashley Abram (compiler, Now volumes 2-81): I did an album called Raiders of the Pop Charts (for Ronco), which actually went to number one in January 1983. This was like a template for Now if you like [as] it used new tracks by Madness and Kid Creole, as opposed to tracks that had been in the charts and gone. That's something that EMI and Virgin picked up on when they started to put the first Now together in 1983.
Simon Draper (co-founder, Virgin Records): In 1983 Virgin reached a peak where, suddenly, we were the number one record company in the UK. Our lawyer Steven Navin noticed that, on any hits compilation, we could have half the tracks.
Jon Webster (former marketing director, Virgin Records): Steven called me in and said, "What am I going to do? I'm getting requests from these companies all day, every day". At that point, one of us said, "Couldn't we do this ourselves?" We looked at each other and literally got a piece of paper out of the bin and started writing down all the costs involved. Then we looked at each other and went, "Wow! This could be really lucrative".
Simon Draper: They came to me and said, "Look, why don't we get into partnership with EMI? Between us, we could provide all the hits on a compilation".
Jon Webster: And that's how it started.
Simon Draper: Recycling old hits was a marketing exercise. I wasn't very interested in it, to be quite frank.
Nonetheless, the deal was done and the songs were selected. All they needed was a name...
Ashley Abram: As I remember, they were getting a bit desperate for a title and very late in the day, they looked round in this meeting and there it was.
Simon Draper: Behind my desk at Virgin was a poster which Richard Branson had given me as a birthday present some years before, which was a marketing poster for Danish Bacon. The joke was I couldn't really start the day without eggs and bacon.
Ashley Abram: It showed a chicken singing, while a pig listened and said: "Now that's what I call music!"
Simon Draper: Peter Jamieson [from EMI] was sitting in front of me and he said, "That would make a great slogan for the compilation!"
Ashley Abram: When it first came out, people said, "Oh I don't know about that name - it sounds a bit strange".
Simon Draper: The subtitle was "Danish eggs with Danish bacon every morning." That didn't make it on to the record sleeve.
Now That's What I Call Music was released on 28 November, 1983 with a glossy TV advert voiced by Tracy Ullman. Featuring hits by Culture Club, Heaven 17, Duran Duran and Bonnie Tyler, it entered the charts at number seven before climbing to number one, where it remained for five weeks.
Simon Draper: It wiped out all the opposition, pretty much. Somehow or other, we didn't have weak tracks or throwaway tracks as padding.
Steve Pritchard (managing director, Now Music): The K-Tel albums had tried to cram in so many songs, they were literally cutting minutes off tracks. Now always made a point of never editing songs.
Glenn Gregory (lead singer, Heaven 17): Our song Temptation was on disc one and we actually appeared on disc two as well, because we had produced and sung backing vocals on the Tina Turner track Let's Stay Together. So we actually got a double bubble on that one.
Liam Payne (pop star): That was the world's first playlist almost, which now is the theme of the music industry. So they kind of kicked that off.
Steve Pritchard: In the 80s there was a rival brand called Hits, and a lot of the tracks from the rival companies - Sony, BMG and Warners - wouldn't clear for Now. We were never able to access Madonna, for example.
Ashley Abram: And Michael Jackson only appeared with an older track on Now 4. There wasn't any of the Thriller era or anything like that.
Steve Pritchard: Historically, a lot of big American artists didn't really understand Now. They saw it - erroneously - as cannibalising their own sales. But when we've analysed it, tracks that are on a Now album see an increase in downloads and streams. It's almost an endorsement.
Mark Goodier (DJ and voice of the Now adverts since 1992): If you bought three Now albums a year in the 80s and 90s, you'd have a very good snapshot of the year in your life. People established that relationship with Now when they were kids and, of course, that's very formative.
Emre Turkman (musician, Years & Years): It's like a time capsule. It takes you on a journey where you go, "Oh my God, I remember where I was when Evanescence was number one!"
George Ezra (pop star): As a teenager, I wasn't very up-to-date with pop culture - but Now was one thing that I did know. So when my manager told me I was going to be on one, it was very exciting.
Jon Webster: People always remember their first one. It's like your first car.
Jess Glynne (pop star): As a kid you buy those albums and it's your everything. I remember when I got one with the Spice Girls and all of that and I was like, "Oh my God, it's like gold!"
Karl James McGilloway (collector): The first one I got? It was probably Now 15. It's a beige cover with beach balls. I got it as a gift and it became a bit of an obsession. I've got two complete sets on vinyl, two sets on cassette and all the CDs, videos and minidiscs. You name it, I've got it - on every format. They're in my loft in three huge boxes.
Dave Wharin (artwork designer, QD Design): My favourite covers are still the early years, especially Now 10. The neon sign was built especially for the album shoot.
Neal Martinez (artwork designer, QD Design): My favourite cover has to be Now 12. Dave actually stuck the number 12 to the bottom of a swimming pool, painted some polystyrene balls with the Now logo and had a photographer take a photo that would become the cover.
Mark Goodier: Some of the CDs seem bonkers to listen to now. There's a lot of songs that radio no longer plays - but Now always reflects them and that's good.
Ashley Abram: We tried to put artists of a similar genre together because in the old days of vinyl and cassette, you had four sides - so we'd try and have a pop side and a dance side and a rock side, basically to showcase all the genres.
Steve Pritchard: The perceived wisdom about compilations is that, when somebody picks one up, they look at the first half-dozen tracks and the last two or three tracks and make a decision accordingly. So the sound quality and the running order is important, but the opening half-dozen tracks are what really sells the album.
Mark Goodier: Some people discovered songs because of Now. I'd never thought of that before. I thought everybody knew all the hits - but it turns out that Now is quite a good music-discovery tool.
Colin Paterson (BBC Entertainment correspondent): When I first heard The Smiths it wasn't on John Peel or The Tube - it was on Now That's What I Call Music 2. What Difference Does It Make was on tape two, side one, sandwiched between Howard Jones and Fiction Factory's (Feels Like) Heaven. It was a life-changing moment. I tore all the Shakin' Stevens posters off my bedroom wall.
The series went from strength to strength - peaking with Now 44, which sold a staggering 2.3 million copies in 1999. Recent releases, including themed editions like Now Classic Soul and Now Christmas, still sell in massive quantities, with 3.2m Now albums being purchased in 2017 alone.
Steve Pritchard: We sell a huge amount in Tesco and Sainsbury's.
Simon Draper: Just the word "Now" is very key. It's so strong, isn't it?
Peter Duckworth (co-director, Now Music): The main purchase group is 25- to 34-year-olds. They're not as into music as they might have been in their teenage years but it's a way of keeping up with the chart. And then, of course, at that age people start buying it for their children.
Mark Goodier: It touches people who don't normally buy records, and that's great, isn't it?
Steve Pritchard: The Now Christmas album is now the seventh best-selling album of all time in Britain. It's sold four-and-a-half million copies, outselling Dark Side of the Moon, which is just phenomenal when you think about it.
Peter Duckworth: A big difference now is there are fewer CD players around. So that gifting purchase is still there because people like to give a DVD or a CD or whatever, but that's the part that will start to decline in the future.
Karl James McGilloway: I think people who collect them are a bit manic about it. I don't actually take them out of the polythene. I don't even play them.
Mark Goodier: I've got everything from the first CD - and some years ago, I bought a second and a third set, which I've got in a box somewhere.
Karl James McGilloway: The highest price I paid was Now 4, which was one of the first CDs that came out. It actually had the patent pending mark on the back of the case, which you can clearly see. I paid about £400 for it. And I've got three of them. They're very expensive to get. They're mega-rare. Probably the rarest of all of them.
As it ages, the Now series has become a totem of popular culture - with Now 48 providing a pivotal plot point in an episode of Peter Kay's Car Share. But can it survive in the streaming era, where users can curate their own playlists?
Steve Pritchard: Peter Kay is known for being brilliant on 80s and 90s pop trivia - and we thought Car Share was a lovely tribute to that album (Now 48).
Peter Duckworth: We were amused because, obviously, the Now albums are only available for three years - and that album had long been deleted. On Amazon, second-hand copies jumped up to £50.
Steve Pritchard: Black Mirror has asked if they could use a Now album in one of the episodes of the next series, which would be cool. I think it's just a nostalgic, set-dressing thing but it's quite funny.
Mark Goodier: Who knows what will happen to Now in the future - but the things that work in the digital era appear to be the brands that people trust. If you look around, there are only a few. Coronation Street and EastEnders are enduring brands that, for whatever reason, captured the public's imagination; and you can say that about Now as well.
Steve Pritchard: It's sold so well for so long and made so many people so much money that sometimes it's taken for granted. It needs to evolve with the times. But it seems to be able to adapt to various changes in technology and listening habits. It's like a marketing form of keepy-uppy: it bounces around, but it'd be very easy to drop the ball.
Jon Webster: Why is radio still successful? Radio is still successful because not everyone wants to curate their own playlist. They want, at various times, to have people saying "listen to this". They're passive listeners, I suppose, but there's a lot of them.
Simon Draper: The amazing thing is it does resonate with people. I would never buy a compilation CD.
Jon Webster, Limahl and Don Reedman were speaking to the BBC Radio 2 documentary, Now That's What I Call Compilations. Ashley Abram spoke to the Radcliffe and Maconie show for Now's 25th anniversary in 2009.
Graphics and data journalism by Clara Guibourg.
Related Internet Links
The BBC is not responsible for the content of external sites.