Why Jules Buckley is ripping up the Proms textbook
By Mark Savage
BBC Music reporter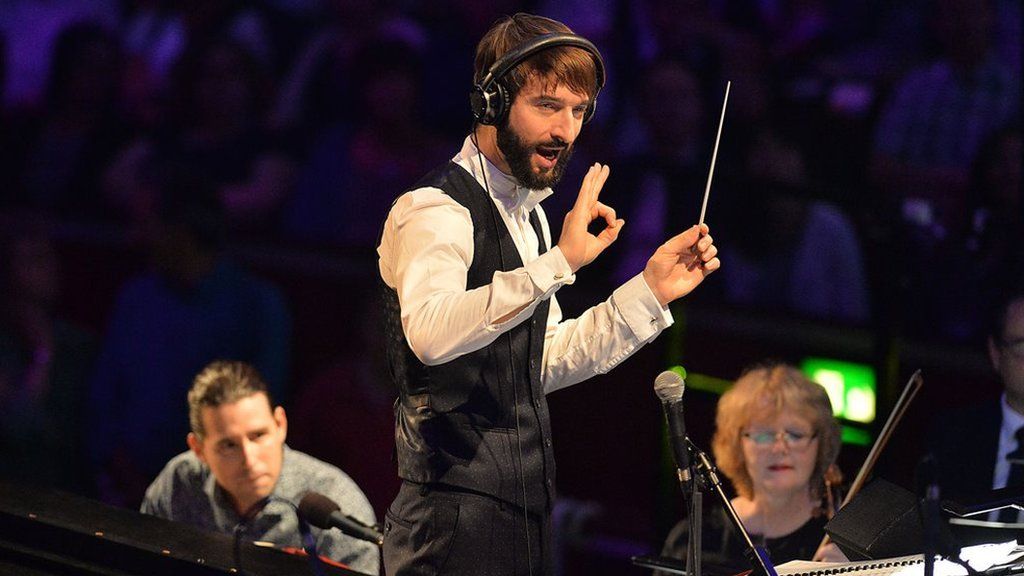 He's a former wedding singer who plays jazz trumpet - and Jules Buckley is quietly revolutionising the Proms.
The 38-year-old has overseen some of the festival's most forward-thinking concerts - from the club crossover of 2015's Ibiza Prom to the following year's Grime Symphony, which featured Stormzy and Wretch 32.
Whenever he steps behind the podium, you know the festival is about to shake off its reputation for clean, pristine classical music.
"Basically, I think we want to rip up that perception," says the British-born conductor, arranger and composer, who leads both the Heritage Orchestra and the Metropole Orkest.
"We're done with all that. My own personal mission is just to try and demonstrate that ensembles do so many different, incredible things these days."
The second, called New York: Sound Of A City, will celebrate the music of the Big Apple with guests including Sharon Van Etten and Hercules and Love Affair.
On the phone from Germany, the musician explained how he gets these projects past the Proms' producers and why he thinks a Stranger Things Prom would be a winner.
How does it work when you pitch ideas to the Proms? Do they look to you to shake things up?
They've got lots of their own ideas and obviously I have strong opinions, too. I also back that up, of course, with a big brown suitcase stuffed with wads of cash!
But seriously, I think we've developed a trust over the years; and I don't take it for granted, the privilege of being involved in the festival each year.
You're back twice this year. Which concert are you looking forward to most?
I'm super-excited about both of them, because they're both really, really bespoke. The Jacob Collier concert - it's almost like we're going to take the audience on a journey inside Jacob's mind. We're going to let them get on a little rollercoaster and burn around inside Jacob's brain for 100 minutes - and then we'll eject them.
And the New York one is something we've built from the ground up. We're aiming to make it one of the freshest gigs they've ever had in that festival.
New York nurtured disco, punk and hip-hop - but what's the current sound of the city?
It's very, very difficult to define. That's not the best answer but it's true! Initially, we wanted to do electronic disco but then we realised it's developed and become so fragmented over the years that we couldn't really confine it to one genre any more.
So I think the sound of New York is super-eclectic and super-diverse. That's why in the end we decided to go with this "snapshots" outlook. Instead of saying: "This is what's going on right now" we're saying: "This is some of what's going on right now".
The blurring of genres is a big theme in music at the moment.
It's amazing, isn't it? There's an infinite amount of music available, and travel is getting cheaper, so musicians can delve into so much stuff.
I mean, Jacob's been delving into Hamid El Kasri - he went over to Morocco and hung out with him; and he studied part of this Gnawa musical language. It's something that freaked him out and super-inspired him and you'll hear elements of that in Jacob's own compositions - but you'll also hear direct representations of that from Hamid himself at that concert.
How refreshing is it to work on that sort of commission, instead of the endless parade of centenary concerts that seem to clog up festival programmes?
To some degree, I feel it's important to acknowledge those moments in time - but sometimes you start to get the impression that no-one's got any ideas. That they're just sort of flailing around going: "OK cool, next year's 2025. That's the anniversary of this famous jazz album - let's play that live". To me, that's a bit of a cop-out. I think you should look to the future and try to do something fresh. But maybe I'm a bit opinionated.
What do you make of the trend for orchestras providing live accompaniment to films like Star Wars and Harry Potter?
It's always so tame. So tame. It's not just the milkman that digs those sorts of concerts. Like, next year is the anniversary of [sci-fi animation] Akira - and someone should do that.
You once said that if you could learn any new instrument, you'd get into 80s analogue synths. How about a Stranger Things Prom?
That's a frickin' great idea! Something exploring the history of those instruments would be cool, too. It's incredible how many people think the synthesizer is a modern instrument. It's not. It's been around for donkey's years.
But often on projects that represent music from those periods - 50s, 60s, 70s - the mistake is to not realise that these producer guys were super-nerds in the studio.
One synth sound on, say, a Michael Jackson tune is actually a combination of three synths playing the same part. And once you realise that, you realise that if you want to play this stuff live, you've really got to go in on it in the same way. Otherwise, it sounds half-arsed.
The Royal Albert Hall is such a storied venue. What's the worst place you've played?
That's a really good question! We've definitely done some pretty hilarious gigs over the years. The orchestra did a gig a couple of years ago on the side of an articulated lorry. That's the scuzziest thing I can think of.
I heard somewhere that the core rhythm section of the Heritage Orchestra is your old wedding band. Is that right?
Who told you that?! But yes, the bass player, the guitarist and me have definitely married a lot of people, including our best mates!
What were your wedding band staples?
We did a lot of soul and a lot of disco - but at a certain point, the boys got sick of that, so they really branched into the 80s and then I suddenly found that I was having to sing about an octave higher than I could. I think the ultimate larynx-breaker was Living On A Prayer.
I must say that, unbeknownst to most of the 'classical elite', a lot of musicians who take part in the Proms have played weddings in every manor house and every marquee in the UK to supplement our incomes.
Needless to say, I will never be gracing the Proms with my vocal talents.
I don't know, the Wedding Disco Prom sounds like a hit waiting to happen.
That's not a bad idea. Oh, crikey!
Jules Buckley plays the Proms with Jacob Collier on Thursday, 19 July. The concert will be broadcast live on BBC Radio 3, and shown on BBC Four on Friday, 20 July.
The New York Prom takes place on Wednesday, 8 August; and will be screened on BBC Four on Friday, 10 August.
Related Internet Links
The BBC is not responsible for the content of external sites.