Alan Bennett play Allelujah! takes scalpel to modern NHS
By Neil Smith
Entertainment reporter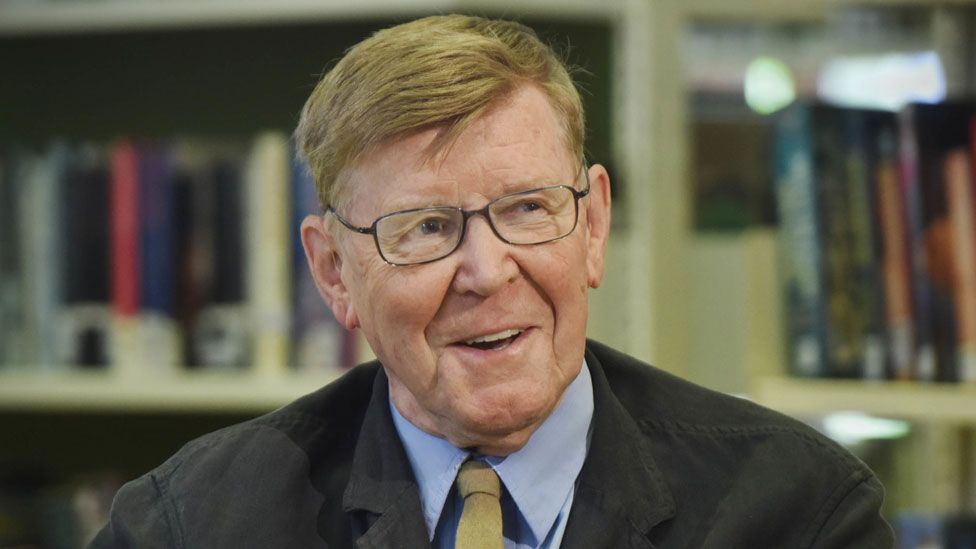 Alan Bennett says his new play is "very affectionate" about the NHS - but not towards those "trying to privatise it."
Set in a Yorkshire hospital threatened with closure, Allelujah! is 84-year-old Bennett's first stage play since 2012.
The play's premiere coincides with the National Health Service's 70th birthday and continued debate over NHS funding.
Bennett, though, said he had not meant it to be topical and that "events had caught up with it" since he finished writing it a year ago.
"There have been so many hospital scandals, and then all the Windrush business," he told the BBC after Allelujah!'s first night at the Bridge Theatre in London on Wednesday.
"But you don't start wanting to give a message. You start with the characters and it all comes out of that."
Those characters include an immigrant doctor, played by The History Boys' Sacha Dhawan, who faces the threat of deportation.
Also in the mix is a stern head nurse, played by The Split's Deborah Findlay, whose bedside manner makes Nurse Ratched from One Flew Over the Cuckoo's Nest look like Mother Theresa.
Front and centre, though, are the patients themselves, a dozen geriatrics whose singing, and dancing, belies their advancing years.
Played by Gwen Taylor, Simon Williams and others, this feisty ensemble intermittently break out into dance routines choreographed by former Strictly judge Arlene Phillips.
Actress Julia Foster, who plays elderly patient Mary, was hospitalised herself last year according to her son, TV presenter Ben Fogle.
Fogle was among Allelujah!'s star-packed first night audience and later paid tribute to his mother on Twitter.
For anyone who wonders where I get my drive and energy. This time last year Mum (below with Sacha Dhawan) was on life support in a coma in an Intense Care Unit, last night she took to the stage to play an elderly patient in the new #alanbennet play #Allelujah pic.twitter.com/ylPu3OKDh4

— Ben Fogle (@Benfogle) July 19, 2018
"I've never been able to dance, and when they do that stuff it's wonderful," said Bennett of the play's mature cast members. "They've got much more energy than I have.
"I never imagined them dancing - that's Nick's concept," he continued, citing the play's director Sir Nicholas Hytner. "He makes my work much more fun that it would be otherwise."
The Bethlehem Hospital where Allelujah! is set may be fictional, yet its problems with staffing, bed shortages and efficiency drives mirror real life.
In his programme notes, Bennett describes a play as "a plinth, a small eminence from which to address the world [and] hold forth about one's concerns."
Yet while Allelujah! is highly critical of how the NHS is managed, Bennett believes it is a "part of the fabric of England" that is worth both maintaining and defending.
"It's one of the few things where there's fellow feeling," he tells the BBC. "People know in their bones that it's right and that the American system is wrong."
Allelujah! has generally received a good diagnosis from the critics, one of whom describes it as "richly discursive" and "subversively political".
"This being a Bennett play, there is a wealth of good jokes and a deceptive patina of nostalgia," continues The Guardian's Michael Billington in his four-star review.
The Daily Telegraph's Dominic Cavendish applauds the play's "humanity-affirming zest" and "sublime turns of phrase" in his own four-star write-up.
Yet The Times' Dominic Maxwell was less effusive, calling it a "mild but sprawling satirical comedy" that "tests the patience" and "dawdles".
Allelujah! continues at the Bridge Theatre until 29 September.
Related Internet Links
The BBC is not responsible for the content of external sites.