Carrie Hope Fletcher urges Alex Day book boycott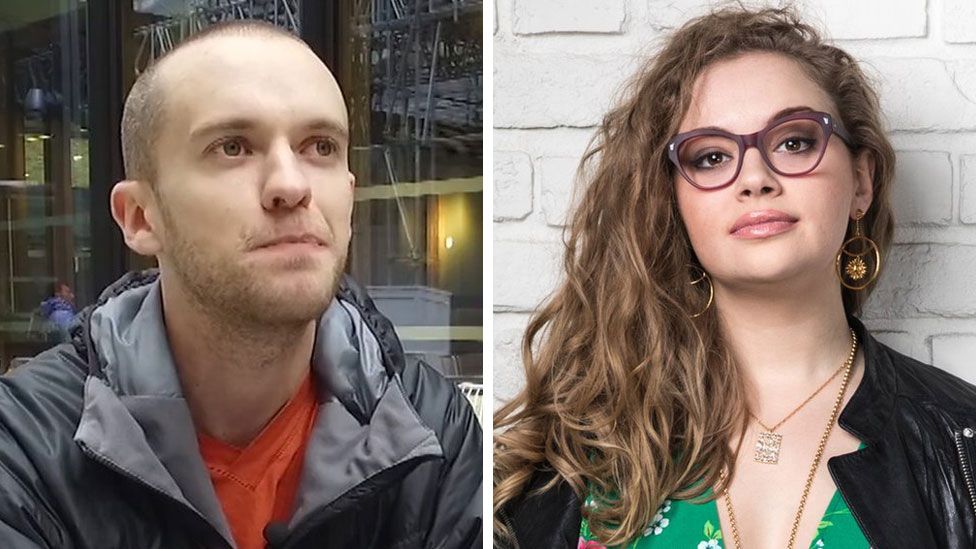 An upcoming book from YouTuber Alex Day, detailing his vlogging career and personal controversies, has sparked a row on social media.
On Wednesday, YouTuber Carrie Hope Fletcher - Day's girlfriend at the time - urged a boycott of the book and posted an exchange implying that Day ignored her request to be written out.
Day posted his own version in dispute.
Fletcher's original post shows an email exchange with Day including her personal request to be removed from the book, titled Living and Dying on the Internet.
"You've caused me so much pain already and I don't want any of that immortalised in writing, against my will and certainly not on the terms of the boy who caused all that hurt," she wrote.
"I ask that you do not write about me in any capacity. Whatsoever," her message reads.
Alex Day is publishing a book about his life (and death) online, apparently including details of our relationship. When I first heard of the book I messaged him detailing how uncomfortable that would make me. This was his reply. Please don't buy his book. pic.twitter.com/RYSGx94E4Z

— Carrie Hope Fletcher (@CarrieHFletcher) July 25, 2018
"I'll be happy to get my lawyer involved if you need to speak to them," she concludes.
The screenshot then infers Day's sole reply to have been: "Carrie, please send me your lawyer's details."
But Day, 29, contends that this does not represent the full dialogue and posted additional messages from the exchange on his own account that were absent from Fletcher's tweet.
"As usual, people are just sharing the parts of the story that help them the most," he wrote.
"For transparency, here is the FULL exchange between me and @carriehfletcher. (I never heard from her lawyers)," he tweeted.
The expanded batch of emails reveal that Hope Fletcher responded by expressing regret that the "kindness and compassion" Day publicly espouses "doesn't stretch as far as those asking you not to cause even more hurt".
"I'll be in touch with them tomorrow morning," she adds.
Day replied: "I'm sorry, I know I'm not making my compassion obvious to you but it is there. I care very much about your happiness and wish to minimise your suffering in whatever way I can.
He added that going through lawyers was "a good idea".
Fletcher discussed her feelings on her relationship with Day and the impact the scandal has had on her life in a YouTube video, saying there "not a day that goes by" where she does not think about it.
"When a big negative event like that hits the timeline of your life, it wedges itself into your timeline and splits it into two - from that point onwards you think of your life as before it happened and after it happened".
Fletcher has since stated that she never read the omitted messages as she blocked his address after the initial response.
"Before you accuse others of 'sharing the parts of the story that help them the most', you may want to have a flick through your own book".
In response, Day told the BBC he was awaiting the release date "so people can judge the book I've written, not the book people think I've written".
The 25-year-old said she did not wish to make Day "suffer for the same wrong-doing for eternity" but rather wanted to ensure "the power that was once abused doesn't fall into the same wrong hands".
We all do things we aren't proud of. We all make mistakes. We're all human. But our actions have consequences and people who abuse their positions of power should not be allowed access to those positions of power any longer which is why we're all still talking about Alex Day.

— Carrie Hope Fletcher (@CarrieHFletcher) July 25, 2018
It's not about trying to make him suffer for the same wrong-doing for eternity but about making sure that the power that was once abused doesn't fall into the same wrong hands. You don't try + live in a house once it's been burned down. You move on + build one somewhere else.

— Carrie Hope Fletcher (@CarrieHFletcher) July 25, 2018
Day's actions during their relationship - for which he has never faced charges - intensified a wider debate about abuse of power within the YouTube community at the time, amid numerous fan sex scandals.
The allegations led to Day being dropped by online record label, DFTBA, curtailing a promising music career that saw his song Forever Yours reach number 4 in the UK charts in 2011.
A number of high-profile YouTube stars subsequently launched the This is Abuse campaign with the government to tackle issues such as consent, sexting and controlling behaviour.
The videos seek to raise awareness of what a damaging relationship looks like and were specifically aimed at teenage boys.