From box office worker to West End stage star in five hours
By Annabel Rackham
Entertainment reporter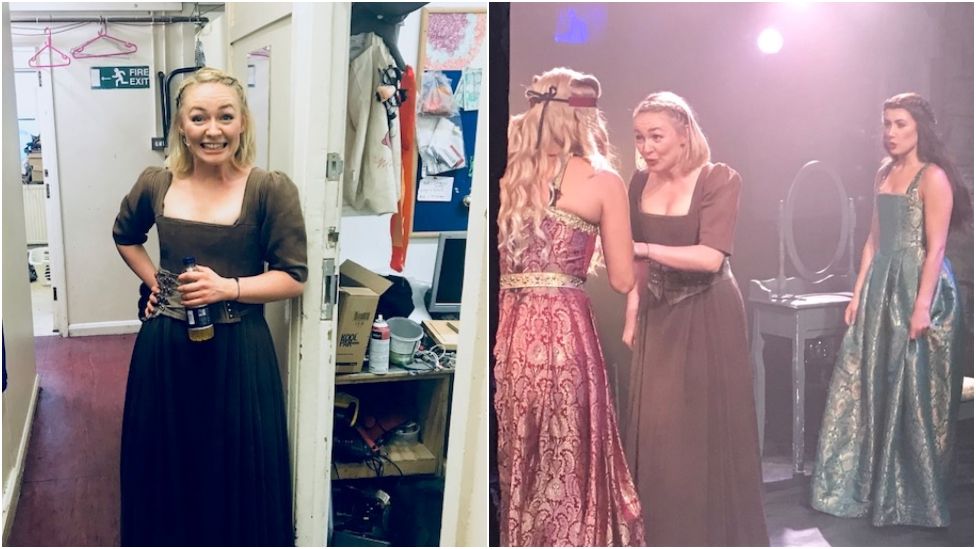 Jennifer Caldwell was working in the box office at the Arts Theatre in London when a show's producer asked for her help.
The theatre's current show - jukebox musical Knights of the Rose - needed a role filled as the understudy was already covering someone else.
Jennifer agreed to help at lunchtime and by 19:00 BST she was on stage playing the role of Emily.
The actress told the BBC that it was an "amazing experience" to be involved.
Jennifer says the producers were "aware" that a lot of the staff at the theatre were actors.
"I work all over the theatre front of house, box office, cafe and in the bar - wherever they put me basically."
"One of the producers saw me on the box office and said 'I've had an idea' about getting me to fill in.
"I said maybe, so he said 'what if we cut parts of the show - can you do a reduced version of the track?' and I said why not!"
"We rehearsed from 3.30pm until 5pm and were on stage at 7pm."
Jennifer's role had to be cut a bit so she didn't have too much to learn, but thankfully "there weren't many lines".
"I think there were two songs with dance routines and one extra scene as well just to help the plot along."
She hadn't yet seen the production in its entirety too - so was really pushed in at the deep end.
"I had seen about two thirds because of working front of house, but had only done two shifts sitting and watching the show," she says.
"The rest of the company did an amazing job covering the holes I didn't have time to even attempt to learn, and they were super supportive."
"It was so quick so I didn't have time to stress about it, and just focused on getting it right. I didn't have time to sit and stew what went wrong."
And Jennifer's not the first person who's had to step into a theatre production last minute - it happened to Steph Parry last month.
Jennifer says no similar offer has come along "as of yet".
"I'm just taking it as an opportunity to prance around on stage and get paid for it - you have to count yourself lucky," she said.