Love Island: 10 best moments from 2018
By Lucy Todd
Entertainment reporter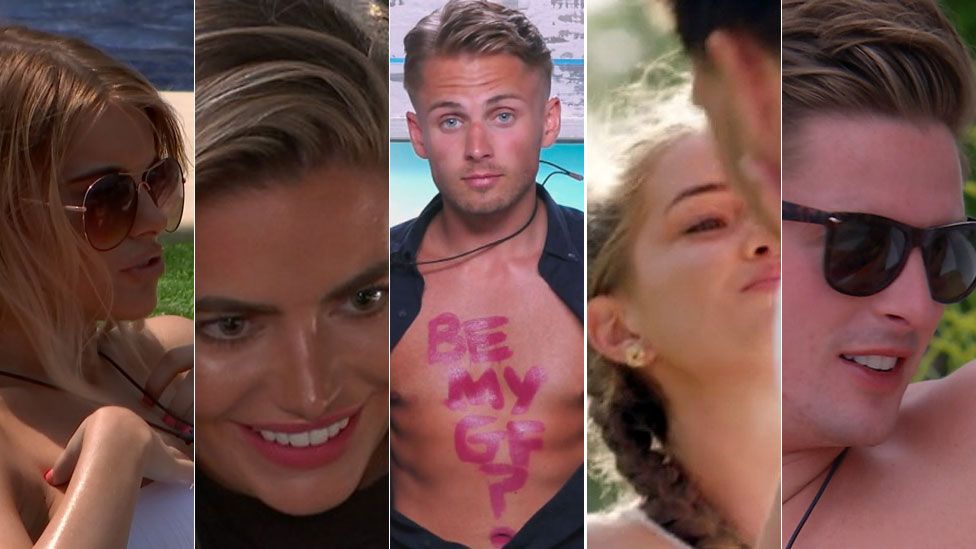 The bikinis have been packed away, the personalised water bottles have been slurped from for the last time, and Dr Alex's sunburn may soon finally show some signs of abating.
Jack and Dani have been crowned the Love Island 2018 series winners and are set to walk off happily ever after into the Balearic sunset (after it's been Instagrammed first, obvs), with their £50,000 spoils and dignity intact.
As the sun goes down on this year's Love Island, we look back at the series' defining moments.
A major political summit took place earlier this summer, featuring heavily in the news. There has been plenty of reporting on who's in, who's out and what aspects of trade and travel will be affected.
No, not Theresa May's Chequers meeting, but the Love Island girls chatting Brexit.
An early series highlight came when Hayley Hughes admitted she "didn't have a clue" what Brexit was.
Trying to explain, Georgia says: "Welfare, and like things we trade with would be cut down."
Confused perhaps by the cutting down comment, Hayley responds: "So does that mean we won't have any trees?"
"Cheese?" says Samira, adding to the general farce of the conversation.
"Why wouldn't we have trees?" chimes in Dani.
Things finally take a serious turn for Hayley when it's mooted that it may become more difficult for Brits to travel abroad.
"So it would be harder to go on holidays?" says Hayley. "Oh, I love my holidays!"
This Brexit thingy is serious stuff indeed.
2. Rosie confronting Adam
One of the first truly explosive scenes came when Rosie Williams confronted Adam Collard over the way he had treated her following the arrival of newcomer Zara McDermott.
After spending 10 days coupled up, Rosie told Adam he had "hurt her" and broken her heart, after ignoring her all day. Adam denied he'd done anything wrong and generally looked smug during the whole conversation.
Cue Adam becoming public enemy number one - even prompting charity Women's Aid to issue a warning about his emotional abuse and gaslighting behaviour towards both Rosie and Kendall.
3. Georgia: she's loyal, babe
If you didn't know after the (approximate) 2,643 times she mentioned it, Georgia is loyal. Babe.
She even mentioned it four times back-to-back, so it must be true. Speaking - as she's cracking on with Idris - she says: "Obviously I am very loyal. I'm a very loyal girl. Very loyal. And when I am with someone, I am completely loyal unless I am honest with them, tell them how I feel, then I crack on."
Even during one of the other biggest moments of the series, when she may or may not have planted THAT KISS on Jack Fowler, she was - of course - still loyal.
And that cheeky little peck went on to cause more trouble than it could possibly have been worth. Laura broke up with Jack (for not being loyal); Georgia and Laura fell out (over Laura questioning G's loyalty); and Ellie and Georgia had a bitter kitchen exchange (with Ellie claiming Georgia was, in fact, NOT loyal. Gasp!)
In the words of Dua Lipa: One kiss is all it takes.
4. Dani shown footage of Jack at Casa Amor
One of the biggest - and most complained about - must-see moments on television this year was the moment Dani saw footage of boyfriend Jack in Casa Amor with his ex Ellie.
Dyer burst into tears at the video and took to the Love Island beach hut to share her agony.
"I just knew it was too good to be true," she sobbed.
In reality, Jack had also taken his bedding outside into the garden because he refused to share a bed with another girl, and told Adam he was in love with Dyer - but these excerpts had not been shown to her.
Safe to say, they were happily reunited and it all turned out right in the end.
Megan played with fire when she entreated Wes to kiss her while he was still coupled up with Laura. In so doing, all manner of rules from the girl code could be heard smashing.
To his credit, Wes didn't cheat on Laura, but told her he'd be "getting to know Megan a whole lot more" following the conversation.
Understandably, Laura and Meg never really saw eye to eye afterwards.
In a scene that could have come straight from Emmerdale, the boys offered some light relief from all the drama when, out of nowhere, they all pretended to be from Yorkshire for a whole conversation.
A sign of cabin fever perhaps, but it had us in hysterics.
Likewise, Jack proved he was a dab hand at doing impressions of his fellow Islanders - with his and Dani's take-off of Eyal a real highlight.
Hitherto unlucky-in-love Samira finally found her Prince Charming in Frankie, but was left bereft when he was voted off the show.
She told her fellow Islanders: "So, these past couple of days I haven't been myself and I've struggled to be happy in here and have fun and I had a taste of what I've wanted and it's gone."
So off she skipped out of the villa's front door in a tiny fuchsia bikini with her enormous suitcase. Wonder what airport security made of her outfit?
8. Charlie asking Ellie to be his girlfriend
There was a lot of asking to be each other's significant others in the series. But the hands down most inventive example goes to Charlie Brake, who pulled off a master plan in cahoots with Wes, Jack Fincham and Alex.
Operation Chellie involved derring-do in the guise of covert use of a lipstick, strategic spillage of red wine and copious usage of the word "muggy".
One "I've never been so shocked in my life" and a "yes" later from Ellie and they had all jumped in the pool. Romeo done.
9. Dr Alex's Daddy day care disaster
When tasked with the baby challenge, Dr Alex showed he wasn't quite cut out for fatherhood yet.
During the task, in which the Islanders were given a baby doll to care for, the A&E doctor catapulted himself and his baby onto the floor during an impromptu buggy race with Jack Fincham.
It left the 27-year old sprawling and the baby with (presumably) multiple serious injuries.
Meanwhile, Josh proved to be the worst dad ever after pulling his baby's arm off. Fatherhood should definitely be put off a few years for this lot.
10. Dr Alex gets a grilling from Alexandra's mum
After a rocky time together, Alexandra's mum showed her true sass when she came into the villa and called out Alex for his treatment of her daughter.
"He thought he could just drop you and pick you up at a whim, and that's not how life works," she fired.
"What did you expect a girl to feel like after she'd been rejected and then you deigned to bring her back to your side? I thought, 'hey young man, I'll have words with you!'"
Mother always knows best.