Why is a theatre company opening a college to teach astronomy and cooking?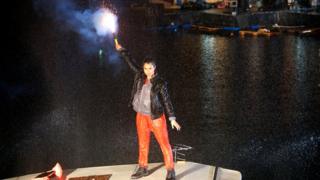 Award-winning Slung Low theatre company is known for staging epic outdoor theatre productions around the UK.
Now it's decided to cut back on the number of shows it makes and set up a "community college" teaching astronomy, cooking and decorative blacksmithing.
Artistic director Alan Lane said it was "the most useful and most interesting" thing they could do with their subsidy.
The classes will begin in September and be held on a converted double-decker bus in Slung Low's home city of Leeds.
The company's past shows include the four-part Flood, one part of which was screened from Hull on BBC Two.
They also staged a re-telling of Moby Dick on a floating stage in Leeds and a play about King Arthur with a 137-strong cast in Sheffield.
This year they will spend less time staging plays and instead organise classes including CPR, furniture-making and artistic activism.
People taking part will be able to decide how much they can afford to pay.
Lane said the company's projects always respond to the state of society, and that he had been struck by how education and training had become both more expensive and less accessible.
Learning new skills outside one's job gives people confidence, he believes, but such opportunities have dwindled.
Funding for adult education and skills was cut by 35% between 2009 and 2015, according to the Association of Colleges.
Slung Low decided the best way to use the "privilege" of their public funding was to set up the Cultural Community College.
"Everyone agrees that access to a cultural life is an important part of living well," Lane said.
"But there are fewer places for adults to go to learn new things that have nothing to do with your workplace.
"That wasn't always the case. We used to have places like Women's Institutes and working men's clubs, where people went to learn stuff just for the sheer act of knowing new things.
"The people who used to run those courses are now running food banks and doing stuff like that.
"Education has changed and been much more marketised," he continued.
"So it felt like there was an opportunity for us to do the organising necessary, to introduce some people who wanted to learn stuff with some brilliant teachers."
'We ripped the seats out last week'
Slung Low gets funding from Arts Council England and Leeds City Council and will receive £59,000 per year from the Paul Hamlyn Foundation to run the college for the next four years.
The company is based in a railway arch in Holbeck, but many of the classes will take place on the bus.
"We ripped the seats out last week," Lane said. "We chopped the floor out of the bottom last night, just before we finished the press release.
"In the next three weeks it will be converted into a pleasant learning environment.
"Upstairs is our chilled out lecture hall - we've got 24 seats or 30 beanbags, depending on what we're doing up there. And downstairs you can seat 16 people around a big table."
Follow us on Facebook, on Twitter @BBCNewsEnts, or on Instagram at bbcnewsents. If you have a story suggestion email entertainment.news@bbc.co.uk.