Love Island 2018 in seven charts
By Tom Calver
Data journalist, BBC News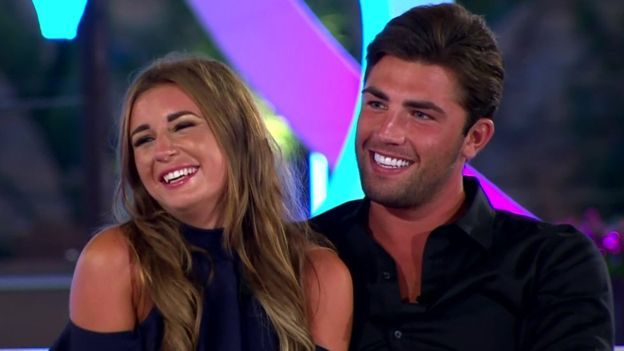 Almost four million people tuned in to watch this series of ITV2's Love Island, which saw Dani Dyer and Jack Fincham crowned champions.
Beating fellow islanders Laura and Paul (who came second), Kaz and Josh, and Megan and Wes, they decided to split the £50,000 prize money.
According to ITV data Dani and Jack won by a landslide receiving almost 80% of the public vote.
What else does a look at the figures tell us about this year's candidates?
This year's show got consistently more viewers last year's series. The 2017 final had an average audience of 2.6 million, compared with 3.6 million on Monday night.
Search interest peaked around 1-7 July. That was the week the couples were separated and the boys were sent to Casa Amor.
Ofcom also received more than 2,500 complaints over the 1 July episode, in which Dani was allegedly shown a misleading video of boyfriend Jack.
Dani and Jack's prize money - £25,000 each - places them in the 99th percentile of UK earners. That means they earned more than 98% of the UK population for their 58 days' work.
And that's not including sponsorship deals. But how do the other candidates stack up?
Between them, the 38 contestants managed a massive 27 couplings. That means the average islander was in 1.4 relationships throughout the course of the show.
Most of the candidates were aged 23 or under. Wes Nelson - the youngest - was 11 years younger than fellow finalist Paul Knopps.
That's a smaller age gap than last year, when Marcel Somerville - aged 31 - was joined in the villa by 18-year-old Amelia Peters.
While the competition was won by a 21-year-old and 26-year-old, the older islanders had more days in the villa on average.
As you may expect, those islanders with more partners lasted longer in the island than those who didn't get together with as many.
Those who failed to couple up at all lasted less than four days on average.