Chuckle Brothers' older brothers pay tribute to Barry Chuckle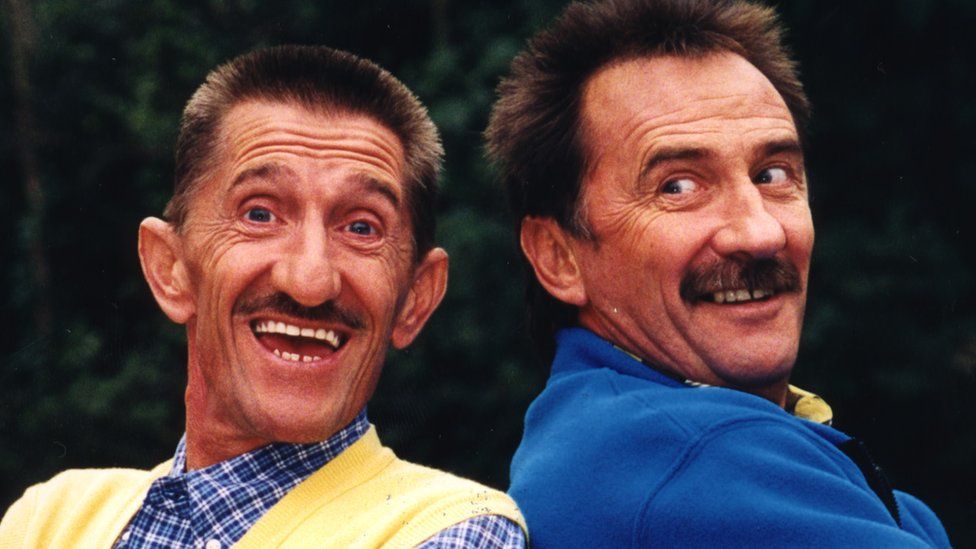 Before finding fame as a duo, The Chuckle Brothers started as a four-piece with two older brothers.
Brian and Jimmy have been speaking about the death of Barry Chuckle, who was known for starring in TV shows like Chucklevision with fourth brother Paul.
"He was a wonderful lad and a great comedian," Jimmy told BBC News. "It's been a wonderful life together."
"We're all a very close family," said Jimmy, who saw Barry for the last time on Friday.
"My wife and I went round to see him and he was really poorly. It was really sad to see him because he was such a lively, fun-loving boy."
Jimmy and Brian appeared regularly with their brothers on Chucklevision, and were known for their catchphrases "no slacking!" and "get out of it!"
They shed light on the birth of The Chuckle Brothers.
All four followed in the footsteps of their father Jimmy Elliott, who went into showbusiness as a comedian, whistler and singer under the stage name Gene Patton.
Brian said Barry was "a great comic", adding: "He picked up all things from everywhere including dad. He was the one who really looked like dad."
Jimmy and Brian were born in 1931 and '33 respectively and formed their own double act - The Patton Brothers. Barry and Paul were much younger, born in 1944 and '47.
Jimmy said: "We used to go and watch dad touring, and then Barry and Paul used to watch us in summer seasons when they were tiny little fellas, and they said they wanted to do this. We were a lovely happy family."
In the late 1970s, an agent suggested all four brothers do an act together.
"So we found a name - the four Chuckle Brothers - and we did television shows together like 3-2-1, The Good Old Days and The Lennie and Jerry Show."
Jimmy and Brian had already been performing as The Patton Brothers and when pantomime season came around, they realised they couldn't stay together as a quartet.
"So the lads [Barry and Paul] said, 'Do you mind if we keep the name?'" Jimmy recalled.
"And we said, 'Of course not.' So they kept the name The Chuckle Brothers and Brian and I - The Patton Brothers - carried on with our pantos and we all did great."
When Barry and Paul shot to fame on TV in the 1980s, they brought their older brothers along.
Jimmy said: "When they got their break on Chucklevision, they said, 'Oh you must come and do some parts on it', which we did. Me and Brian both had a wonderful 20-odd years in Chucklevision with them, thanks to them.
"We used to travel in a camper van all over when we did the Chucklevision stage tour, which we did for years and years. We travelled in the camper van and we all played cards together.
"That was great fun. Full of laughs, it was, all the way."
Barry and Paul had recently returned to TV with a new show Chuckle Time. A spokeswoman for Channel 5 said the remaining episodes would be broadcast next year as planned.
A statement said: "Channel 5 is saddened to hear of the passing of Barry Chuckle.
"As one half of the Chuckle Brothers, Barry entertained audiences over a career spanning decades; more recently, Chuckle Time was a teatime family treat on our channel. Our thoughts are with his family and friends."
Related Internet Links
The BBC is not responsible for the content of external sites.