MTV VMAs: All you need to know about the best video nominees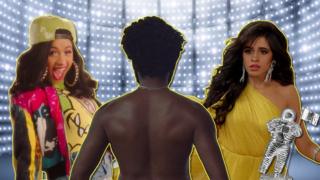 Drake, Ariana Grande, Cardi B and Childish Gambino are all up for video of the year at the 2018 MTV Video Music Awards, which take place at New York's Radio City Music Hall later.
It's the strongest line-up since 2004 - when Britney's Toxic went up against Jay-Z's incendiary 99 Problems. Both lost, however, to Outkast's irresistibly technicolour clip for Hey Ya!
This year's contenders span a similar gamut, encompassing everything from searing political commentary to Latin American melodrama.
Collectively, they illustrate how videos have become an extension of the artist's vision, fundamental to the message of the song rather than a throwaway piece of fluff.
Any of the shortlisted six songs could win - although Kanye's presumably got his money on Beyonce.
Here's a refresher on the videos in contention for a Moonman.
ARIANA GRANDE - No Tears Left To Cry
No Tears Left To Cry was Ariana Grande's first single after a terrorist bomb claimed the lives of 22 fans outside her concert in Manchester last May.
The shape-song reflects the star's turbulent emotions, and her determination to persevere, as it cuts between elegiac gospel harmonies and a defiant dancefloor shuffle, never quite settling into a single mood.
The video continues the theme, thrusting Grande into an Inception-style cityscape that constantly topples over and throws her off balance.
"We wanted to explore was the disorientation that you go through in life, and the quest we all go through to find the ground again," explained director Dave Meyers (who won last year's best video award for Kendrick Lamar's Humble).
"We sort of flirt with the ambiguity of whether you need to find the ground or whether the ground's just what you make of it."
Touchingly, in the video's final moments, a bee flies towards the screen - serving as an emblem for Manchester and a tribute to the victims.
CHILDISH GAMBINO - This Is America
This video contains language and images some people may find offensive.
The clear front-runner for this year's best video award is Childish Gambino's shockingly brutal but utterly compelling clip for This Is America.
Tackling America's gun epidemic head on, it sees the performer (aka actor Donald Glover) dancing gleefully while violence breaks out all around him.
He's frequently the perpetrator - in one scene gunning down a choir, in a likely reference to the 2015 massacre at the Emanuel African Methodist Episcopal Church in South Carolina.
But the story is deliberately ambiguous. Are we supposed to recoil from the violence or be entertained by it? The video provides no easy answers, forcing the viewer to confront the two contradictory roles offered to black Americans - gangster or entertainer.
"People are dying in This Is America, but all they want us to do is sing and dance," wrote Tre Johnson in a critique for Rolling Stone magazine.
"It's an upsettingly vivid illustration of the Faustian bargain that black America makes on a regular basis, trading our bodies for our expression and freedom."
CAMILA CABELLO ft YOUNG THUG - Havana
Another Dave Meyers production, Havana is a marvellously camp melodrama complete with a steamy dance breakdown.
Camila says she took inspiration "from music videos like Thriller" that blur the lines between fantasy and reality; as she plays Karla, a bookish wallflower who finds escape in her favourite TV shows, imagining herself in the starring roles.
There's an autobiographical thread to the story, she told E! News.
"Karla is my first name, Camila is my middle name. Long story short, my family always called me Camila but when I came to school in the United States, I was really, really shy, and the teachers started calling me Karla."
As in the video, Karla/Camila found herself through a combination of music and hard graft.
"In my life, I've pushed myself to do a lot of things that make me uncomfortable," she said. "That's how I started dancing and that's how... I gained that confidence and [became] a video vixen. They're both over exaggerated personas of me, basically."
THE CARTERS - Apes**t
This video contains language some people may find offensive.
The Carters, in case you hadn't noticed, are hip-hop power couple Beyonce and Jay-Z; and they make an ostentatious show of that power in the video for Apes**t, by taking over the Louvre for an elaborate, symbolically-laden music video.
There's enough imagery here to fill a textbook; but the essential point is that they are inserting themselves into a traditionally white environment and claiming their place, not just as as African-Americans, but as creators and consumers of art.
It's a radical, visually-lavish video that subverts art history's erasure of black culture.
One particularly potent scene focuses on the 19th Century portrait of the Parisian socialite Juliette Recamier. Director Ricky Saiz positions two black dancers, posing as servants, at the woman's feet - adding what the original artist, Jacques-Louis David, left out.
"The overall point is powerfully put," wrote Will Gompertz in his review for the BBC.
"The game is up for those institutions - be it Hollywood, Broadway or the Louvre - which have ignored black artists."
DRAKE - God's Plan
The most-watched video of the year to date, God's Plan has a simple concept but the execution is beautiful.
Directed by Karena Evans, it follows Drake around Miami while he hands out the video's entire $999,631.90 (£785,149.69) budget to those in need.
He pays one student's $50,000 (£39,275) university fees, and gives the same amount to a homeless shelter for women. Drake even stops by a supermarket to help out with the groceries.
"Everything you guys want inside the store is free," he beams into a megaphone, prompting one customer to stockpile Nutella.
It's an undeniably joyous and heart-warming story - although some have questioned the star's motives.
"I don't know the last time I saw a four-minute montage of 'Look at all the nice things I do,'" said influential New York DJ Peter Rosenberg, who claimed the video was exploitative.
It prompted a furious call from the Canadian star who, Rosenberg later recalled, told him, "this is the most important thing I've ever done".
BRUNO MARS ft CARDI B Finesse (Remix)
Bruno Mars's Grammy Award-winning 24K Magic album is a love letter to 1990s hip-hop and R&B - artists like New Edition, Boyz II Men, Heavy D and Mariah Carey.
His adoration for the decade is on full display in the fun and funky video for Finesse, which riffs on the opening titles to iconic 90s sketch show In Living Color.
Created by Keenen Ivory Wayans, the series rode a wave of black music and comedy at the start of the decade - and helped launch the careers of stars like Jennifer Lopez, Jamie Foxx and Jim Carrey.
Mars, who co-directed the video, clearly had fun recreating In Living Color's paint-splattered opening credits; deliberately shooting the footage in low-resolution, a non-widescreen format for that vintage feeling.
Giving the clip a modern twist, he also gender-swapped some of the roles - with Mars dancing on a roof like a Fly Girl (the show's all-female dance troupe) and guest star Cardi B recreating Wayans' paint-flinging antics.
"I had sooo much fun doing this video," tweeted the star after the video premiered. "It felt like a BBQ."
Follow us on Facebook, on Twitter @BBCNewsEnts, or on Instagram at bbcnewsents. If you have a story suggestion email entertainment.news@bbc.co.uk.