What difference would an all-female government make?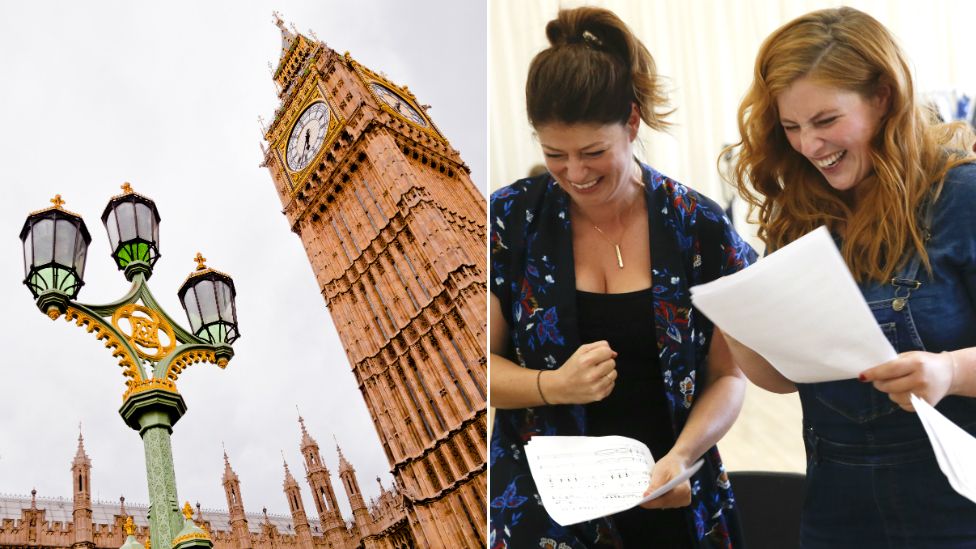 Men have been cleared out of government and the women are in charge. That's the premise of a play, opening on Thursday, which has been collectively written by a group of leading female figures.
The Assemblywomen by the Greek playwright Aristophanes was first written in 391 BC.
Back then, a play about the women of Athens dressed as men (complete with fake beards) storming the Assembly and taking charge was seen as a totally unrealistic premise.
Indeed, that was one of the reasons it worked as a comedy - and made for the perfect vehicle for the playwright to criticise the Athenian government at the time.
Now, a group of leading female figures - among them poets, writers, comedians, broadcasters and politicians - have given the show a makeover, and the newly-titled Women in Power opens this week.
Director Sam Hodges says the current political and social turmoil was the catalyst for bringing back a play which he describes as "deeply resonant" today.
But things have, of course, changed dramatically since it was first written. Many leading female figures now spring to mind in the world of politics and public service.
There's Prime Minister Theresa May. Scotland's First Minister Nicola Sturgeon. The Commissioner of the Met Police, Cressida Dick. German Chancellor Angela Merkel.
But the fact that a select few names always spring to mind is precisely why more progress needs to be made, argues Labour MP Jess Phillips, who's written Women in Power's opening scene.
"You couldn't name all the men who are in power in the world right now could you?" she asks BBC News.
The backbencher adds the number of women in power will only be noteworthy when "we can no longer list them because it's just the norm and there are so many".
"We're noticing it because it's a good thing, but the FTSE 100 companies, there's like 10 women out of 100, so we're still a very long way off."
But in the media and entertainment landscape, women are starting to have much more visibility.
All female line-ups are very much in fashion, whether it's on panel shows or in Hollywood films like Ocean's 8 and Ghostbusters.
On Monday, the BBC's new political show Politics Live took some viewers by surprise with its all-female line-up.
Presenter Jo Coburn presided over a panel which included former home secretary Amber Rudd and shadow foreign secretary Emily Thornberry, alongside the corporation's political editor Laura Kuenssberg.
While something unimaginable in Aristophanes's day may well now be seen as progressive - not all viewers were happy.
The Daily Mail, The Guardian and The Daily Express picked up on the backlash to the all-female panel, with many on social media criticising "woke producers" for putting political correctness and virtue signalling ahead of editorial values.
Similarly, Women in Power is a play which will likely have some people rolling their eyes at what could be perceived as yet another example of men being actively removed or excluded from a project.
Comedian Shappi Khorsandi, who has also written a scene for the show, has some sympathy for the position many modern men find themselves in, adding that they shouldn't feel threatened by pro-women projects such as this.
"It will be a real shame if [men feeling attacked] put them off coming, because in a play, things are longer, more nuanced, more humorous, and with actors, you can see the whites of their eyes, you have a connection," she says.
"Men are in a difficult position in some ways. On the one hand, we're all up in arms about mental health - the fact that the biggest killer of men under 50 is suicide. And yet, on the other, we're peddling this narrative of white middle class men having no right to an input.
"So on the one hand we're like, we've got to listen to them all, on another we're telling them to shut up."
Phillips adds: "It's not intended to attack men. I don't hate men, I've got two sons for god's sake. I love men.
"But the fact of the matter is there's still a massive equality imbalance. And if men feel under attack, all that is is a bit of their privilege being chipped away.
"And that's okay, they should want to share it. They should want what they have, whether it's economic stability or personal safety, to be shared. It's not an attack, it's an equalisation."
Writer Wendy Cope, comedian Jenny Eclair and broadcaster Natalie Haynes are among the other names to have contributed scenes to Women in Power.
The play, though humorous, explores some quite serious and nuanced themes about the differences between the ways men and women operate, and the merits of each.
"The big difference with men and women is that women form alliances," says Khorsandi.
"They form unbreakable bonds and pacts with one another, and they get into gangs and cliques. And the pressure with women is to be a friend or a foe.
"Whereas men disagree, they argue, they fall out, they have philosophical differences, but they put them down and have a beer together afterwards. They separate emotional attachment from debate."
Phillips adds: "If women were to be completely in power for even just a month in the UK, there would be a huge change in the decisions that get made."
"I think women are better at taking risks in lots of places. I think women are much more likely to work with each other to try and find a way through.
"In my experience, women work across barriers and assess humanity in a different way in politics... they would be able to progress things quicker because we're much more likely to work together to get a common goal.
"So yeah I think it would potentially be more efficient. It would also potentially just be pleasant. It would stop being about who's the best and start being much more about the country."
So, is Phillips' reason for getting involved in writing the play an attempt to further boost her profile, perhaps a result of leadership ambitions herself?
"Oh god no, I'm just useless at saying no to things," she laughs, "which is a very female trait!"
Women in Power opens on Thursday at the NST City (at the Nuffield Southampton Theatres), and moves to the Oxford Playhouse in October.