Brad Pitt hits back at Angelina Jolie's child support claims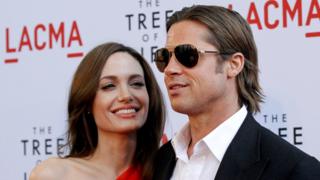 US actor Brad Pitt has rebutted claims made by his estranged wife Angelina Jolie that he has failed to support their children.
In a court filing on Wednesday, the star's legal team said he had paid more than $1.3m (£1m) in costs and loaned $8m to Jolie to help her buy a house.
On Tuesday, Jolie's lawyer said Pitt had paid "no meaningful child support" since she filed for divorce in 2016.
The couple had been together since 2005 but only married in 2014.
In the documents, Pitt's lawyers also said Jolie's claims regarding child support were a "thinly-veiled effort to manipulate media coverage".
Her lawyer said in the filing on Tuesday: "[Pitt] has a statutory duty to pay child support. As of present, [he] has paid no meaningful child support since separation.
"Given that the informal arrangements around the payment of the children's expenses have not been regularly sustained... for over a year and a half, [Jolie] intends to file... for the establishment of a retroactive child support order," the documents stated.
Responding to Pitt's rebuttal, Jolie's lawyer Samantha Bley DeJean said she hoped the dispute could be resolved "without further delay or posturing".
"A loan is not... child support and to represent it as such is misleading and inaccurate," she said. "Angelina is asking Brad to pay 50% of the children's expenses. He has not.
"Angelina has had to shoulder the majority of those without his contribution for the past two years. Child support is not optional in California."
Jolie cited "irreconcilable differences" when she filed to end the marriage, and the pair became embroiled in a bitter child custody battle in the months following the announcement.
Pitt was investigated for possible child abuse after losing his temper in front of some of the children, but was later cleared of the allegations.
The couple were known as "Brangelina" by fans and met on the set of the 2005 film Mr and Mrs Smith.
The marriage was Pitt's second, having previously wed Friends star Jennifer Aniston, and Jolie's third after actors Billy Bob Thornton and Jonny Lee Miller.
Follow us on Facebook, on Twitter @BBCNewsEnts, or on Instagram at bbcnewsents. If you have a story suggestion email entertainment.news@bbc.co.uk.