Five things Americans can expect from Love Island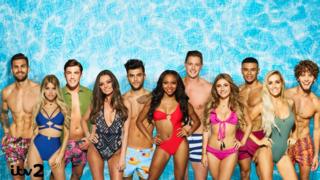 Love Island is heading to the US - the hit British show on ITV2 has been bought by CBS in America.
It is the eighth country to buy the show's format.
But what can they expect?
1. A dating show like no other
Americans already have their own massively popular dating show - just as exotic and bursting with beautiful people - The Bachelor and its spin-off The Bachelorette. But imagine there are 13 bachelors and bachelorettes together in one villa cut off from the outside world trying to find their long term partner.
Imagine the carnage - the double crossing, the multiple heartbreaks and with the added element that they're all competing for a cash prize.
Also in previous series of Love Island there have actually been contestants having sex. Quite a change for the US TV which is usually more strait-laced than the UK.
2. New vocabulary
The show has been responsible for the phrases like "mugging off", "getting pied" and "melt" coming into every day life.
While the American contestants obviously won't be using these terms the show will no doubt cast similarly young contestants with a slang language of their own - and if it repeats the success of the UK version, those phrases will make it to the mainstream.
3. Searing political analysis
One of the most memorable chats between the contestants this year was Hayley's Brexit chat - will the US contestants turn their attention to Trump's presidency?
Hayley Hughes admitted she "didn't have a clue" what Brexit was in an effort to explain Georgia said: "Welfare, and like things we trade with would be cut down."
Confused perhaps by the "cutting down" comment, Hayley responded: "So does that mean we won't have any trees?" And then it got even more confusing as Samira thought she said 'Cheese'.
We can only imagine a similar conversation about Trump.
4. Lie detectors
Americans may be used to them on reality chat shows, but the lie detector test on Love Island will show them just how much drama they can really cause.
Contestants are put through lie detector tests, with questions set by their partners in the TV villa.
Questions include "would you be tempted by other girls on the outside?" and "do you think you'll struggle to stay faithful?"
And it makes for gripping TV.
5. A brilliant narrator
Iain Stirling's dulcet tones make Love Island for many people - could the US hire an equally entertaining voiceover artist, or would they take him?
He injects a tone of sarcasm by gently poking fun at the contestants - will this translate into the US show?
And if it repeats the success of the UK version, the US will have a whole new range of reality show celebrities for years to come. Who knows, the Kardashians may need to watch their backs.
Follow us on Facebook, on Twitter @BBCNewsEnts, or on Instagram at bbcnewsents. If you have a story suggestion email entertainment.news@bbc.co.uk.