100 Women: The artist redrawing 'sexist' comic book covers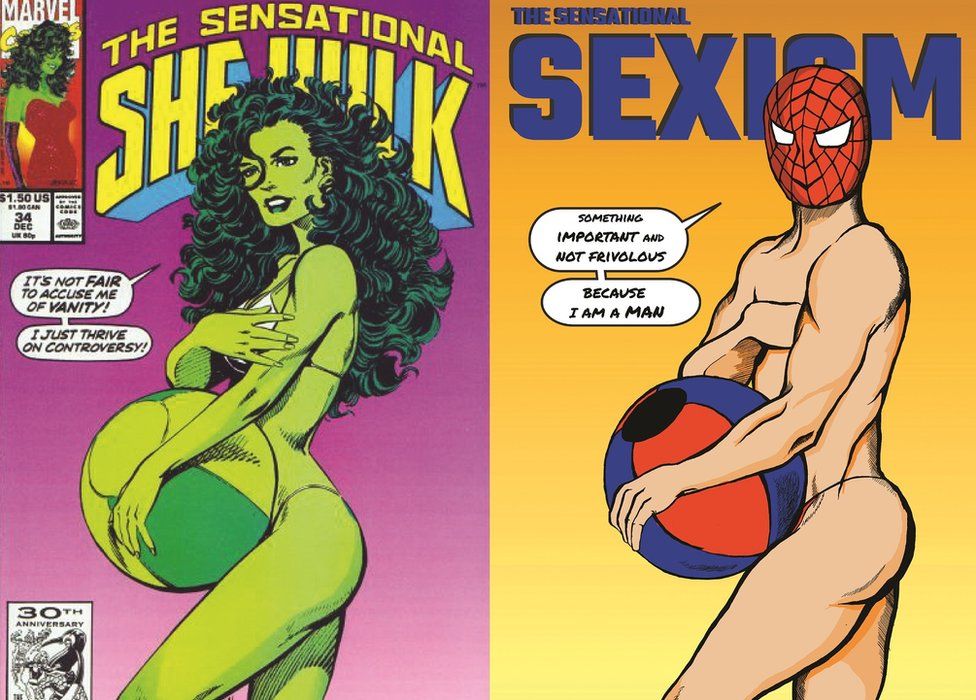 An artist in India is challenging sexist drawings of women in comic books by parodying them using male heroes in poses typically associated with women.
She-Hulk has superhuman strength and speed and is one of the most formidable hand-to-hand combatants in the Marvel world.
Like Hulk, not only does she have physical power, she's also completely green.
Yet, on a 1991 comic book cover, she is shown in a seductive pose, wearing a G-string bikini, with her curves sharply accentuated.
Indian artist Shreya Arora was shocked when she saw the image.
"For Hulk, the visual representation focuses on his strength. For She-Hulk, all we see is an emphasis on sexuality," says Arora, who grew up reading comic books.
The 21-year-old graphic designer decided she wanted to flip the narrative.
Her artwork draws inspiration from comic book covers but parodies the male superheroes using body language typically associated with women.
The result - covers with familiar characters, such as Superman and Batman, in strikingly unusual poses and outfits.
A scantily-clad Spiderman is pictured in only a thong, a coy Hulk covers himself with a newspaper, while an Iron Man with prominent buttocks crawls on a ledge.
"The way female heroines are drawn would never be applied to men," Arora tells BBC 100 Women.
But Arora, who is in her third year at the National Institute of Design in Ahmedabad, says she only noticed the issue while she was studying in France.
"Maybe seeing comics with text in a language I wasn't familiar with, made me focus more on the visuals," she says.
Part of the problem is that "comic books are very often drawn by men, for men to enjoy", she argues.
"The current depiction of superheroines exists because of this vicious cycle. Companies decide on a specific target market and then use that demographic as a reason to continue the same problematic process of content creation.
"I wish comic book publishers would see that there is definitely a market for more inclusive comics."
Her project has been criticised for not acknowledging that comics show not only female characters with unrealistic body shapes and poses, but male ones too.
Arora maintains the comics are misogynistic, particularly on the front covers.
"Body standards for men, with huge biceps and rock-hard abs, exist to make them look strong and powerful, which superheroes are known for," she says.
"The body standards for women are tweaked to make them look sexy.
"People deem the body types of real-life athletic, strong women, like Serena Williams, 'too masculine'.
"If creators wanted to make superheroines look strong, they have plenty of real life inspiration to choose from."
Arora is working on other projects that look at sexist representations of the female body and gender imbalance in media.
She is behind a bogus magazine ad showing a woman with zipped-up lips, unable to speak out against domestic abuse.
Her image of a magazine cover has the headline, "Why getting sexually assaulted is your fault" - a prompt to start a conversation about victim-blaming.
"While there are a lot of young, passionate artists currently working on social issues and starting important conversations, even these conversations have a privilege bar - people with access to the internet, fluent in English, and to an extent, visually literate," says Arora.
"But there are people in India and other countries, who do not fit these criteria. I want to bridge the gap between all this good intent, and the lack of impact at a grass-roots level".
Produced by Valeria Perasso, social affairs correspondent for BBC Languages.
BBC 100 Women names 100 influential and inspirational women around the world every year. We create documentaries, features and interviews about their lives, giving more space for stories that put women at the centre.