RIP Aretha Franklin: Five ways the Queen of Soul made history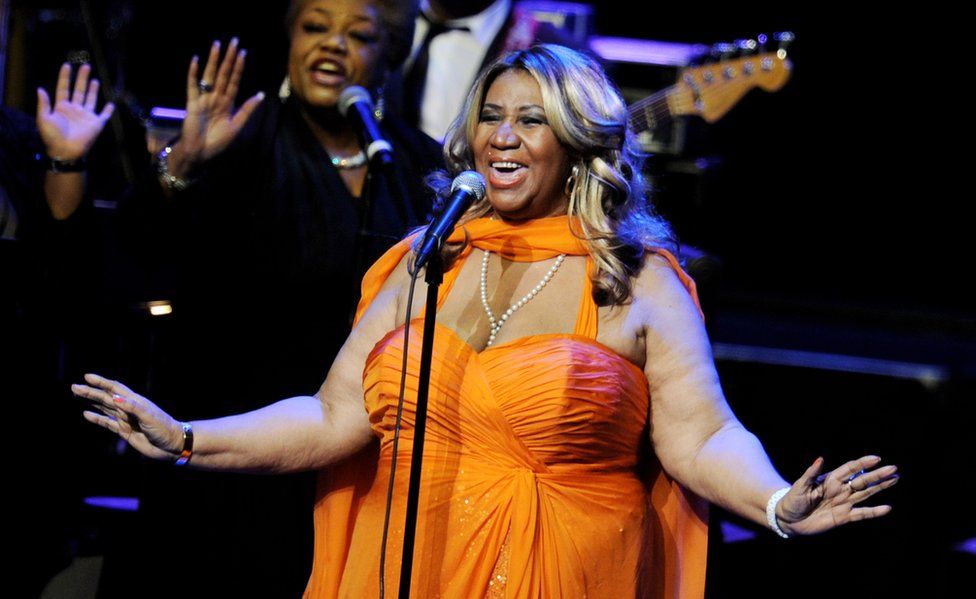 With the death of Aretha Franklin, the world has lost perhaps the greatest singer of our age.
Or if you share the view of music magazine Rolling Stone - simply the greatest of all time.
It wasn't just her spine-tingling voice that made Franklin an icon, though.
From her ties to the US civil rights movement to the surprising story behind her best-known hit, Respect - Aretha not only sold Soul: She was there as America shaped its own.
Here are five ways Detroit's diva made history...
1. She turned a husband's complaint into a feminist anthem
It's hard to imagine, but Franklin's best-known song - the infectious call-to-arms Respect - didn't start off with her. Soul singer Otis Redding originally wrote and recorded it as a message from a hardworking man to his woman, with lines like, "Hey, little girl, you're so sweeter than honey / And I'm about to give you all my money / But all I'm askin', hey / Is a little respect when I get home".
Franklin recorded her own version on Valentine's Day, 1967. Her twists included spelling out "R-E-S-P-E-C-T" (not present in the original), and deploying her sisters Carolyn and Erma as formidable backing singers.
In her hands (and voice), the song went from a patriarchal plea to an anthem for women's rights. It swept to number 1 in the US charts and number 10 in the UK.
Two Grammy awards followed - and Otis Redding wasn't happy. "He didn't like it," biographer Mark Ribowsky told NPR in 2015.
But at the 1967 Monterey Pop Festival, Redding laughed as he declared, "This next song is a song that a girl took away from me!"
"He says it with the Otis charm, a little glint in the eye," Ribowsky suggests. "And Otis couldn't begrudge her that."
Franklin explained why she re-versioned the song in 1999, telling NPR: "Well, I heard Mr Redding's version of it. I just loved it. And I decided that I wanted to record it.
"My sister Carolyn and I got together. I was living in a small apartment on the West Side of Detroit. And - piano by the window, watching the cars go by - we came up with that infamous line, the 'sock it to me' line. It was a cliché of the day... Some of the girls were saying that to the fellows, like, sock it to me in this way or sock it to me in that way. Nothing sexual, and it's not sexual. It was... just a cliché line."
2. She sound-tracked the civil rights movement
Franklin's father, the Rev C.L. Franklin, was a Baptist minister who organised the June 1963 Detroit Walk To Freedom - a massive march for racial equality. At the time, it was the largest civil rights demonstration in US history. Martin Luther King delivered an early version of his "I Have a Dream speech" there, two months before the great March on Washington that would cement it in history.
Franklin, then in her early 20s, has said she was "in awe of Dr King and listened carefully to every word that he said".
In 1967, Respect was picked up as a battle cry by the civil rights movement, and in February that year King presented Aretha with a leadership award. In 1968, she became only the second African-American woman to have appeared on the cover of Time magazine.
When King was shot dead, Franklin sang his favourite gospel song, Take My Hand, Precious Lord, at a memorial service.
Asked about the man she knew by Ebony magazine, Franklin said: "He and my dad were great friends, and my dad from time to time, being the older gentleman, would counsel Dr King sometimes. I always had a great admiration for him and his sense of decency, and the justice that he wanted.
"He was a good man. Just a plain old good man, good person, and you can't help but admire that."
3. She performed for three presidents' inaugurations
Aretha performed at three US presidents' inauguration events - starting with a medley of Duke Ellington hits for Democrat Jimmy Carter in 1977.
The next Democrat to take office, Bill Clinton in 1993, was graced by her stylings at a pre-inauguration festival two days before he was sworn in.
Barack Obama was the lucky third in 2009, and the sizeable hat she wore to his inauguration made almost as many column inches as her performance.
Franklin chose to sing My Country, 'Tis of Thee, an American patriotic song. Ever the perfectionist, she rued that the freezing temperatures had affected her voice.
President Obama clearly wasn't bothered, and in 2015 was filmed wiping away tears at the Kennedy Center Honors, where Franklin sang (You Make Me Feel Like) A Natural Woman and brought the house down.
4. She was the first woman in the Rock & Roll Hall of Fame
Lady Soul racked up 20 Top 10 albums, a dozen million-selling singles and 18 Grammy awards during a five-decade recording career. So perhaps it's no surprise she was also the first woman to enter the Rock & Roll Hall of Fame, in 1987.
The same year she scored her second number one hit, a duet with George Michael called I Knew You Were Waiting (for Me).
Since the Hall of Fame has often been criticised for failing to honour female performers (almost 90% of its inductees are men), the fact she was first underscores the fact that Aretha is impossible to ignore - even in quarters where women are too often overlooked.
5. Her voice was declared a 'natural resource' in Michigan
Aretha Franklin's voice was officially declared a "natural resource" in 1985 by Michigan state's department of natural resources.
But it's not the only way the state has found to immortalise her talent.
In her native Detroit, the city council also named a street Aretha Franklin Way after her in 2017. The diva, then 75, thanked the city for "this resplendent honour" and vowed: "Every time I drive or walk down it, I'm going to dance down it!"
You may also be interested in: