Ariana Grande's Sweetener track by track: The stories behind the songs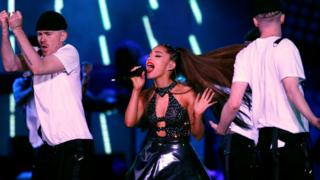 Ariana Grande's fourth album Sweetener, which has just been released, sees the US pop star attempt to step up as an artist as she deals with the peaks and troughs of the past couple of years.
The Manchester bomb, which killed 22 people after her gig last May, looms large, as does her blossoming relationship with fiance Pete Davidson. The 25-year-old also has much to say about anxiety, internet outrage and female empowerment.
There are appearances by Pharrell, Nicki Minaj and Missy Elliott - although none can top the cameo by Madonna as the voice of God.
Here is a track-by-track breakdown.
1. Raindrops (An Angel Cried)
This 37-second blast of bare vocal power introduces the album, and is a cover of part of a 1964 LP track titled An Angel Cried by The Four Seasons.
She said she woke up with it in her head one day while she was finishing the album and went on to discover a personal connection with the song.
"This is so crazy, y'all are going to think I'm lying," she told US TV host Jimmy Fallon in May. "But my grandfather's best friend, who I grew up hanging out with, Charlie Calello, wrote it with Bob Gaudio from The Four Seasons. And that gave me goosebumps."
2. Blazed (featuring Pharrell Williams)
Jumping with Pharrell's trademark bouncy production, the pair's vocals go back and forth on this love song.
About half the tracks on the album are produced by Pharrell, and Swedish uber-producer Max Martin worked on the other half.
3. The Light Is Coming (featuring Nicki Minaj)
This bubbling, twitching track seems to be a comment on the age of constant, instant judgement and criticism from people with - as she has explained - "their loud ass opinions making them deaf to others and the light".
A sample of a man saying "You wouldn't let anybody speak" runs over and over in the background - which is taken from CNN footage of a man shouting at a senator at a town hall meeting in 2009.
It's Ariana's fifth collaboration with Minaj, who she turned to after trying eight other rappers. Nicki called her at 05:00 one morning to listen to the verse. "I went in my slippers and pyjamas to the studio and she killed it," Ariana told Fader.
4. REM
This is about a relationship that blurs between the dreamworld and reality, and Ariana has said the story behind the song is "dreaming someone into your life".
This title refers to rapid eye movement sleep rather than being a tribute to the 1990s band. She also recently said it's her favourite song on the album.
5. God Is a Woman
This stand-out track cleverly combines a big message about female empowerment with a very personal, sultry story about the power a women holds over a lover.
The video has lashings of loaded imagery - she swivels as a galaxy spins around her hips like a hula-hoop, sits calmly as tiny men literally hurl insults at her, and straddles the globe half naked as her fingers toy with the clouds below.
At one point, dressed in sexy warrior garb, including leather gloves with the word "Power" written on them, she mouths along as Madonna recites an adapted version of Samuel L Jackson's Pulp Fiction Bible speech.
The voice of the Queen of Pop says: "And I will strike down upon thee with great vengeance and furious anger those who attempt to poison and destroy my sisters. And you will know my name is the Lord when I lay my vengeance upon you."
The original speech uses the word "brothers" - Ariana and Madonna have changed that to "sisters", of course.
6. Sweetener
Ariana has said the album's title track was the first song she wrote for the album sessions two years ago.
The name Sweetener refers to the message that you can make something good from a bad situation.
"When you're handed a challenge, instead of sitting there and complaining about it, why not try to make something beautiful?" she told Time magazine.
7. Successful
The Guardian's album review describes this as "ostensibly frothy" but says it "shifts and twists unexpectedly in a way that suggests someone behind it is conversant with the work of 70s soul's more expansive melodists".
That will be Pharrell. In June, Ariana tweeted that the song is about women celebrating each other and feeling good about "their own individual success".
8. Everytime
This formulaic filler is about going back to a love that's probably best kept in the past.
"I get drunk, pretend that I'm over it," Ariana sings. Um, who else can relate?
9. Breathin
Despite its upbeat tempo, Ariana explained that the track is actually about anxiety.
"You know when you feel like you can't get a full breath? It's like the worst feeling in the world," she told US TV host Jimmy Fallon. "So it's a song about that feeling."
She said she was having lots of anxiety attacks, including one in the recording studio.
"We made a pop song out of it," she said.
10. No Tears Left to Cry
The first song to be released from the album in April, this was widely interpreted as an anthem of healing and hope in the wake of the Manchester bomb.
It doesn't take long for the initial sombre tone to be dispelled as both pace and mood rise up and she repeats: "I'm lovin', I'm livin', I'm pickin' it up."
That sums up her public approach to Manchester - she respectfully acknowledged what happened last May but is keen to send an optimistic message and carry on living her life.
There's a further nod to Manchester in the video when a bee - the city's emblem dating back to the workers of the industrial revolution - buzzes away in the final scene.
11. Borderline (featuring Missy Elliott)
Ariana has said she's dreamed of working with Missy Elliott since she was a kid, when she would dance round her bedroom to Missy's music.
In June, the legend tweeted how "grateful" she was to be part of the album. USA Today's review said the song's only fault is "that the rapper's feature isn't twice as long".
12. Better Off
On Apple Music, the editors' notes say this ballad is about exiting a toxic relationship. "I'm better off not being around ya," she sings.
It has been rumoured that the track is about Ariana's former boyfriend, rapper Mac Miller. The singer has previously spoken about her "toxic relationship" with Miller.
13. Goodnight n Go
Ariana has said "both of my idols" blessed this album. One is Madonna. The other? Cult British singer-songwriter Imogen Heap.
Goodnight n Go is a cover and a reworking of Heap's song Goodnight And Go, which appeared on her 2005 album Speak For Yourself.
Ariana recently described Imogen, who combines experimental, atmospheric production with dripping emotion, as "my number one fave artist of all time/the woman who inspires my every move".
She invited Imogen - who also wrote the music for the Harry Potter and the Cursed Child stage play - to perform at the One Love Manchester concert last June.
14. Pete Davidson
There's not much detective work required to work out what this brief song is about.
It's a very public declaration of love for the comedian and actor, who she started dating in May and got engaged to the following month.
"I know you know that you're my soulmate, and all that," she sings.
15. Get Well Soon
The finale sees her open up about her anxiety again. "When I got home from tour, I had really wild dizzy spells, this feeling like I couldn't breathe," she told Elle.
"I would be in a good mood, fine and happy, and they would hit me out of nowhere. I've always had anxiety, but it had never been physical before. There were a couple of months straight where I felt so upside down."
She told Pharrell about it, and they wrote Get Well Soon, which she describes as "all the voices in my head talking to one another".
The song finishes with 40 seconds of silence, taking its running time to 5:22 - the date of the Manchester attack in the US date format.
Follow us on Facebook, on Twitter @BBCNewsEnts, or on Instagram at bbcnewsents. If you have a story suggestion email entertainment.news@bbc.co.uk.