Aretha Franklin's A Natural Woman: Why the song still moves us, 50 years on
By Alex Taylor & Ian Youngs
BBC News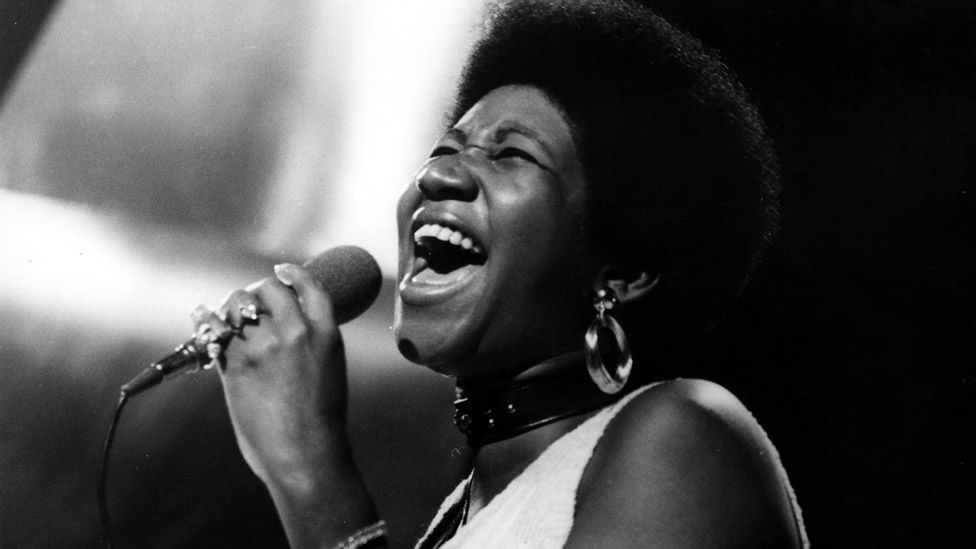 When Aretha Franklin died, the clip that was shared most widely - the most potent reminder of her raw, soul-stirring emotional force - was a 2015 performance of her 1967 hit (You Make Me Feel Like) A Natural Woman.
The rendition at the Kennedy Center Honors ceremony brought a tear to Barack Obama's eye, and left the song's co-writer Carole King in raptures.
It was also the song that Ariana Grande and Alicia Keys both turned to when they separately performed tributes after the Queen of Soul died on Thursday.
"This is one of my favourite songs," Keys told Beats 1 Radio. "I think this is probably all of our favourite song. That's why I wanted to choose it."
A Natural Woman is one of a string of tracks, along with Respect, I Say A Little Prayer and Think, that Aretha recorded in a remarkable period in the late 1960s and which became her signature songs.
The song was born when Carole King and former husband and songwriting partner Gerry Goffin were walking down Broadway one day.
Atlantic Records' Jerry Wexler pulled up beside them in a limousine, rolled down the window and said: "I'm looking for a really big hit for Aretha. How about writing a song called A Natural Woman?"
King and Goffin wrote it that night after putting the kids to bed.
However, it was Franklin's vocals that gave it its transformative nature.
Ostensibly a song about a woman feeling appreciated by her husband, the strength in Franklin's voice allowed the lyrics to "transcend validation from a lover", says entertainment writer Toyin Owoseje.
"It captured her power. The way Aretha sang it gave it a deeper meaning - one of empowerment and self-love," Owoseje tells BBC News.
"As a black woman, this song still resonates for me today.
"Society continues to place us at the bottom of the pecking order and find ways to makes us doubt ourselves, but the conviction in her voice is a reminder that we are strong and always overcome."
Growing up, Owoseje says the track served as a timely reminder that "our coils, our curves, our full lips, our melanin are beautiful".
But it has been argued that the inspiration for Franklin's passionate vocals was likely drawn from a painful place.
Encouraged by her father, Aretha made her first recording, the album Songs of Faith, when she was just 14, by which time she had already given birth to her first son, Clarence.
She had a second child, Edward, when she was 16, managing to maintain her singing career when her grandmother offered to raise the two boys.
Three years later, she married her manager Ted White, but the pair separated after seven years of marriage, amid claims of domestic abuse.
Time magazine's cover feature on Franklin in 1968 - making her only its second female African American cover star - claimed White "roughed her up" more than once.
Speaking on BBC Radio 4's Front Row on Thursday, broadcaster Paul Gambaccini said he is in "no doubt" the pain of these experiences inspired Franklin's studio vocal for A Natural Woman.
Reflecting on that Kennedy Center performance, he said: "She was still looking for the great man of her life, and the man who would make her feel like a natural woman."
Despite being five decades old, the track's message of contentment and self-confidence has arguably never been more pertinent than in today's social media age.
And Owoseje says the "erasure of black women" remains rampant in the entertainment industry.
In this climate, Natural Woman, and Franklin's spirit within it, will remain as powerful as ever, she says.
"The only narrative that the media like is the 'angry black woman'. It is old and tired, totally inaccurate.
"That's why songs like A Natural Woman are so important.
"They act as a reminder of the dignity and equality all women deserve."