The Big Bang Theory final season to end in 2019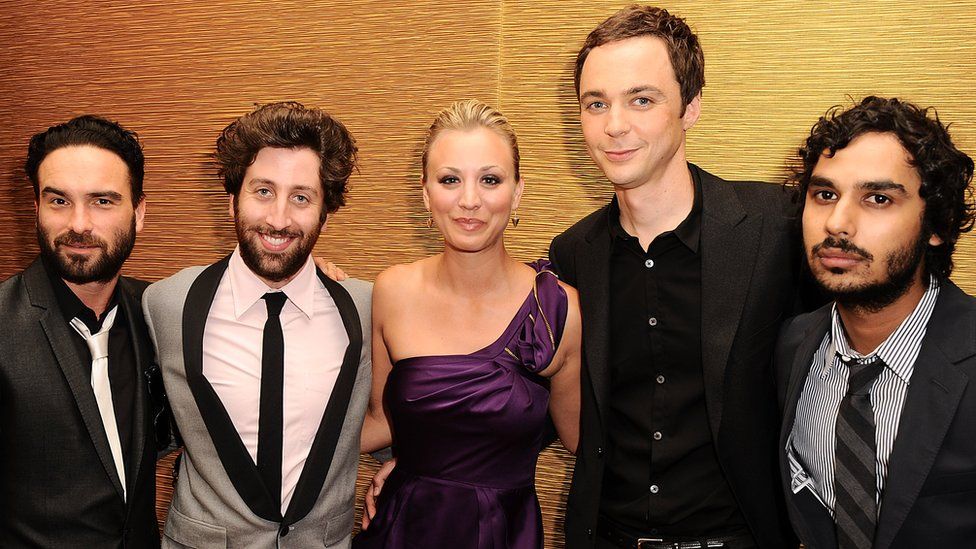 US series The Big Bang Theory will air its final episode in 2019, ending one of the longest-running sitcoms in US history.
The programme's 12th and final season will premiere on 24 September and is expected to conclude in May.
Set in Pasadena, California, the series originally focused on two physicists and their aspiring actress neighbour.
The Big Bang Theory has attracted more than 18 million viewers every year since its sixth season aired in 2012.
It reportedly averaged 18.6 million viewers per episode in its 11th season, more than any other show on US television.
The production teams and CBS said in a joint statement they were "forever grateful" to the fans.
"We, along with the cast, writers and crew, are extremely appreciative of the show's success and aim to deliver a final season, and series finale, that will bring The Big Bang Theory to an epic creative close," it read.
The series has won seven Emmys from 46 nominations, including four Outstanding Lead Actor wins for Jim Parsons, who plays the socially inept character Sheldon Cooper.
The other stars of the show are Johnny Galecki, Simon Helberg, Kunal Nayyar, and Kaley Cuoco.
Despite this, critical reception for the show has been lukewarm.
The social media reaction to the news was similarly mixed, with many celebrating the end of the long-running series.
Sex is good but have you ever gotten the news that The Big Bang Theory is ending?

— Aaron J. Amendola (@ImAaronJ) August 22, 2018
Now that the Big Bang Theory is ending, America can finally begin to heal after all these years.

— Jordan Miller (@JordanMillzSF) August 22, 2018
I'm a huge fan of The Big Bang Theory. Love the show and everyone in it. But when I heard the news that it was ending after season 12, I too said "finally."

— dukeofdork (@RealDukeofDork) August 22, 2018
I have been a fan of The Big Bang Theory since the beginning. All the hates people are throwing at the show now, seriously? You could have just leave it if it wasn't your cup of tea. Its been more than a decade and I love it more every season. This finale news is 💔

— Comeback EXO! (@smol_soo12) August 22, 2018