Asia Argento's accuser Jimmy Bennett speaks out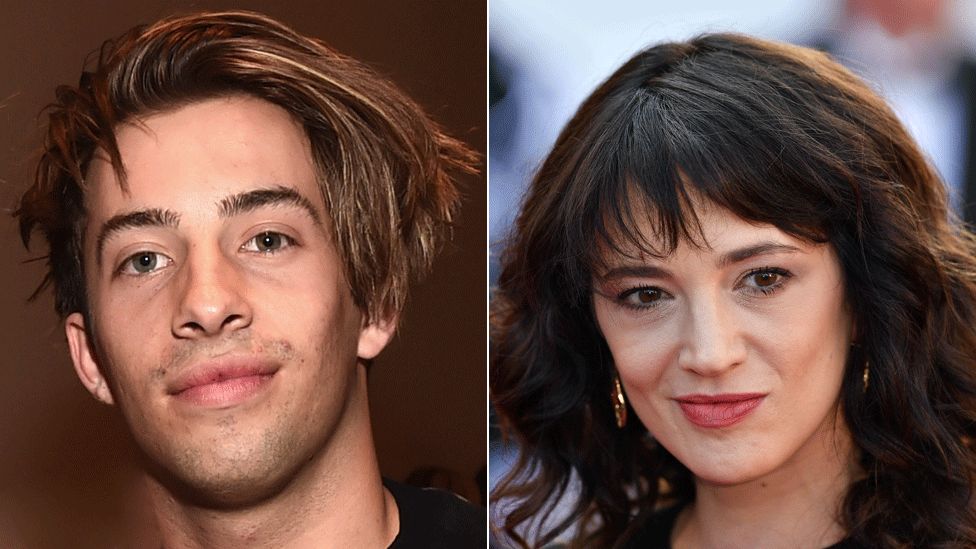 Actor Jimmy Bennett, who has accused Italian actress Asia Argento of sexually assaulting him as a teenager, has said he was "ashamed and afraid" when the story came out.
He said he felt there was a "stigma" to being in the situation as a man.
The New York Times said Argento, a leader of the #MeToo movement, paid Bennett $380,000 (£298,000) after he accused her of assaulting him at 17.
The NY Times said Bennett had accused Argento of assaulting him in 2013. He played Argento's son in the 2004 film The Heart Is Deceitful Above All Things.
He said he came forward when Argento made public her claim of rape against Harvey Weinstein.
"My trauma resurfaced as she came out as a victim herself," he wrote on Instagram. "I have not made a public statement in the past days and hours because I was ashamed and afraid to be part of the public narrative.
"I was underage when the event took place and I tried to seek justice in a way that made sense to me at the time because I was not ready to deal with the ramifications of my story becoming public."
He added: "I didn't think that people would understand the event that took place from the eyes of a teenage boy."
The NY Times reported she arranged the payment for Bennett "in the months that followed her revelations" about Mr Weinstein in October.
In a statement after the newspaper broke the story about Bennett, she described being "deeply shocked and hurt by having read news that is absolutely false".
She said the relationship was one of "friendship only", but this ended after her involvement in the Weinstein revelations, when Bennett "unexpectedly made an exorbitant request of money from me".
She said her partner, celebrity chef Anthony Bourdain, "was afraid of the possible negative publicity that such person, whom he considered dangerous, could have brought upon us".
She added: "We decided to deal compassionately with Bennett's demand for help and give it to him."
Bourdain killed himself in June.