Michaela Coel: TV star and writer reveals she was sexually assaulted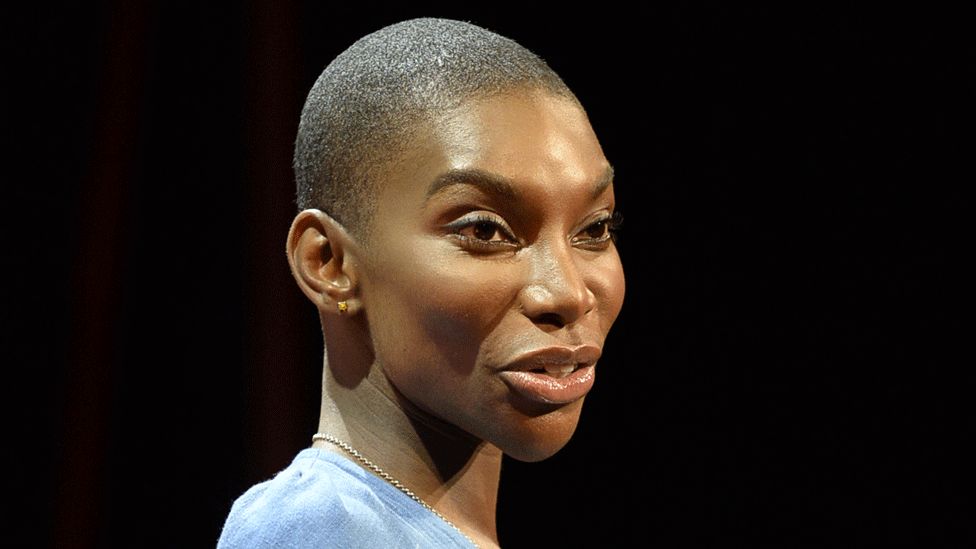 Chewing Gum star Michaela Coel has used the keynote lecture at the Edinburgh TV Festival to reveal she was once sexually assaulted by strangers.
The actress and writer said the "life-changing" experience happened when she took a break from working on a script.
She used the MacTaggart Lecture to send a message about about the duty of care the TV industry has towards artists.
She said the deadline for her script was so tight she didn't feel like she could stop working after the attack.
The assault happened when she popped out for a drink with a friend while working in a TV company's offices.
"The first people I called after the police, before my own family, were the producers," she said.
"How do we operate in this family of television when there is in an emergency?
"Overnight I saw them morph into an anxious team of employers and employees alike; teetering back and forth between the line of knowing what normal human empathy is and not knowing what empathy is at all.
"When there are police involved, and footage, of people carrying your sleeping writer into dangerous places, when cuts are found, when there's blood…what is your job?"
She added that she felt pressure to finish her script on time, despite her traumatic experience.
"I needed to push back the deadline, it was already tight... I wasn't sure how damaging it would be to the company so couldn't ask. I was lucky, someone was transparent with me: 'They won't offer you the break,' a colleague said, 'that's not the way it is, you have to take it.'"
She continued: "I asked to push the deadline back and for the channel to be informed as to why. The deadline was pushed back, but the head of comedy never found out why.
"I would also like to add to that this company did send me to a private clinic; a service they offer to staff when in need. The company funded my therapy there until the end of the shoot.
"I would like to stress: I was not raped within the offices of the company and I have never been raped by anyone at the company."
Coel, who found fame by writing and starring in E4's hit comedy Chewing Gum, was only the fifth woman to deliver the MacTaggart Lecture, and at age 30, the youngest.
She was also the first from a black, Asian or minority ethnic (BAME) background to give the lecture.
Coel's speech came hours after the BBC confirmed that she will write and star in a new drama, with the working title Jan 22nd, tackling the subject of sexual consent.
In the speech, she discussed her attempts to navigate drama school and the TV industry as a young, black girl from a social housing estate in London.
She said she was twice called the N-word at drama school and was described as the "elephant in the room" by the head of the school.
She also described "rummaging through a gift bag for my first big mainstream award".
"It contained dry shampoo, tanning lotion and a foundation even Kim Kardashian was too dark for. A reminder: this isn't your house."
Coel also said she was once filming abroad after Chewing Gum and said she had stones thrown at her by four men on the street.
"The producers saw shooting in 'that place' as a low-cost haven," she said. "They didn't consider the experiences of the brown and black cast to meet the morals of their diversity compass, because they didn't think to see things from our point of view."
Responding to Coel's lecture, Channel 4's director of programmes Ian Katz said: "Michaela's MacTaggart is a powerful and important wake-up call. She has raised vital questions about opportunity, support, transparency and inclusion that as an industry we must all address with urgency.
"The experiences she has described in her lecture are not what we would want for anyone working with Channel 4 or any part of our industry."
Related Internet Links
The BBC is not responsible for the content of external sites.