Love Island: ITV boss defends show over diversity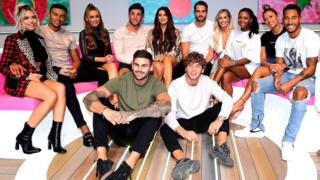 ITV's digital controller has defended Love Island's lack of body diversity - describing the show as "aspirational".
Speaking at the Edinburgh TV festival, Paul Mortimer said producers deliberately showed the cast exercising to get the bodies they have.
He added they "make no excuses" about having a cast of attractive people on the show.
"There's also another conversation going on about childhood obesity," Mortimer said.
"If you want to look like the guys on Love Island you have to work out."
He continued: "I think on the body image thing, we cast very attractive people, it's a sexy show.
"It is entertainment on ITV2 and in the same way Hollywood casts a certain type to get bums on seats in theatres or other shows.
"For us it's a very aspirational programme for our audience. [It's the] perfect holiday they can only aspire towards.
"It comes along at a time when people are readying for holiday, a week in Magaluf or whatever, and we're showing them the best example of what they could have.
"We cast sexy people, we're a sexy channel. Those people, by the way, they work quite hard. There's a gym, we show people working out."
Love Island won a Bafta in May for best reality and constructed factual programme and the latest series broke ITV2's all-time viewing figures record.
But the show was criticised over the summer for the lack of body diversity, as well as lack of different ethnicities among the contestants, with Leigh-Ann Pinnock from Little Mix among those voicing concerns.
Kevin Lygo, director of television at ITV, said on the diversity debate: "This has been endless, and I think everybody has got better at it, and I think we're pretty good.
"I think when we do it at our best, you don't even notice. Certainly The X Factor and The Voice and things, they are incredibly diverse and nobody talks about them being an example of great diversity, because it's so seamless and natural."
On Friday, one of this year's contestants, Dr Alex George, also got involved with the diversity debate.
The A&E doctor is taking on a stint on ITV's Good Morning Britain as guest health editor and said it was important for Love Island to be representative.
Speaking to The Telegraph he said, "I think no-one is perfect on the show.
"I think I'm a very average, normal guy that went on the show, but I think it is very important that we, of course, represent everyone in society."
Follow us on Facebook, on Twitter @BBCNewsEnts, or on Instagram at bbcnewsents. If you have a story suggestion email entertainment.news@bbc.co.uk.