My Dad Wrote a Porno is heading to US TV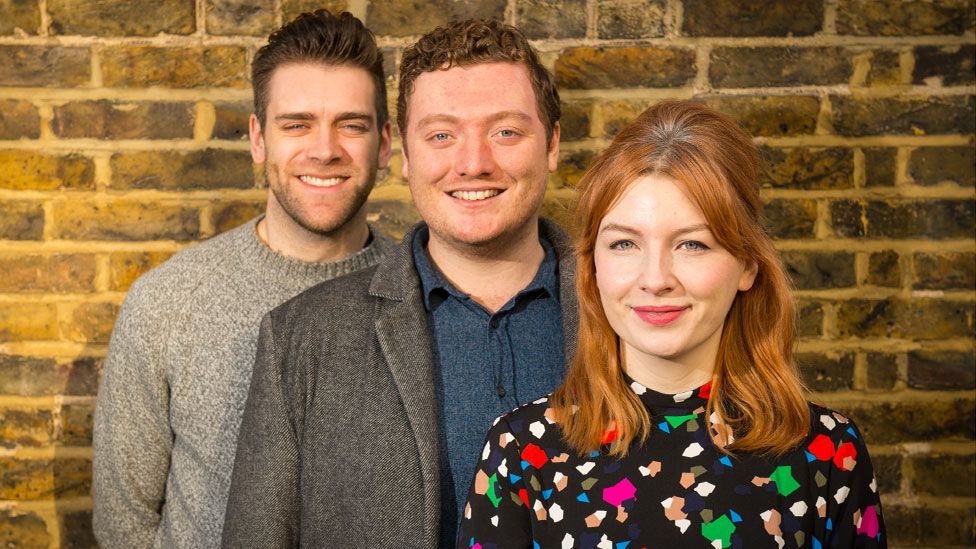 Hit British podcast My Dad Wrote A Porno is heading to TV with an HBO comedy special set to air next year.
It will be based on the sell-out live show, spawned from the podcast, which has been a success in the UK and US.
Each episode, Jamie Morton and friends James Cooper and Alice Levine analyse a new chapter from a series of erotic fiction novels written by Morton's dad.
The unintentionally funny books, under the pen name Rocky Flintstone, follow a saleswoman's saucy adventures.
"My Dad Wrote a Porno shows the extent of just how embarrassing dads can be, in the best possible way," Nina Rosenstein, executive vice president of HBO programming, told Deadline.
"James, Jamie and Alice transformed a very awkward situation into an undeniably hilarious experience that we're excited to share with our audience."
The team behind the hit series said: "We're over the moon and honoured that HBO has decided to help bring Rocky Flintstone's bad dad-rotica to the world - what are they thinking?!
"The response to the live show has been incredible so far, so we can't wait for more people to see it."
News of the TV adaptation was announced on Monday, billed as #PornoDay, on which the first episode of My Dad Wrote a Porno's fourth series was launched.
Levine - also a presenter on Radio 1 - called the news one of her "proudest moments" and credited fans of the show with the latest incarnation of the podcast.
At the Edinburgh TV Festival, Cooper said the trio had also considered musical and animated versions of the podcast.
He also revealed that they had previously attempted to adapt a pilot based on the podcast, thought to be for a British broadcaster, but it hadn't worked out.
The podcast is followed by famous fans including Daisy Ridley, Elijah Wood and Michael Sheen.
Related Internet Links
The BBC is not responsible for the content of external sites.