Asia Argento: Rose McGowan speaks up for accuser Jimmy Bennett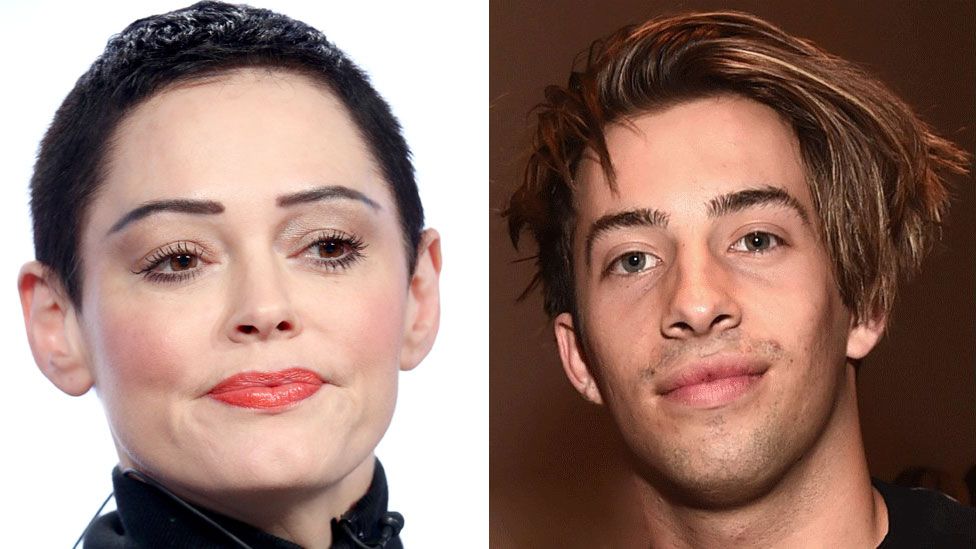 Actress Rose McGowan has spoken out in support of Jimmy Bennett, the former child actor who claims he was sexually assaulted by Asia Argento in 2013.
In a lengthy statement, McGowan said what allegedly happened to Bennett when he was 17 "wasn't fair [or] right."
Italian actress Argento, a key figure in the #MeToo movement, has admitted paying Bennett $380,000 (£294,000) but denies any sexual misconduct.
Text messages have since surfaced that appear to cast doubt on that assertion.
In her statement, McGowan claims Argento admitted sleeping with Bennett in messages sent to Rain Dove, McGowan's current partner.
Some of those messages - alleged to be from Argento - have been published by the TMZ website, alongside a photo appearing to show the actress in bed with Bennett.
McGowan said she had "bonded" with Argento over the past year through their "shared experience" of the Harvey Weinstein case.
Both actresses have accused the disgraced movie mogul of rape, charges Weinstein has denied.
In her statement, McGowan said that learning about the texts and their alleged contents had made her reappraise her relationship with the Italian actress.
"You were my friend. I loved you," she wrote. "I really hope you find your way through this process to rehabilitation and betterment.
"Do the right thing. Be honest. Be fair. Let justice stay its course," McGowan concluded, entreating Argento to come forward and "be the person you wish Harvey could have been."
The BBC has sought a comment from Argento's representatives and has yet to receive a response.
McGowan's statement followed reports that Argento, 42, had been stripped of her role as a judge on the Italian version of The X Factor.
Sky Italia, which airs the show in Italy, said no official statement or confirmation regarding her involvement had been released.