Stacey Solomon and the 'toxic' world of gossip magazines
By Annabel Rackham
Entertainment reporter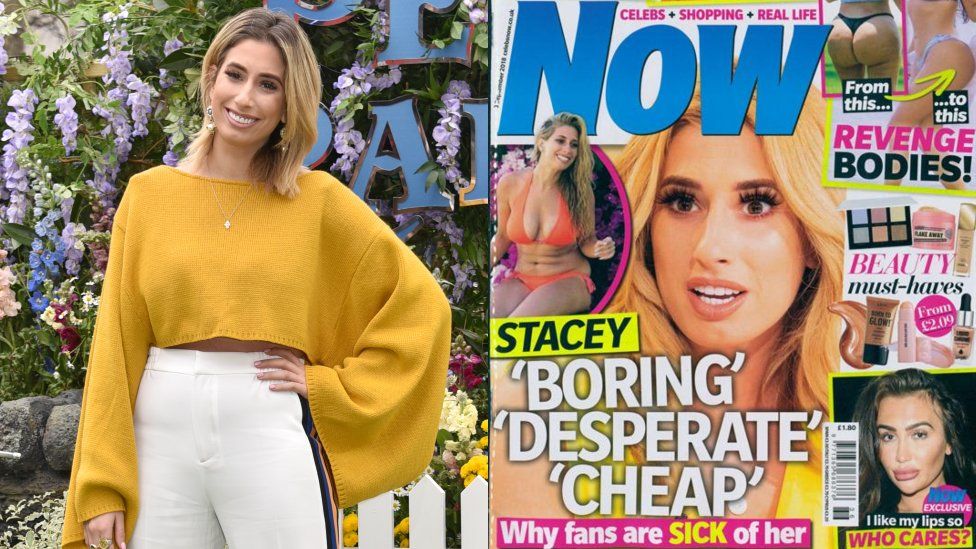 This week's Now Magazine cover was seemingly not very different to previous issues - bikini bodies, beauty products and reality TV stars.
The unwitting cover star was Stacey Solomon, with the words "boring", "desperate" and "cheap" written underneath.
The phrases were taken from social media comments about the 28-year-old and put alongside a picture of Solomon in a bikini, which she had shared on her own profile to encourage body positivity.
As messages of support for Solomon poured in from famous friends and fans like Jennifer Saunders, Stephen Fry and Laura Whitmore, it raised the question - what place do gossip magazines have in today's society?
Now magazine issued a statement, which said: "The story featured in this week's issue of Now magazine regarding Stacey Solomon was written on the basis of social media comments about Stacey and is not the opinion of Now magazine.
It added: "We do not encourage or condone bullying in any form. We apologise to Stacey for any distress our story may have caused."
But the TV presenter called the cover "the meanest thing I've ever seen" - and many agreed with her.
Actress and presenter Jameela Jamil has been extremely vocal in the past about the effect of gossip magazines on women's self esteem and tells the BBC they are "one of the saddest things to happen to women in modern times".
"They predominantly use shame and bullying to sell a toxic patriarchal narrative and lifestyle to vulnerable women, and then call it 'entertainment'.
"They are grossly irresponsible and encourage a really toxic mindset in women, in my opinion, with the intention of selling beauty and weight loss products.
"I hate that it's happened [to Stacey Solomon], but I'm glad it's getting this much negative attention, I think it's a sign that the hyper-normalisation of blatant woman-shaming is coming to an end.
"As a teenager I was so affected by these magazines, they conditioned me to believe that I too must feel shame if I shared the flaws of the woman being savaged on their cover.
"Stacey is a wonderful advocate for self acceptance, and this magazine has shown nothing but ignorance, bullying and bitterness."
Her sentiments are echoed by Jessica Barrett, who worked at celebrity magazines for five years and says she left the industry because of "the coverage of women's bodies and stories".
"There was constant assessment of people losing and gaining weight and the patronising way women were celebrated for having curves, when really it was negative."
Barrett, now a columnist for the i Paper, wrote about the Stacey Solomon cover and tells the BBC these magazine covers have "slipped under the radar for some time".
"These covers were constant before social media took off - cellulite and tummy rolls sold really well.
"People publishing the magazines need to lead the cultural movement. This has caused such a problem because its an archaic way of thinking.
"We don't want to tear people apart, we want to celebrate one another and that's why its fallen so flat - the negative mindset has gone against that."
"People pick up and buy something shocking, but this has gone too far.
"I think people working at Now Magazine will be desperately rethinking their covers, it's a good thing because they need a wake-up call - you can't just write what you want."
Editors 'fighting losing battle'
Former editor-in-chief of OK! Magazine Lisa Byrne is keen to point out that "low circulation equalled job losses" during her time in the editor's chair.
"There was always a huge pressure to get fantastic sales each week, and I could never sleep the night before the figures were released".
She tells the BBC that in today's climate it's even harder, as "pesky celebrity websites" mean magazines have to fight for their place amongst a sea of free and easily accessible content online.
"I feel genuinely sorry for editors in today's publishing climate. They are fighting a losing battle against that sneaky old worldwide web, which brazenly offers access all areas to readers desperate for a VIP trip to celebsville.
"Editors are in constant combat mode, fighting to keep their magazine afloat so that they and their team remain in employment."
But Byrne says there has been a "dramatic transformation in the celebrity magazine industry" since she decided to call it quits nearly six years ago.
"Without doubt, the editorial bullying of stars - especially ones who've made their name through reality TV shows and are seen as fair game - has escalated to epidemic proportions," she says.
"Creating a cover reflecting the mean opinions of a few nasty readers is not the way forward."
Now magazine has been contacted for any further comment.