Chloe x Halle: Meet Beyonce's soulful proteges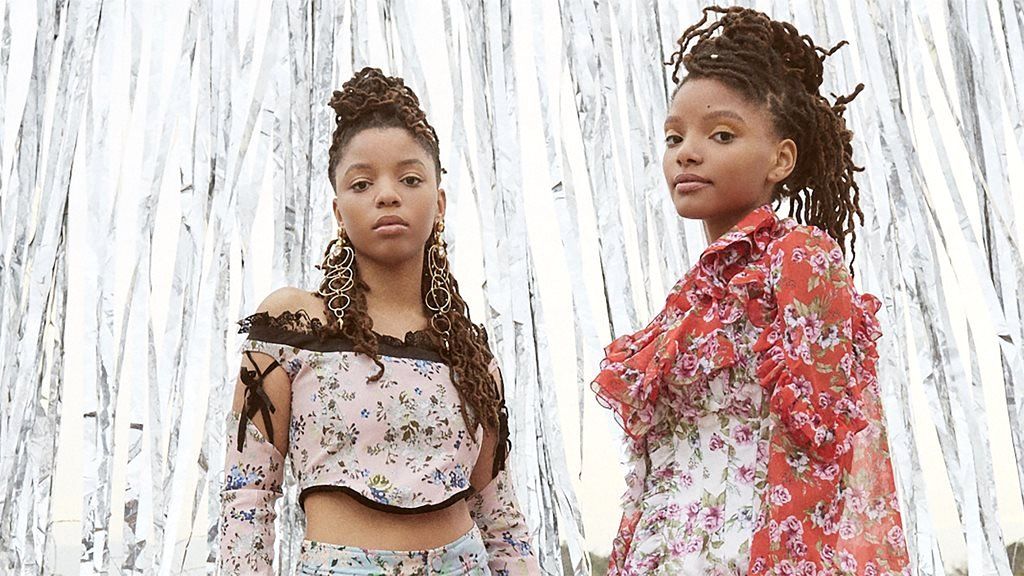 Chloe and Halle Bailey were in their mid teens when, five years ago, they posted a cover of Beyonce's Pretty Hurts on YouTube - but they showcased a poise and vocal ability beyond their years.
The clip soon caught the attention of Beyonce herself, who shared it on her Facebook page, adding the caption: "So amazingly talented!!"
After learning they were unsigned, she contacted the sisters at their home in Atlanta, Georgia - taking them under her wing and signing them to her Parkwood Entertainment label.
A few years later, they have uprooted from Atlanta to Los Angeles, released an award-nominated debut album, landed roles in TV show Grown-ish (for which they wrote the theme song), and are currently opening for Beyonce and Jay-Z on their On The Road II stadium tour.
"We're having such a blast," says Chloe, on the phone from New York. "Just building our craft and being really happy and making memories."
It's a pretty safe bet, however, that the duo would have succeeded even without Beyonce's endorsement.
They wrote and produced their debut album themselves, concocting an ethereal take on R&B infused with trap beats and intricately-woven harmonies.
"Pretty much the whole album we did in our living room," says Halle who, at 18, is the younger of the two sisters.
"It's so funny because that's the family area where we watch TV, then our studio's off in a little corner of the room. So whenever we're recording it's like a game where we're like, 'OK everybody, be quiet!'
"Our little brother's bedroom is right next door so he always has to tiptoe by when we're recording!"
They prefer the homemade approach, turning down the A-list collaborators Beyonce could easily have supplied so they could forge their own musical identity.
"Our mum and dad instilled in us that we can do amazing things, we can learn to do whatever we want," says Halle.
"So we were like, 'Instead of getting a big-time producer and having to wait four weeks for a meeting, why don't we just try to create it ourselves?'"
The creative freedom enabled them to cultivate a unique style that blends Halle's languid, jazz-inflected vocals with Chloe's darkly twisted R&B grooves.
"It's super-cool how such a small person can make such hard beats," enthuses Halle.
"Whenever my sister and I create, we feel as if we're vessels of a greater power," adds Chloe. "There's a feeling that overcomes us... We'll just hear these sounds and melodies in our heads and we just lay 'em out and see what sticks."
Of course, the idea of two young artists writing and recording on their own shouldn't be remarkable - but in the current pop climate, it's still a rarity.
Chloe and Halle's independence stems from their parents Courtney, a recruitment officer, and Doug, a former stockbroker who's now their full-time manager.
It was Doug who taught the girls the basics of songwriting when they were 10 and eight years old, and who encourages them to take the lead in business meetings, making their own deals rather than relying on his input.
Their confidence is reflected in lyrics that convey the hopes, concerns and self-assuredness of the upcoming generation.
"Do it while you young/Don't let them turn you numb," they sing on their album's title track The Kids Are Alright, a manifesto for the youth who want to fix the world.
"A lot of crazy, crazy things are happening right now from a political stance but what I love about our generation is we're learning to come together and we are raising our voices on things we believe in," says Chloe.
"We've been to the women's march, we've been on gun control marches," adds her sister.
"We find that we need to be there, to be a part of this monumental time in history. We want to say to our children when we're older, 'Yep, we were fighting for this cause. This is something we believed in - and you can fight for what you believe in as well. All you have to do is stand up.'"
"People say we're too naive but I feel that we're more aware than anybody else," says Chloe of her peer group.
"Yes, they may have years of experience on us, but we have heart."
On their new single, Happy Without Me, the duo turn their attention inwards, exploring the peculiar mix of emotions you experience when you see your ex with someone new.
"You thought you were fine - but then you see they're actually doing pretty good without you, and it kind of tugs at your heart," says Chloe.
Hi Lo, meanwhile, is a "love letter to ourselves", says the 20-year-old, which focuses on finding strength in their flaws - from the "scar up on my thigh" to a tendency to "fall in love just way too easy".
Chloe says: "What we're mentioning in the verses, those are what we used to think of as flaws, and things we didn't necessarily like about ourselves but now we love them.
"There are days when I'm sad and I'll even play that song to myself.
"I think it's important for people of all ages to understand that they're not alone in feeling this way, and it's OK and it's natural - and it's all about how you get back up."
You can hear the impact of Beyonce's musical message in her protégés' songs - continuing her celebration of female power and highlighting the importance of self-worth.
"What I love about Beyonce is she gives us the creative freedom to be what we want to be," says Halle.
"We would send songs to her when we felt like they were at a good place and she would give wonderful notes.
"We're just so happy to have her around us. She's just so humble and beautiful and an amazing soul, all in all."
But the sisters' ultimate sounding board is each other.
"We are total opposites but at the same time we work together," says Halle.
"I'm definitely a bit more reserved and calm and my sister is very energetic and out there. But we're best friends, so we tell each other all our secrets, we're like each others' diaries."
And that, more than anything, keeps them honest and authentic when they're writing songs.
"Absolutely," laughs Chloe. "Yes, absolutely. We're like, 'Girl, tell the truth!'"
Related Internet Links
The BBC is not responsible for the content of external sites.