Aretha Franklin's funeral in quotes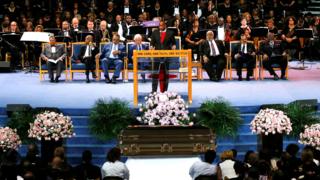 The funeral for soul legend Aretha Franklin is taking place in Detroit, two weeks after she died of pancreatic cancer, aged 76.
The five-hour service has seen tributes and reminiscences from dozens of friends, family members, music legends and dignitaries.
Here are some of the most memorable quotes from the Queen of Soul's service.
Bill Clinton, former US president
"We started out, not as a president, a first lady, a senator, a secretary of state. We started out as, like, Aretha groupies."
"When we are getting out of college is when she finally got her big breakthrough.
"It's one thing I want to say to the people in the audience: She had the voice of generation, maybe the voice of a century but she also worked for years, I mean years, when nobody was paying particular attention.
"The secret of her greatness was she took this massive talent and this perfect culture that raised her and decided to be the composer of her own life's song - and what a song it turned out to be."
"I just loved her."
Tyler Perry, actor and film director
"My mother died in 2009 and it was her who introduced me to the voice of Aretha Franklin. We'd be driving up to the country and she'd have music blasting - and I could tell what my father had done by the music she was playing.
"If she was playing Respect or Think I knew he had done something wrong; but if she was playing Dr Feelgood he might have done something right."
Smokey Robinson, Motown singer
"I didn't know, especially this soon, that I was going to have to say goodbye to you. We talked about it many times that we're the two that were left from all of our neighbourhood friends.
"You're gonna be one of the future voices in the choir of angels because you know you'd have to be. The world is celebrating you and the world is gonna miss you and I know that I'm gonna miss you so much because I miss our talks."
Rev. JoAnn Watson, friend and Detroit council woman
"She never relied on anyone else to tell her story. She wrote her own script. She handled her own business.
"She understood how to wield power without raising her voice. She was paid in advance if she performed. She'd insist there was no air conditioning if she was to sing. She refused to be extorted or disrespected."
Stevie Wonder
"The reason that we are here today is because of love. Because of how much we love this woman.
"The greatest gift we have been given in life itself is love. We can talk about all the things that are wrong - and there are many - but the only thing that can deliver us is love.
"So what needs to happen today, not only in this nation but throughout this world, is that we need to make love great again. That is what Aretha said througout her life. Through the pain, she gave us the joy and said, 'Let's make love great again.'"
Barack Obama, former US president (statement read out at the ceremony)
"From a young age, Aretha Franklin rocked the world of anyone who had the pleasure of hearing her voice.
"In the example she set both as an artist and a citizen, Aretha embodied those most revered virtues of forgiveness and reconciliation, while the music she made captured some of our deepest human desires, namely affection and respect. And through her voice, her own voice, Aretha lifted those of millions empowering and inspiring the vulnerable, the downtrodden, and everyone who may have just needed a little love."
George and Laura Bush, former US president and first lady (statement read out at the ceremony)
"Laura and I are deeply saddened by the loss of the Queen of Soul, Aretha Franklin. Our hearts ache for you and our prayers are with you. Aretha was a woman of achievement with a deep character and a loving heart. She made important and lasting contributions to American music with her gospel-inspired style and distinctive voice.
"Her remarkable talent helped shape our nation's artistic and cultural heritage and in 2005 it was my privilege to honour her with our country's highest civilian award - the Presidential Medal of Freedom. I am proud to have met Aretha, and am grateful that her music will continue to bring joy to millions for generations to come. As you remember and honour Aretha's life may the almighty comfort you in your grief and sustain you during this difficult time."
Victorie Franklin, Aretha's granddaughter
"When I would go to her shows and watch her sing it would be the best feeling in the world. Nothing sounded better to me than the way my grandma sings. Her voice made you feel something. You felt every word, every note, every emotion in the songs she sang. Her voice brought peace.
"It feels amazing to see a woman so fierce, so courageous, gifted, so respected and to be able to call [her] my grandmother; to know that I have that running through my blood and that she's a part of who I am."
Clive Davis, Record label boss
"Behind her God-given natural talent was the drive of a total perfectionist. She privately rehearsed, she practiced, she prepared. And by the time she came into the studio, she literally owned the songs.
"Everyone in the studio would be in awe of her mastery when she stepped up to the microphone. It was a real rarity if she ever were to do more than two takes."
Dr EL Branch, Pastor, Third New Hope Church in Detroit
"Thank you Lord for Aretha: She was strong in her spirit, pure in her heart, generous in her giving, sweet in her compassion, calm in her demeanour, gentle in her touch, powerful in her embrace.
"Thank you for Aretha: She was wise in her advice, bold in her speech, classy in her walk, stylish in her apparel, faithful in her service, loving to her family, loyal to her faith, and submissive to her God.
"Thank you for Aretha: She was a bright and shining star, she was an image of hope larger than life, she was a soldier, a trouper, an encourager, a good and faithful servant.
"Thank you for Aretha: She charmed us, she thrilled us, she entertained us, she inspired us, she motivated us, she helped us, she blessed us, one and all.
"Thank you, Lord, for Aretha: Lord you gave us a Queen, a trouper, a true queen, royalty at its best, and we thank you."
Rev. Al Sharpton, Founder, National Action Network
"Aretha Franklin was given special gifts but she used [them] in a special way. She would not want us to celebrate her without talking about [how] she stood for something. She represented the best in our community and she fought for our community until the end."
"She was a feminist before feminism was popular. She was a civil rights activist when it wasn't popular. She gave us pride, and she gave us a regal bar to reach. And that's why we're all here. We don't agree on everything, but we agree on Aretha.
"[President] Trump said, 'she used to work for me'. No, she used to perform for you. She worked for us. Aretha never took orders from nobody but God."
Rev. William J Barber, Pastor, Greenlead Christian Church, Goldsborough
"When Aretha sang, she lifted the downtrodden spirits and challenged presidents to remember the voices of millions.
"Her voice was mixed with the joy and sadness, the tears and screams of her people down through the ages. She sang in our key and she taught the world how to hear it.
"She specialised in singing that moved the soul, stirred the spirit, and made us aware of a divine presence that could not be denied.
"In the midst of our nation's current moral crisis, we need again that gospel that Aretha sang."
Bishop Charles H Ellis, Pastor of the Greater Grace Temple
"We have plenty of programs today. Some of them are going to end up on eBay."
Follow us on Facebook, on Twitter @BBCNewsEnts, or on Instagram at bbcnewsents. If you have a story suggestion email entertainment.news@bbc.co.uk.