Chris Evans: A life in broadcasting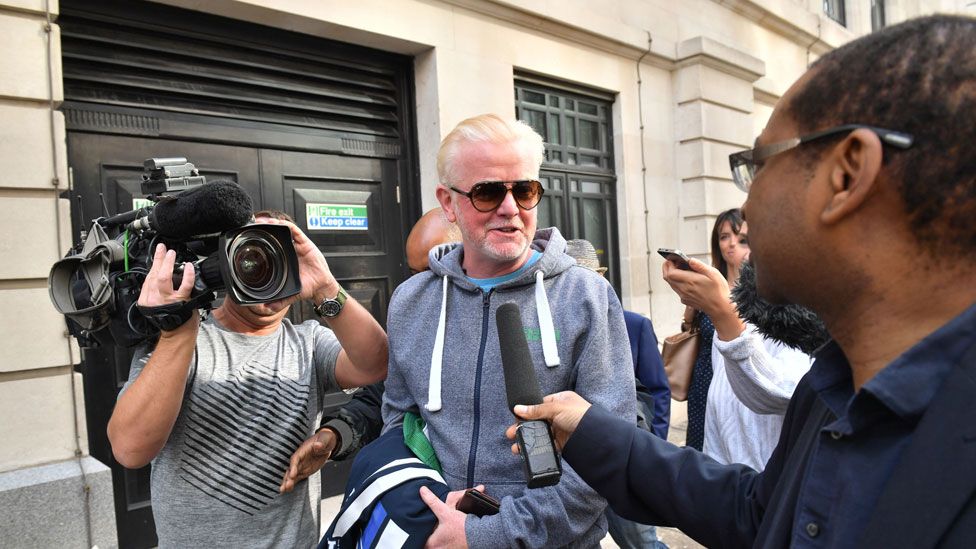 Chris Evans has announced he will be leaving the Radio 2 breakfast show at the end of the year to host Virgin Radio's equivalent.
His departure will bring an end to the latest chapter in an eventful career that has brought him fame, riches - and some notoriety.
Evans built his reputation as a witty prankster on London station GLR, where he started as a producer and ended up as a star DJ.
He shot to fame in 1992 as host of The Big Breakfast, a riotous early morning programme on Channel 4.
The Big Breakfast was a huge hit in its early days, beating even GMTV when it launched on ITV in 1993.
The Warrington-born star's dynamic personality defined the show, which catapulted him from cult personality to national celebrity.
Don't Forget Your Toothbrush, his first prime-time TV show, made its debut on Channel 4 in 1994.
The format for the show - made by Ginger Productions, his own production outfit - was lucratively sold around the world.
After leaving The Big Breakfast in 1994, Evans was recruited by BBC Radio 1 to revamp the station's breakfast show.
He accepted on the proviso it would be in the hands of Ginger Productions, an arrangement the BBC was prepared to accept in return for bumper ratings.
In 1996 he returned to Channel 4 to launch TFI Friday, a classic Evans cocktail of live music, celebrity chat, outlandish stunts and in-jokes.
Yet he found it hard to juggle it with his Radio 1 day job, leading to a parting of the ways in January 1997 when his demands to work a four-day week were refused.
"I was stupid, no doubt about that," he admitted in 2009. "I was ungrateful. I had this brilliant career and messed it up."
Evans was not off air for long. Later that year he returned to breakfast radio, on Sir Richard Branson's Virgin station.
He liked the job so much he bought Virgin Radio from Sir Richard at the end of 1997.
But the Evans magic started to fade soon afterwards.
He was photographed out on the town with Paul Gascoigne, damaging the footballer's chances of getting into the England squad for the 1998 World Cup.
TFI Friday started to go off the boil, while two BBC projects, the National Lottery-based Red Alert and student quiz Carry On Campus, flopped.
That did not stop him selling his Ginger Media Group to the Scottish Media Group (SMG) for £225 million in early 2000.
Yet things soon turned sour at Virgin. Evans failed to turn up for a week of breakfast shows and the station ignored his claim that he had been ill.
Photographs and footage had emerged of him out drinking with pop star Billie Piper, prompting Virgin to dismiss him.
Evans said the termination of his contract cost him £3 million in lost share pay-outs. Yet he ultimately lost his case against his former station.
He and Piper married in 2001 and moved to Los Angeles. But their union did not last and they divorced in 2007.
Evans would eventually return to the BBC in 2005 to present afternoon shows on Radio 2.
After moving to Drivetime in 2006, he was named as Sir Terry Wogan's successor in the coveted breakfast slot in 2009.
The following year he moved back to prime-time television by co-presenting BBC One's The One Show on Friday evenings.
This was partly due to him co-hosting BBC One's Top Gear following the departure of Jeremy Clarkson, Richard Hammond and James May.
Evans, a well-known petrolhead and experienced broadcaster, was seen as a safe bet to take over the helm of the BBC's flagship motoring show.
Yet ratings plummeted, and the presenter was forced to apologise for an ill-advised stunt filmed around a monument to Britain's war dead.
Evans left Top Gear after one series, concentrating instead on his Radio 2 show and his two children with third wife Natasha Shishmanian.
One of the show's most popular initiatives is 500 Words, a story-writing competition for children now in its eighth year.
Earlier this year Evans revealed that he and Natasha, a professional golfer and columnist, were expecting twins.
Speculation is mounting over who will replace him now he has chosen to bring the curtain down on his 13 years at Radio 2.