Marvel: Author Neil Gaiman backs Ironheart writer Eve Ewing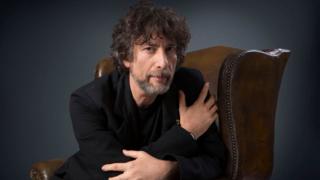 Author Neil Gaiman has come to the defence of a comic-book writer after some on social media questioned her experience.
Eve Ewing has been chosen to pen Marvel's new Ironheart comic-book series but the writer is perhaps better known as an award winning poet and academic.
In response to a Twitter user who questioned how many stories Ewing had written, Gaiman replied: "I'd only published three short stories before I started writing comics. I wrote comics once and the poetry I'd written was more useful than the fiction."
Gaiman's Twitter exchange also involved comic-book writer Kurt Busiek and prompted a discussion around how transferable poetry skills were to storytelling.
FlorbFnarb, who had questioned Ewing's credentials, replied that a good writer of one genre was not necessarily skilled in another.
Gaiman then stated that historically poets often wrote comics, as did playwrights and journalists.
The Sandman comic book series writer also responded to @ComixFanboy on Twitter, who said comic-book authors "should have a track record within the industry", explaining that the industry had taken a chance on him.
Twitter user @ComixFanboy later said he was "satisfied" with Eve Ewing's experience in comics.
Touched by the fact that Gaiman would defend her ability to write comics, Ewing took to Twitter to have a conversation with her 15-year-old self.
She told the teenager that she would one day write for Marvel and people would "argue" about it.
The Chicago-born author told users she would rather people did "not" fight about her on the internet.
There has been support for Ewing's appointment.
An online petition with more than 2,600 signatures urged Marvel to make her the author of the comic book because "she's a disciple in the craft of graphic narrative". The petition points to her book Electric Arches, a story about an Alien's arrival in 1990s Chicago, as evidence of this.
You may also be interested in:
Ironheart follows the adventures of Riri Williams, a teenage genius, who designs a suit of armour inspired by the superhero Iron Man.
Speaking to Marvel in August, Ewing said of the series: "Ironheart symbolises what happens when you combine incredible strength and might with a sense of love, care and a true desire for justice.
"[Riri] and I have a lot in common and it's been so fun to write her so far. Not just as a black woman but specifically as a black woman from Chicago and an awkward nerd."
The first "solo" Ironheart comic, with Ewing as author, will be released in November.