Neighbours shows first same-sex TV Australian wedding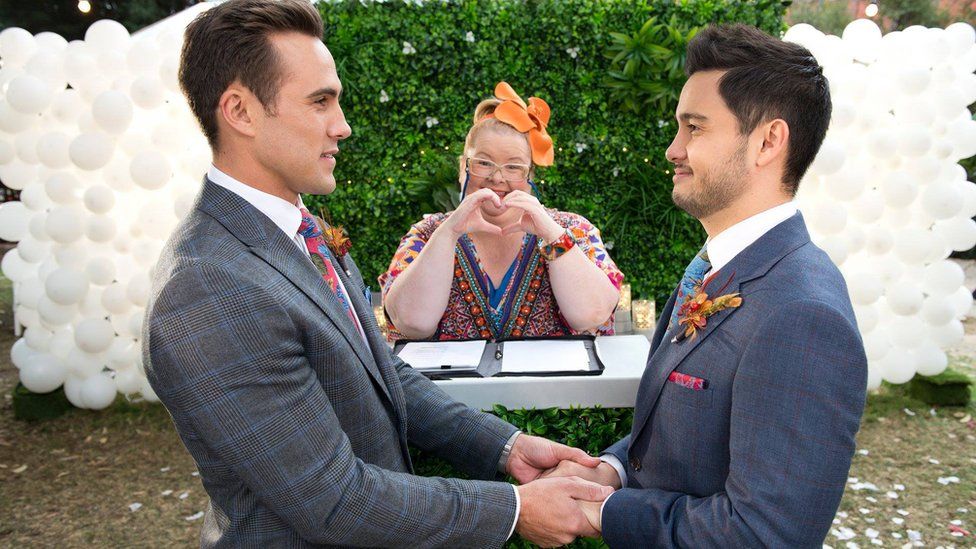 Neighbours has shown the first ever TV same-sex wedding in Australia.
Executive producer Jason Herbison said representation of the LGBT community is "a priority".
Back in 1987, Neighbours showed the wedding of Scott and Charlene, which remains one of the most famous soap weddings of all time.
Herbison said: "It's no secret that the arts are filled with members of the LGBTQ community.
"As storytellers, we have played a strong hand in creating love stories like Scott and Charlene's for the masses to enjoy.
"But until recently, our own love stories haven't been told, out of fear of offending some of the viewing audience."
The wedding marks the culmination of a long-standing relationship between David and Aaron, who got back together after David's fling with Rafael Humphreys, played by former Coronation Street star Ryan Thomas.
Neighbours has always had gay and bisexual characters in the soap, featuring storylines about coming out and exploring love, but has never followed a relationship to the wedding stage until now.
Herbison said UK soaps have always been "first to prove that television has the power to overcome prejudice and promote love and acceptance."
The Archers on BBC Radio 4 was the first soap opera to feature a gay civil ceremony in 2006,
Channel 4's Hollyoaks was the first soap to feature a gay wedding. The happy couple John Paul and Ste Hay wed on Christmas Day in 2014.
Related Internet Links
The BBC is not responsible for the content of external sites.