Victoria Beckham for Vogue: Five moments from her video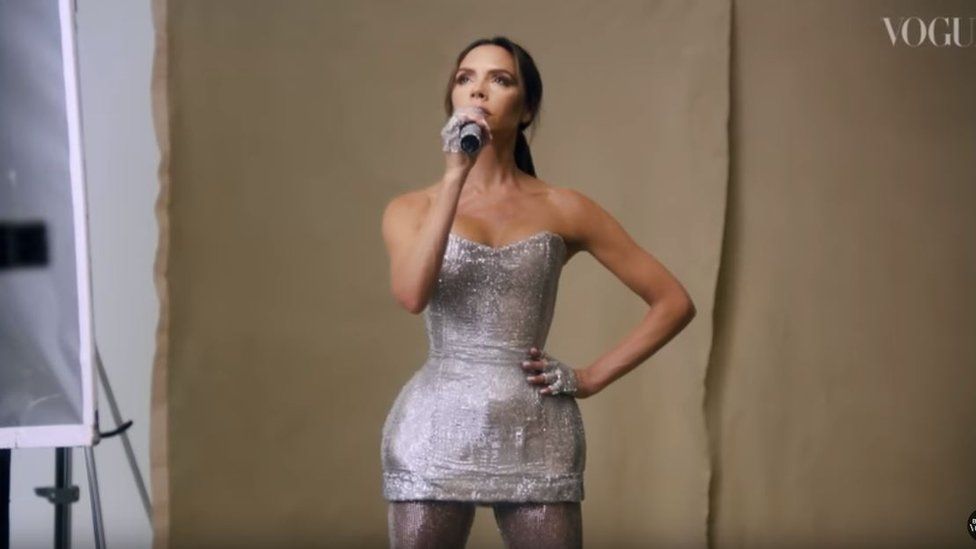 Victoria Beckham - she's best known for her fashion line, Spice Girls career and marriage to footballer David.
One thing she's not known for, however, is smiling - in fact she's rarely ever seen in public without her famous frown.
So a video of her British Vogue photo shoot might come as a bit of a shock...
The magazine has released a "behind-the-scenes" video, taking a comedic look at the life and times of Posh Spice.
Here are five of its best moments:
1. Victoria slipping Spice Girls lyrics into conversation
The 44-year-old seamlessly combines Spice World and fashion world in the video early on by outlining her "vision" for the shoot.
She tells Vogue editor-in-chief Edward Enninful: "This is where two fashion forces join to make something quite incredible."
"This really is where… 2 become 1," Victoria adds.
"I'm giving you everything. All that joy can bring. This I swear. And all I want from you is the promise that... you will at least give it a shot," she tells him.
(Those are Say You'll Be There lyrics.... yes it's been a while)
2. Surprising comic timing
Victoria may be celebrating ten years of her fashion line in the latest edition of British Vogue, but she could definitely have a career in comedy ahead of her if this video is anything to go by.
Introducing herself, she explains, "Today we're here at Vogue and we are shooting a cover story celebrating the rich and inspiring history of one of the most enduring style icons of all time. Me, Victoria Beckham."
The mother-of-four then goes on to offer up some styling suggestions adding: "How about me dancing inside of a space pyramid? Followed by a chainmail bikini."
"Edward, you know I'm a minimalist right? Super simple, every time," she says deadpan.
3. The return of some iconic fashion looks
The Victoria of today is chic, classy, sophisticated, but like any good fashion icon she doesn't forget where she came from.
A number of VB's iconic looks from the past make an appearance in the video, including her Vera Wang wedding gown and a black latex catsuit from the Say You'll Be There video.
The silver glitter dress from her last Spice Girls tour in 2007 is also shown, as is an incredible blue-green cut-out gown from her days as a very tanned WAG.
Back in 2016, Victoria revealed that in her Spice Girls days, producers would often turn her microphone off during performances.
But VB clearly doesn't want anyone to feel sorry for her as one part of the video shows.
"One, two, Isaac, can you hear me?" She can be heard saying to the director.
"It's just, I've had really bad experiences with microphones, most of the time they were either turned off or turned down really low, so you couldn't really hear me."
5. Edward Enninful's range of facial expressions
The magazine editor could win best supporting actor at the Oscars with this performance - mainly for his incredible facial movements alone.
His response is literally jaw-dropping when VB suggests including four other women in her shoot.
"One sporty, bit of an athleisure direction; the other one that's younger, lots of pink... pigtails; one that's very glamorous - full on leopard print. And another one that's super, super sexy. Got big boobs, red hair."
"Spice up your life, Edward," she says to an incredulous looking Enninful.