Doctor Foster's Mike Bartlett takes on the Press
By Emma Saunders
Entertainment reporter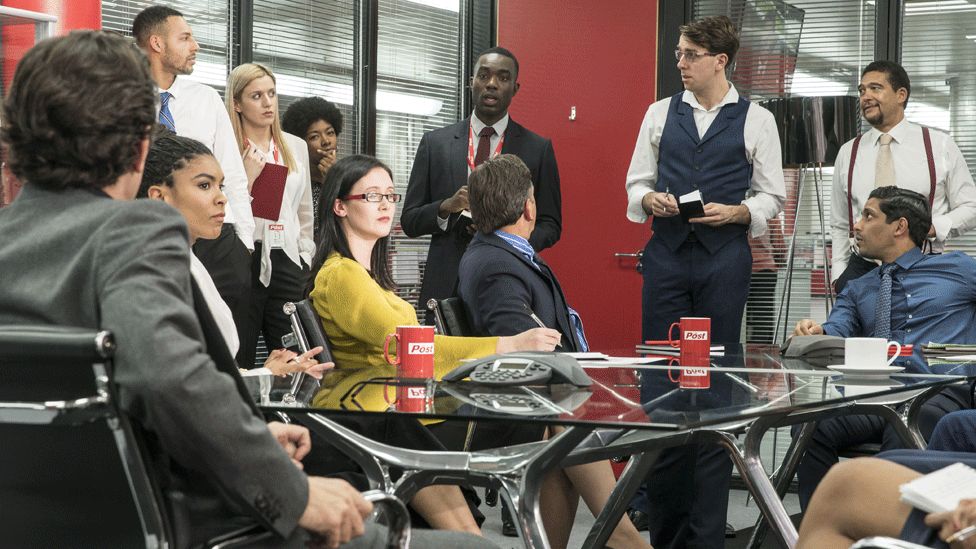 Doctor Foster creator Mike Bartlett had an idea for a "West Wing-style" newspaper drama years ago. But nobody was interested.
Fast-forward to the fallout from 2012's Leveson inquiry following the hacking scandal, and suddenly he had everyone's attention.
The BBC One drama Press stars Priyanga Burford and Charlotte Riley as the editor and deputy editor of broadsheet The Herald.
The paper is in competition with The Post, a tabloid headed up by Ben Chaplin's Machiavellian editor and overseen by the paper's owner (David Suchet).
As he began writing, Bartlett found "the industry had begun to change" as the rise of online journalism and social media took hold.
That influence, coupled with Bartlett's trademark fast-paced, tense and addictive scriptwriting, makes for a heady cocktail of scandal, ethics, relationships, money and power.
While Bartlett is keen to point out that "the characters come first... we really hope you will fall in love with them", the backdrop is equally compelling.
"It's about an industry that's been the same for a long time and has to change. And that's going to have bad consequences - and really good consequences.
"Everyone is going to need news because we need facts more than ever, and therefore we need journalists finding those facts more than ever," he explains.
"Where we choose to get our facts from and who we trust is a big question mark for the industry and us."
Bartlett, along with director Tom Vaughan and the lead actors, delved into the real-life world of newspapers ahead of filming.
They began by visiting The Mirror and The Guardian.
"We were like kids in the sweet shop! I couldn't believe we were allowed in there," Riley exclaims.
"The shoe was on the other foot with us asking the journalists questions - they were quite sheepish!" she laughs.
Riley said she was "shocked at how tough the job is" and realised that journalists "really do take their work home."
She also met Lisa Markwell, former editor of the Independent, whom Riley describes as "an incredible woman" who "was very forthcoming re: the personal effects [of work] on her life."
With a job that can be hard to switch off from, ethical dilemmas - from door-stepping bereaved parents to bringing down the careers of politicians - are at the heart of the series.
"The pressure, the passion, the clash between principles and... the need to make money makes for really good drama," Burford says.
It's also noticeable that the cast is so diverse.
Having Burford and Riley as The Herald's two head honchos is definitely a step in the right direction - a significant shift away from the old days when a male-dominated Fleet Street ruled supreme.
A significant number of the cast are from BAME backgrounds, and deaf actor Genevieve Barr also stars.
"When something's going to be on the BBC, you want it to represent the country," Bartlett says.
But he also says he found it a true reflection of the modern-day workplace.
"There was diversity in the newsrooms that I saw," he explains.
The playwright turned TV writer is presumably hoping Press has as big an impact as his hit series Doctor Foster, which starred Suranne Jones and Bertie Carvel.
"I'd love a second series [of Press]," he says. "We could tell a million stories."
Press begins on BBC One on 6 September at 21:00 BST.