Liz Fraser: Carry On actress dies at 88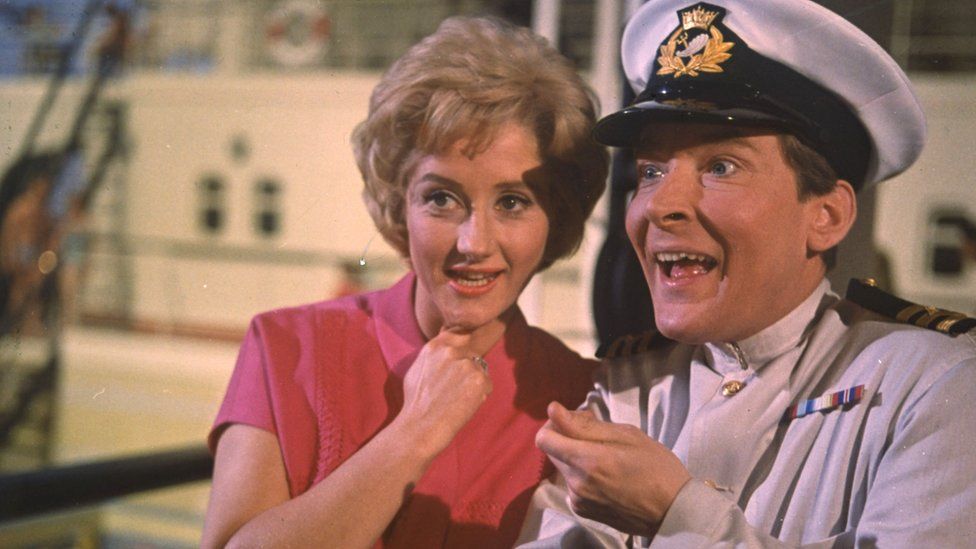 Actress Liz Fraser, best known for her roles in the Carry On films, has died at the age of 88.
Fraser died on Thursday at London's Brompton hospital as a result of complications following an operation, her agent told BBC News.
Fraser often played one of the Carry On franchise's stereotypical "busty blonde" characters.
He wrote: "Her legacy of work will serve as a masterclass for future generations. RIP, dearest Liz. X."
Fraser featured in Carry On films including Carry On Cruising, Carry On Regardless and Carry On Cabby.
She was dropped from the films after reportedly criticising the way in which they were being marketed. But 12 years later, she returned in 1975's Carry On Behind.
The actress later went on to appear in many more films and TV shows and her cousin Lesley Fernandez-Armesto told BBC News she had been working until last year.
Aaron Brown, editor of the British Comedy Guide, said: "Liz was a fabulous comic talent who played the dolly bird support to leading men... but shone in her own regard and, through, dozens of roles, entertained and brought laughter to millions across the last seven decades."
Fraser, whose real name was Elizabeth Joan Winch, grew up in Southwark, south London, and made her film debut in 1955's Touch and Go. It was followed by a role in 1957's The Smallest Show on Earth alongside Peter Sellers.
Her first major film role was in 1959's I'm All Right Jack, playing Sellers' daughter, a role for which she received a Bafta nomination for most promising newcomer.
She acted alongside Sellers again a year later, playing his girlfriend in Two Way Stretch.
Her other film credits included The Bulldog Breed, Double Bunk, The Painted Smile, The Americanization of Emily and The Family Way.
In the 1970s, she appeared in titillating comedies like Adventures of a Taxi Driver and Confessions of a Driving Instructor.
Fraser also had TV comedy roles in Hancock's Half Hour, Dad's Army and The Benny Hill Show, and appeared in straight dramas such as The Avengers and The Professionals.
Fraser was married twice, first to salesman Peter Yonwin and later to TV director Bill Hitchcock, who died in 1974. She had no children.