Chris Pine downplays Outlaw King nudity at Toronto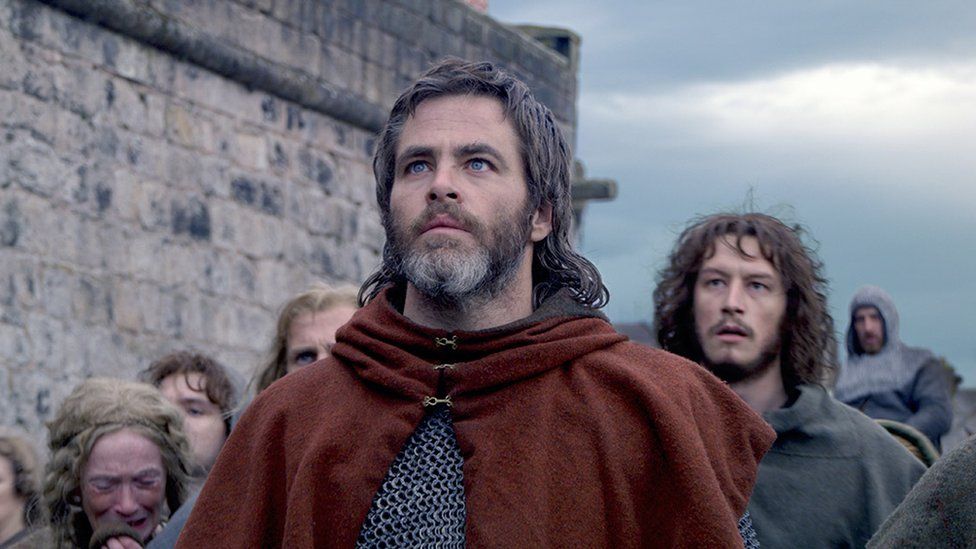 Actor Chris Pine has expressed surprise at the interest generated by a scene of full-frontal male nudity in his new film about Robert the Bruce.
"We all have certain body parts, so it's a trip when showing what we all have becomes a Google Alert," said Pine of festival opener Outlaw King.
"The guy's having a bath, and people don't tend to do that with their clothes on," added the film's director, David Mackenzie.
Set in the 14th Century, Outlaw King tells how Robert the Bruce led Scotland's fight for independence from England following William Wallace's death.
The film is being distributed worldwide by subscription giant Netflix but will be shown in some Scottish cinemas.
Pine, who previously worked with Mackenzie on 2016's Hell or High Water, pointed out their gritty medieval epic contained copious instances of "debowelling [sic] and beheading".
"Somehow, though, that is not nearly as interesting or revelatory or exclamatory to a modern audience," the 38-year-old told reporters on Friday.
Pine admitted shooting Outlaw King in the UK last year had posed many challenges, from riding a horse and wielding a sword to mastering a Scottish brogue.
"The reason I jumped in was because of David," he continued. "I've made a lot of big films, but never one with a director of his artistry and sensitivity."
Mackenzie said he had aimed for a "method epic realism" in the film combining "poetry and intimacy" with realistic war scenes.
It is one of the most ambitious projects to date for a film-maker who has been widely tipped to direct the next James Bond film following Danny Boyle's departure.
The director declined to address speculation linking him to the film, currently known as Bond 25.
"I finished this film two days ago and it's been a very hard journey," he told the BBC.
"I haven't given a second thought to what I'm doing next, apart from maybe taking a break."
As one of this generation's leading men, meanwhile, Pine was happy to pay tribute to the late Burt Reynolds following his death on Thursday at the age of 82.
"He left a lot of great work and should be applauded for that," he said, singling out - perhaps with his own recent exposure in mind - Reynolds' famous nude photo shoot for Cosmopolitan magazine.
The Toronto International Film Festival continues until 16 September.