Five artists who went off their biggest hits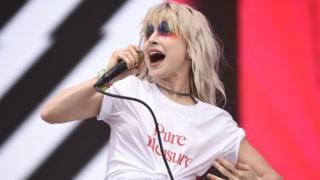 American band Paramore are retiring one of their biggest hits, Misery Business.
Frontwoman Hayley Williams revealed the news at a special homecoming show in Nashville.
She said the band "feel like it's time to move away from it for a little while".
The song has been criticised in the past for some of its language, which has been seen as anti-feminist and has attracted a backlash.
Williams said in an interview last year: "I was a 17 year old kid when I wrote the lyrics in question and if I can somehow exemplify what it means to grow up, get information, and become any shade of 'woke', then that's a-okay with me."
But Paramore aren't alone in shunning one of their best-known songs. Here are five other artists who distanced themselves from some of their biggest hits.
1. Radiohead - Creep
It was the breakthrough for Thom Yorke and his band in 1993, but Radiohead have a difficult relationship with their song Creep.
Yorke even gave it the nickname "Crap", despite it being part of the band's sets for much of the 90s.
The group said by the time they were touring their 1997 album, Ok Computer, they were sick of it.
At a gig in Montreal when the crowd started shouting requests for it, Yorke even shouted an expletive adding: "We're tired of it!"
They went seven years without performing the song at all, before a rare performance in 2016.
2. Led Zeppelin - Stairway to Heaven
Robert Plant told the Los Angeles Times in 1988: "I'd break out in hives if I had to sing that song in every show,".
What song is he referring to? Stairway to Heaven, one of Led Zeppelin's biggest and most well-known songs.
He wrote the song in 1971, but said as he grew older that it didn't make sense anymore.
"I wrote those lyrics and found that song to be of some importance and consequence in 1971, but 17 years later, I don't know."
Plant's disdain for the song is even credited as causing a huge divide between him and Jimmy Page, the band's guitarist.
When they came together for a reunion gig in 2007, the pair argued about whether the song would make it into the set (it eventually did, but Plant refused to end on it).
3. Madonna - Like a Virgin
She's the Queen of Pop, known for constantly reinventing herself over the years.
And although she has frequently sung her iconic song Like A Virgin, she usually performs it with a twist, such as her Marlene Dietrich-style rendition for 1993's Girlie Show concerts.
In 2008, however, the star told New York's Z100 radio that she wasn't sure she could sing the song ever again.
"I just can't, unless somebody paid me, like, $30 million or something."
Not only that - Madge doesn't even want to hear the song - she said in another interview a year later that people often try and play her songs.
"For some reason people think that when you go to a restaurant or you are going shopping that you want to hear one of your own songs.
"It's usually Like a Virgin and that is the one I don't want to hear."
She did, however, include it in her Sticky and Sweet tour that same year, and in every tour since. But, to be fair, all those tours have grossed more than the required $30m.
4. Oasis - Wonderwall
While at present an Oasis reunion might seem pretty unlikely, the odds of getting to hear Liam and Noel perform their 1995 track Wonderwall together may have even worse odds.
The hit song was absent from their setlists for a number of years in the mid-2000s, and when asked by MTV in 2008 what he thought of the song, Liam said: "Every time I have to sing it I want to gag.
"You go to America, and they're like: 'Are you Mr. Wonderwall?' You want to chin someone."
And despite Liam and Noel not getting along - they appear to share the same feelings about the song.
Earlier this year Noel told Absolute Radio, "I don't particularly like that song - I think Cigarettes and Alcohol is a far superior song."
Despite the ambivalence towards Wonderwall, both brothers have seen their way to including the song in their respective solo tours.
5. R.E.M - Shiny Happy People
Shiny Happy People was released in 1991, at a time when grunge bands like Nirvana were taking over.
The band weren't a huge fan of the song, despite it being arguably their most popular hit.
It wasn't chosen for the band's 2003 best of compilation, nor was it played much live, as Michael Stipe says he didn't want the band to be remembered for it.
When asked about the track in 2006, he told The Sun, "OK, I don't want it to be the song R.E.M. are remembered by in 100 years' time but it should be recognised as one of our minor hits . . . though not our finest moment."
Unfortunately for fans, the band split in 2011, so the chances of hearing it live again are currently slim to none.
Follow us on Facebook, on Twitter @BBCNewsEnts, or on Instagram at bbcnewsents. If you have a story suggestion email entertainment.news@bbc.co.uk.