Carrie Underwood reveals she had three miscarriages in two years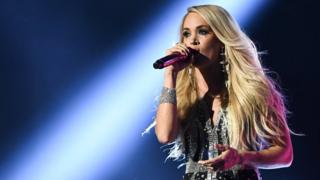 In an emotional interview, country star Carrie Underwood has revealed she suffered three miscarriages in the last two years.
The star told CBS News she reached her lowest point earlier this year when it seemed she might have a fourth.
"I was just sobbing," she said. "I was like, 'Why on earth do I keep getting pregnant if I can't have a kid?'"
The 35-year-old said she "got mad" at God and asked: "What is this? Either shut the door or let me have a kid."
She added: "For the first time, I feel like I actually told God how I felt.
"That was like a Saturday - and the Monday I went to the doctor to, like, confirm, another miscarriage. And they told me everything was great.
"He heard me," she continued.
The star, who has a son Isaiah, 3, with her hockey player husband Mike Fisher, is now expecting a second child.
Before revealing her struggles with fertility, Underwood had faced criticism for suggesting she was too old to have children naturally.
In an interview with Redbook, Underwood said: "I'm 35, so we may have missed our chance to have a big family. We always talk about adoption and about doing it when our child or children are a little older."
Many fans applauded her openness but some felt she was misguided.
Miscarriage: The loss of about one in four pregnancies
Miscarriage is the loss of a pregnancy up to but not including 24 weeks of pregnancy. If the baby is lost after this point it is classed as a stillbirth
Unlike stillbirths, miscarriages do not have to be registered or recorded anywhere so there are no official statistics, but it is estimated that about one in four pregnancies ends in miscarriage
The majority of miscarriages happen within the first 12 weeks and by far the majority of those happen within the first eight weeks. When a woman gets to the second trimester - the middle three months of pregnancy - there is a much smaller likelihood of miscarriage
About half of miscarriages are thought to happen because something has gone wrong with the early development of the egg cell or sperm cell. Miscarriages can also happen because of a blood clotting problem which can starve the baby of oxygen, hormonal problems, a problem with the shape or strength of the uterus or cervix, large fibroids (non-cancerous growths) in the uterus, or infection
The main two risk factors for miscarriage are a woman's age and the number of miscarriages she has had before. As women age, their eggs too get older and there are more likely to be abnormalities
Source: Miscarriage Association
"You need to know your window for having children is not closed," wrote one Twitter user. "You can still have healthy children. 35 is not old, 35 is not too late, 35 is fine."
"I totally get it," said a fan on Facebook. "We have gone back and forth about trying again and 35 was my cut off age. But now I'm 35, I'm thinking about it. I feel the clock ticking like I'm sure she does."
Underwood announced her pregnancy shortly after the interview was published; and proudly showed off her baby bump during a surprise performance on Keith Urban's US tour on 24 August.
She recently had to cancel two UK appearances, at Radio 2 Live in Hyde Park and the Long Road festival, due to illness.
The star released a new album, Cry Pretty, last Friday and told CBS the title track had been inspired by her tough 2017, which also included a nasty fall that left her needing more than 40 stitches on her face and surgery for a broken wrist.
"I would literally have these horrible things going on in my life, and then have to go smile and, like, do some interviews or, like, do a photo shoot or something, you know? So it [songwriting] was just kind of, like, therapeutic, I guess," she explained.
Follow us on Facebook, on Twitter @BBCNewsEnts, or on Instagram at bbcnewsents. If you have a story suggestion email entertainment.news@bbc.co.uk.