BBC thriller Killing Eve gets thumbs up from critics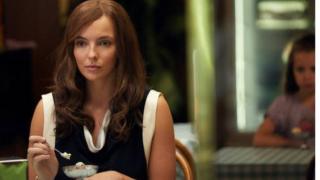 Those living in the US will already know about Killing Eve and now UK viewers get to see what the fuss is about.
The show, made by BBC America, is a spy thriller written by Fleabag's Phoebe Waller-Bridge.
Its first episode aired on Saturday, whilst the whole series is available for binge watching on the iPlayer.
Reviews for the show have been largely positive, too - with critics praising the scripting and casting.
The Guardian's Lucy Mangan gave the show five stars and referred to "the snapping, crackling script" which she called "the perfect command of comedy and tragedy".
"[The show] wears its feminist credentials so lightly. Eve doesn't have to fight any overt sexism. Her boss and husband are good, supportive guys.
"Villanelle only uses her femaleness to get physically close enough to slice, stab or shoot her victims, not seduce them.
"This isn't a retrograde step. This is progress."
The Independent's Ed Cumming also gave the show five stars and pointed to leads Jodie Comer and Sandra Oh who play Villanelle and Eve.
"Killing Eve's triumph is to give full throat to each of its many voices.
"It's the chemistry between the two compelling leads, however, that gives Killing Eve its particular fizz.
"Even as they are cast as cat and mouse, the two women are fascinated by each other, respectful of the other's skills but determined to win."
Another five stars were handed out by The Telegraph's Jacob Rees - who called the show "an absolute peach".
"With style and verve, Phoebe Waller-Bridge has adapted Luke Jennings' Codename Villanelle novellas about the co-dependent joust between a spook and an assassin.
"Killing Eve looks fabulous in the manner of a glossy cartoon bloodbath, while the multilingual dialogue fizzes and sizzles.
"And blissfully each episode is only 45 minutes. Please can BBC Drama now cool it for a bit? It has successfully reminded us Netflix is not the only game in town."
Digital Spy's Jo Berry was also a fan of the show and credited "Waller-Bridge's skill at mixing drama with wry humour".
"Villanelle is dangerous, strange, funny and sly, and one of the true pleasures of Killing Eve is sitting back and watching Comer's expressive face while wondering what the hell this mad assassin is going to do next.
"Waller-Bridge subtly makes such observations in her enjoyably snarky script, and also skilfully turns the good-guy-chases-the-villain formula on its head.
"Killing Eve is a suspenseful, brilliantly played slice of must-see TV, and it's an absolute blast."
Carol Midgley, writing in The Times, gave it four stars, who wrote that "this is a totally different kind of black comedy, ably assisted by the deadpan delivery of Sandra Oh as Eve" and described Jodie Comer as "beguiling".
The Financial Times' Suzi Feay gave the show a more muted three stars and credited Waller-Bridge for putting "a distinctive spin on the spy genre".
"The interchangeability of the hunter and the hunted is a well-worn trope, but it's given a distinctive spin in Killing Eve by scriptwriter Phoebe Waller-Bridge, whose trademark humour has turned even darker and meaner than it was in Fleabag.
"This doesn't have a great deal of charm or believability, but it is immensely stylish."
However, not everyone is a huge fan - Keith Watson at the Metro gave it two stars.
"The trouble is, the show is all just so cold and knowing, an in-joke stuffed with unbelievable characters," he said.
"But the shooting and spying stuff is pure cartoon.
"After a bright start - who doesn't like to see cute kids get their ice creams totalled? - the excitement rapidly starts to pall.
"Maybe it's just that I don't find people wandering around killing people in gruesome fashion that funny, however stylishly it's pulled off."
Follow us on Facebook, on Twitter @BBCNewsEnts, or on Instagram at bbcnewsents. If you have a story suggestion email entertainment.news@bbc.co.uk.