Bodyguard: How come ITV sold the BBC hit to Netflix?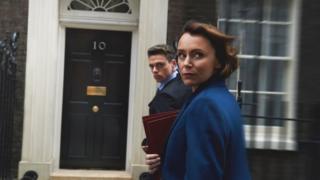 Bodyguard has been a huge hit for BBC One - and now it's coming to Netflix.
The streaming network has acquired the rights to show the gripping thriller outside the UK and Ireland.
However, it's not the BBC that has done the deal. In fact, the show has been sold to Netflix by ITV Studios.
That's because the drama was made by production company World Productions, which was bought by ITV's programme-making and distribution subsidiary ITV Studios last year.
Deals like this are now normal practice in the TV world.
Media commentator and journalist Kate Bulkley says public service broadcasters like the BBC and ITV have been doing more commercial tie-ups like this in recent years as a way to stay competitive.
"The market for programmes and series is getting increasingly competitive because we have many more players who are eager to get their hands on premium content," Bulkley tells the BBC.
"They include Netflix, Amazon, Apple, Facebook and YouTube - it's important for the BBC and ITV to up their game and compete for the talent and the projects that will hopefully be hits."
World Productions has also made Line Of Duty for the BBC, The Bletchley Circle for ITV and Save Me for Sky Atlantic.
And ITV Studios makes one of the BBC's other biggest hits in Poldark through another of the production companies it has snapped up, Mammoth Screen.
This strategy helped boost ITV Studios' revenues by 13% to £1.6bn in 2017. It claims to be the world's fastest-growing production and distribution business.
Netflix was brought in as an investor during Bodyguard's early production stages in exchange for international rights to stream it.
Netflix now has a number of partnerships with UK production companies and broadcasters for shows including Channel 4's The Great British Bake Off and the BBC's Black Earth Rising and Wanderlust.
Record-breaking ratings
The first episode of Bodyguard, which was written and produced by Line Of Duty mastermind Jed Mercurio, was watched by 10.4 million viewers in the UK - the highest launch figure for any new drama across all UK channels in a decade.
ITV Studios international president Maria Kyriacou said it was "a perfect example of a show produced locally which has huge global appeal".
Bulkley adds that the increasing pressure to compete commercially to produce and sell top quality content, spurred on by the growth of Netflix and Amazon Prime, has been felt in the BBC too.
Like ITV, the corporation now has its own commercial arm, BBC Studios, which is free to make content for other broadcasters.
"BBC Studios is a relatively new business - there used to be BBC Worldwide, which was the commercial arm who would sell programmes made by BBC, Channel 4 and ITV," Bulkley explains.
"But in April this year it was put together with the in-house production business of the BBC and the whole entity was renamed BBC Studios."
This decision came about because the BBC felt it should be allowed to sell to other broadcast companies and make money just like studios associated with ITV and Channel 4 do, she says.
"There is now a fully commercialised production entity, which is good for the BBC because it means that they are not only producing for the BBC but for other broadcasters - the idea is that the best ideas win and if the BBC doesn't want [to broadcast] a certain programme they can make it for someone else.
"It has been hard for the past BBC production team to think more commercially, so freeing them up has given them a whole new perspective."
The Netflix deal for Bodyguard was announced on the day BBC director general Tony Hall told the Royal Television Society that the corporation risked getting left behind in the face of limited funding.
"A decade ago, premium high-end drama might have cost £1m an hour in today's money," he said.
"Premium drama today costs many times that figure routinely. That has resulted in the BBC needing to spend significantly more just to stand still."
Bulkley says the "content arms race" is only going to continue as broadcasters and streaming services compete for shows they think will bring in viewers.
"With the Bodyguard, it was a commercial deal for a premium drama, which costs you £5-6m an episode because you have to pay actors and directors and also because you want it to look good - you have to go to locations and make them look slick," she says.
"In this competitive environment you have to make shows stand out, so what's happening is a lot more creative deal making.
"In the old days, the BBC would make a show and sell it round the world - now they need to be able to greenlight a project quicker because other companies like Netflix and Amazon have big chequebooks.
"To make these premium deals you need money and you need to move quickly."
Follow us on Twitter @BBCNewsEnts, on Instagram at bbcnewsents, or email entertainment.news@bbc.co.uk.