Jodie Whittaker's Doctor Who: What do the critics think?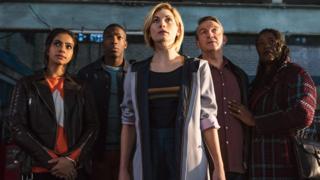 Jodie Whittaker's first episode of Doctor Who has received broadly positive reviews from critics.
Her performance, those of her co-stars, and the production values of The Woman Who Fell To Earth came in for particular praise.
But some critics felt there was still room for improvement.
In his four-star review for The Sun, Rod McPhee said Whittaker "may be the breath of fresh air needed to revive a flagging franchise".
"She doesn't always strike the right balance between quirky geek and masterful Time Lord. And at times she comes across as irritatingly childlike.
"But the highest praise is that you quickly forget you're watching a female Doctor and just accept you're watching THE Doctor."
Writing in the i paper, Stephen Kelly complimented the show's improved production values.
"Never before has Doctor Who looked so crisp and cinematic, nor the CGI so convincing and expensive," he wrote.
"As any fan that has ever tried to convert a sceptic knows, Doctor Who's relatively low budget can often prove a barrier.
"But not any more. This feels like the real deal."
However, some critics struck a more dissenting note.
"As an episode of Doctor Who, The Woman Who Fell to Earth isn't perfect," said Huw Fullerton in The Radio Times.
"A few of the jokes (mainly focused on Whittaker getting used to her new incarnation) and lines of dialogue fall a bit flat.
"And on the whole it's definitely a less witty and quotable version of Who than we might have seen during the years of former showrunner Steven Moffat."
"Does this first episode get everything right, all of the time? No," said Digital Spy's Morgan Jeffrey.
"But it scores where it really counts, showing more than enough wit and flair to convince us that we're entering into a new era that'll be every bit as bold and, yes, brilliant as we'd hoped."
The Telegraph's Ben Lawrence said: "Chibnall has cooled things down with some much-needed accessibility, but still something is missing.
"There is also a distinct lack of interest in the show's heritage.
"Although Whittaker's performance captured the essence of previous incarnations of her character, the overall effect of the show sometimes felt like a trip too far from the familiar."
Carol Midgley awarded the episode four stars in her review from The Times.
"The best compliment I can pay Whittaker after the first episode, her casting doesn't feel remotely radical. It feels normal," she said.
"After 10 minutes, you forget her sex was ever an issue. Whittaker brings energy, fizz and modernity to the role while looking baby-faced compared to her predecessor, Peter Capaldi, whom she describes in the show as a white-haired Scotsman."
Martin Belam in The Guardian said: "The sheer number of new characters, alongside guest star Sharon D Clarke, necessarily means that the alien menace is more of a low-key device to bring the characters together and introduce them to us, than a world-ending threat.
"That's not to say that the creatures' appearance won't give children nightmares."
Empire's Boyd Hilton added The Woman Who Fell To Earth "looks beautiful in the show's new widescreen format".
"Indeed, everything Jodie Whittaker and new showrunner Chris Chibnall have been promising us about the ramped-up, cinematic style of the new season turns out to be true.
"Those new lenses really do make a difference in giving the show a more textured, epic feel, matched by new composer Segun Akinola's atmospheric score."
Follow us on Facebook, on Twitter @BBCNewsEnts, or on Instagram at bbcnewsents. If you have a story suggestion email entertainment.news@bbc.co.uk.