BBC Two gets a playful new look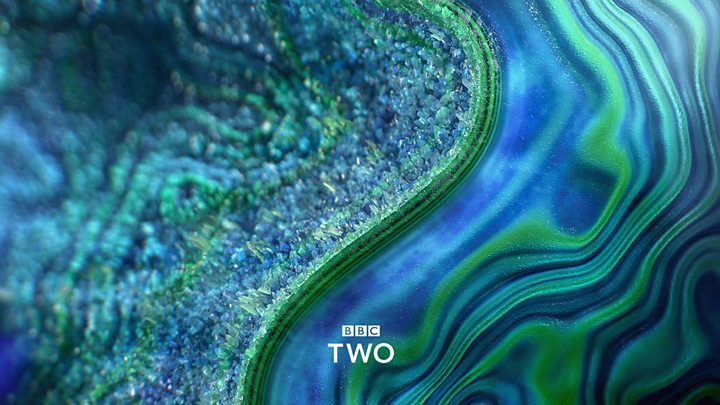 You may have noticed that BBC Two has had a makeover, the first rebrand in 20 years.
Gone are those playful little Twos that used to move hurriedly around the screen between programmes.
Instead there are colourful curves and swirls, which look a bit like twos - but aren't.
The new look is intended to reinvigorate the channel, and comes amid growing pressure from on-demand services like Netflix and Amazon.
The rebrand, launched on Thursday, features sixteen new idents created by British and international animators.
And there's not a fluffy number in sight.
Idents are the bits of video that play a few seconds before a programme starts, telling the viewer which channel they are watching. They symbolise the look and identity of a channel.
BBC Two plans to add to these animations over time - they will include one by Aardman, the world-famous animation studio and creators of Wallace & Gromit.
Patrick Holland, controller of BBC Two, told BBC News: "BBC Two is a hugely loved channel and we think the new idents will be exciting for the audience that already watches BBC Two.
"But we also think they will engage new audiences and realise what exciting content we've got."
He said the BBC has been working to reinvigorate BBC Two to "make it the home of the most urgent documentaries, the most brilliantly crafted dramas, the most mischievous comedies, the most eye-opening history and science".
The new idents are a marked departure from the channel's previous on-screen identity, based around different versions of the number two, which it has used in various forms since 1991.
In its many different representations the number has been fluffy mint green, shrouded in silk, amidst a flock of swans and even a Venus Fly Trap.
BBC Two is now the third largest channel in the UK, after BBC One and ITV.
But its arrival in the broadcasting world, more than 54 years ago, was less than smooth - a power cut wiped out much of the first evening's schedule.
A kangaroo went beserk after getting stuck in the lift because of the power outage. The BBC had been running a publicity campaign featuring a young kangaroo emerging from its mother's pouch, and had transported a live kangaroo to BBC Television Centre for the launch.
The blackout meant the first programme to be broadcast on the channel in its entirety was Playschool, which went out the following day.
But the channel recovered from this shaky start and won critical and audience success with a wide range of programmes.
In 1967, with David Attenborough at the helm, BBC Two was the first channel in Europe to broadcast in colour.
Since then, it has forged a reputation for distinctive programming. Over the past year, its share of the audience under 45 has been growing.
But it still faces the challenge of retaining audiences and attracting new, younger, viewers in a digital age, where the likes of Netflix and Amazon are aggressive competitors.
Follow us on Facebook, on Twitter @BBCNewsEnts, or on Instagram at bbcnewsents. If you have a story suggestion email entertainment.news@bbc.co.uk.