Lindsay Lohan under fire for 'bizarre' Instagram video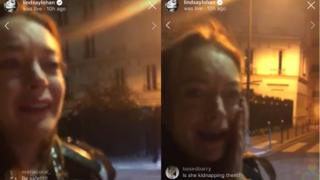 Lindsay Lohan has been criticised online after posting a video showing her attempting to separate two children from their parents.
The Instagram live video sees Ms Lohan approach an apparently homeless family who she identifies as "Syrian refugees" that she is "really worried about".
The actress initially offers to take the two young boys to a hotel to watch a film and suggests the children should not be "on the floor".
However, when the family refuse, the actress becomes increasingly hostile.
"You should be a hard-working woman and you should be doing what you can for your children, so they have a better life," she says to the mother.
After a few minutes, the family decide to pick up their belongings and move away from Ms Lohan.
You may also like:
Ms Lohan then follows them while accusing the parents of "child trafficking" and "ruining Arab culture".
Towards the end of the 10-minute video, the fraught interaction becomes physical as Ms Lohan is seemingly pushed to the floor by the mother.
The video, posted in the early hours of Saturday morning, sees Ms Lohan speaking a mixture of English, Russian and Arabic.
It is not clear where the video was filmed, but Ms Lohan has recently tagged her social media posts to Moscow and Paris.
Many responded angrily to the post and accused the actress of trying to "kidnap" the young boys, while others described the video as "shocking", "disgusting" and "uncomfortable to watch".
Others suggested that Ms Lohan's actions represented "white saviorism".
Much of the reaction to the video has been bewilderment.
The BBC has contacted Ms Lohan's management for comment.
---
By George Pierpoint, UGC and Social News