Geoff Emerick, Beatles sound engineer, dies at 72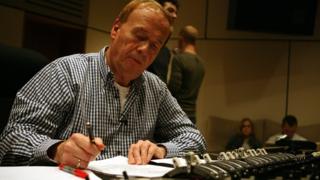 Geoff Emerick, the sound engineer who helped create the sound of the Beatles, has died after a heart attack, aged 72.
A Grammy award-winner, he worked on some of the Beatles' most influential and experimental records, including Sgt Pepper, Revolver and Abbey Road.
He also worked with Kate Bush, Elvis Costello and Ultravox.
Giles Martin, son of Beatles producer George, described him as "one of finest and most innovative engineers to have graced a recording studio".
"We have all been touched by the sounds he helped create on the greatest music ever recorded," he added.
Sir Paul McCartney wrote an affectionate tribute, saying he would "always remember him with great fondness".
Sir Paul wrote: "He had a sense of humour that fitted well with our attitude to work in the studio and was always open to the many new ideas that we threw at him.
"He grew to understand what we liked to hear and developed all sorts of techniques to achieve this. He would use a special microphone for the bass drum and played it strategically to achieve the sound that we asked him for.
"We spent many exciting hours in the studio and he never failed to come up with the goods."
Born in 1945, Emerick began working at the EMI Studios - later known as Abbey Road - when he was 15 years old.
Within days he was in the studio with the Beatles, working as an apprentice on early recordings such as Love Me Do, She Loves You and A Hard Day's Night.
He was promoted to engineer on the first session for the band's album Revolver, where John Lennon tasked him with making his voice sound like "the Dalai Lama singing on a mountain" for the experimental sound collage Tomorrow Never Knows.
It was also Emerick who "saved" Strawberry Fields Forever, by splicing together two separate takes of the song and working out how to combine them, despite the fact they had been recorded in different keys and tempo.
He won the first of his four Grammys for his work on Sgt. Pepper's Lonely Hearts Club Band, on which he helped achieve the monumental echo that sustains the closing chord of A Day in the Life.
Speaking to Variety in July 2017, Emerick said the song was the highlight of his time with the Beatles. "The night we put the orchestra on it, the whole world went from black and white to colour," he said.
Yet he famously resigned during the White Album sessions, claiming he could not handle the tensions between the band members.
"I was becoming physically sick just thinking of going to the studio each night," he told Music Radar in 2014.
"I used to love working with the band. By that point, I dreaded it. Getting out was the only thing I could do."
He later rejoined the Beatles for the single The Ballad of John and Yoko and stayed with them until their final, even more fractious recordings.
Over the years he pushed studio technology to its limits, inventing new techniques for manipulating and layering sounds with the limited technology available in the 1960s.
But his experiments did not always meet with approval. One trick, of positioning microphones right next to the drums to capture the energy and immediacy of Ringo Starr's playing, got him into trouble with the top brass at Abbey Road.
"I had a letter sent that I was damaging microphones because the air pressure from the bass drum was destroying the capsules of the microphone," he told US radio station NPR in 1987.
"But I was given special permission to use the technique on the Beatles."
After the Fab Four broke up, Emerick continued to work regularly with Paul McCartney and Wings and imparted his knowledge to studio engineers around the world.
"We received very sad news today," Wings' Denny Laine wrote on Facebook. "Old friend, Geoff Emerick, passed away.
"Geoff was a brilliant engineer and a fine man. He was enjoying his work and masterclasses around the country, connecting with the fans."
Midge Ure, who worked with Emerick on Ultravox's Quartet album, called him "a lovely, quiet, unassuming man who helped change the way music was produced".
Isabel Garvey, head of Abbey Road, also paid tribute, saying: "Geoff Emerick was a true pioneer of the recording industry, playing a huge part not only in Abbey Road Studios' own history, but in music history itself.
"His contribution to some of the world's greatest musical recordings and his impact on popular music and audio technology is immeasurable."
Follow us on Facebook, on Twitter @BBCNewsEnts, or on Instagram at bbcnewsents. If you have a story suggestion email entertainment.news@bbc.co.uk.