Doctor Who: Jodie Whittaker a hit with fans after first episode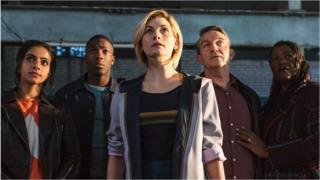 The 13th Doctor has landed. Or, rather, crash-landed through a train roof, fully introducing Jodie Whittaker as the first female Time Lord.
Whittaker's first episode as the Doctor drew the programme's biggest series launch viewing figures in 10 years.
The show saw an average of 8.2 million viewers in its new Sunday teatime slot.
After her first episode, many fans took to social media to give Whittaker's portrayal of the Doctor their approval.
Whittaker's first outing as Doctor Who, which has moved from a Saturday night slot, saw more people tuning in than for the debuts of her predecessors Peter Capaldi and Matt Smith.
This makes the broadcast the most-watched, according to overnight ratings, since David Tennant's 2008 series opener - which garnered an audience of 8.4 million.
View from the BBC'S entertainment correspondent, Lizo Mzimba:
The first episode featuring a female Doctor was always going to draw a big audience. But last night's figure of 8.2 million has exceeded many people's expectations - the biggest Doctor Who overnight figure in almost five years, and the biggest overnight audience for a Doctor Who series launch in 10 years (the first episode of David Tennant's final series got slightly more with 8.4 million).
It's significant not just because, obviously, large numbers of people chose to tune in, but because it underlines with hard stats the overwhelmingly positive social media reaction in declaring the new Doctor Who with Jodie Whittaker as being a huge success. And in an era where catch-up viewing for a show like Doctor Who typically adds millions to an overnight figure, BBC One will be thrilled with how the first episode has performed.
Still, the true test will be what happens over the remainder of the series. A (not too big) fall in the figures will still count as big success, as inevitably some will have only viewed out of curiosity over the show's new era. And it's possible, if perhaps unlikely, that it could even perform like BBC drama Bodyguard which started off well and massively increased its overnight viewers as the series progressed.
Viewers were quick to take to social media to give their feedback on the show's first female Doctor.
Comments ranged from "A breath of fresh air" to "This is everything the show was ever meant to be" and "Jodie has nailed it at the first attempt".
Whittaker's Doctor was first seen hurtling out of the burning Tardis in the Christmas special, and she finally landed at the start of Sunday's series opener.
She fell to Earth in the middle of an alien invasion in Sheffield, and picked up three new companions - played by Tosin Cole, Mandip Gill and Bradley Walsh - along the way.
The West Yorkshire-born former Broadchurch actress was wearing Capaldi's outfit for most of the episode, and addressed her status as the first female Doctor early on.
When someone told her she was a woman, she replied: "Am I? Does it suit me? Oh yeah, I remember. Half an hour ago I was a white-haired Scotsman."
There was also a thinly-veiled message to any sceptical fans when her character said at one point: "Don't be scared. All this is new to you and new can be scary."
A few viewers were not totally convinced by her performance.
A trailer for next week's episode has also been released, taking the action from Sheffield to an alien planet.
After the first episode, it was also announced that this series will feature guest performances from Alan Cumming, Chris Noth, Mark Addy, Julie Hesmondhalgh and Lee Mack.
Follow us on Facebook, on Twitter @BBCNewsEnts, or on Instagram at bbcnewsents. If you have a story suggestion email entertainment.news@bbc.co.uk.