Taylor Swift breaks all-time American Music Awards record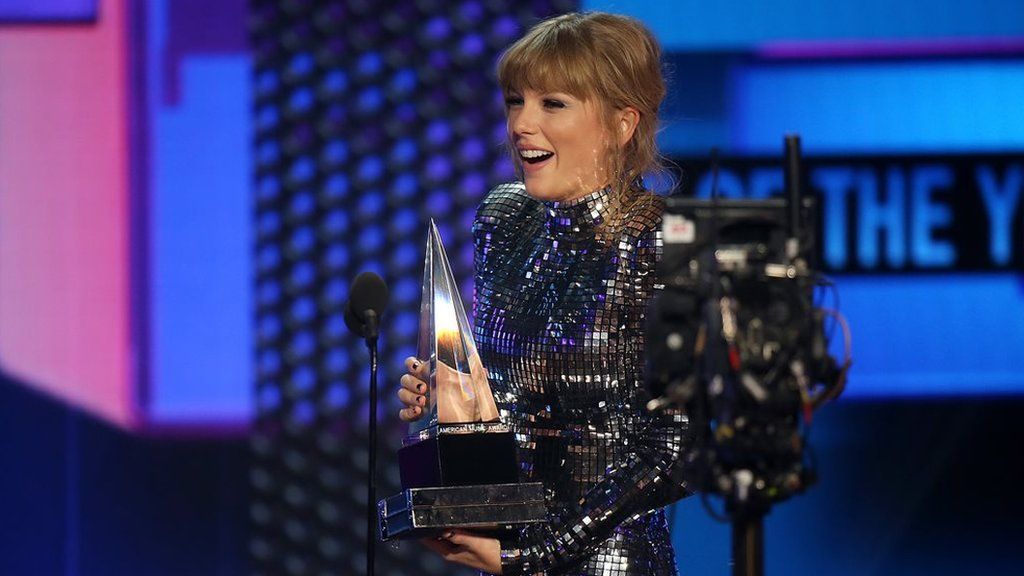 Taylor Swift not only opened the American Music Awards with a fiery performance of I Did Something Bad, but she went on to dominate the show.
The star won four trophies, including artist of the year, making her the ceremony's most-decorated female ever.
She now holds 23 AMAs, beating a record previously held by Whitney Houston.
Accepting artist of the year, she said: "This award, and every single award given out tonight, were voted on by the people.
"And you know what else is voted on by the people? The midterm elections on November 6. Get out and vote. I love you guys."
Swift's touring partner Camila Cabello also won four awards at the ceremony; while British singers Ella Mai and Dua Lipa gave show-stopping performances.
Here are some of the best bits.
Cardi B performed I Like It... on a bicycle
Resembling nothing less than an explosion in a branch of Claire's Accessories; Cardi B's vibrant, multicoloured performance was stunning even before she wheeled Bad Bunny on stage in a shopping trolley.
She went on to flex her leg over her head and ride a bicycle across the stage (sadly not at the same time) - leaving SNL star Taran Killam somewhat lost for words.
Taylor Swift and Camilla Cabello were relationship goals
They multiple award winners, but touring partners and BFFs Taylor Swift and Camila Cabello seemed to be more excited to spend a night in each other's company.
Who says women in music have to be at each other's throats all the time?
Meanwhile, Swift hinted she'd started work on the follow-up to Reputation.
"I always look at albums as chapters in my life," she said on stage.
"To the fans, I'm so happy that you like this one - but I have to be really honest with you about something: I'm even more excited about the next chapter."
Dua Lipa jumped off the stairs
Setting out her stall for next year's Grammy Awards, Dua Lipa performed two massive house hits - One Kiss and Electricity - while being doused in UV fluorescent paint by a troupe of dancers.
The stage recreated the warehouse setting of her Electricity video - itself a callback to Janet Jackson's Pleasure Principle - while Dua prompted gasps from the audience by falling backwards from a 10-foot-high metal staircase.
Luckily, there were some dancers ready to catch her.
XXXTentacion's mother accepted a posthumous award
Rapper XXXTentacion, who was shot dead in June, was a pothumous winner in the best soul and R&B album category.
His mother, Cleopatra Bernard, choked back tears as she accepted the award on his behalf.
"I'm so nervous, you guys," she admitted as she reached the stage.
"I am honoured to accept this award on behalf of my son. I would like to thank the AMAs, his fans, and to everyone who made this possible. Thank you guys so much, I appreciate it."
The R&B star has scored a viral hit with her new single - and she effortlessly kept up with the song's frenetic pace with a pin-sharp, Rhythm-Nation-style performance.
Backed by an army of dancers, it gave the show's third hour a much-needed injection of energy; ramping up even further when Missy Elliot crashed the stage to deliver her verse from the song's remix.
Ciara then segued into another hit single, Dose, managing to incorporate a segment of BlocBoy JB's "shoot" dance as she was surrounded by a marching band.
"Now that's how you do it," said host Tracee Ellis Ross, as the singer received a standing ovation from Khalid, Camila Cabello, and Cardi B.
Twenty One Pilots got heavy
With their third album poised to enter the charts at number one this week, Twenty One Pilots didn't pull any punches with their performance of Jumpsuit.
Singer Tyler Joseph remained uncharacteristically still for the song's opening minute before throwing himself around the stage as the crunching bass riff kicked in.
By the climax, the stage was ablaze, with a car behind the band bursting into flames.
In a night crammed full of pop, it provided a rare opportunity for the moshpit to kick into action.
An Aretha Franklin tribute closed the show
Aretha Franklin was a regular guest at the AMAs, as a host, performer, and winner - so it seemed fitting that the ceremony would close with a tribute to the star.
Eschewing hits like Respect and Dr Feelgood, the performance focused on her gospel roots and her favourite hymns, including several from her best-selling 1972 live album, Amazing Grace.
Gladys Knight opened the segment with a heartfelt rendition of Amazing Grace, before being joined by Mary Mary, Ce Ce Winans, Ledisi and Donnie McClurkins for a medley that included How I Got Over, Mary Don't You Weep and Climb Higher Mountains," which was used as the recessional song at Franklin's funeral.
During the performance, the cameras panned around to the audience, where Franklin's granddaughter Victoria was watching in tears.
ARTIST OF THE YEAR - Taylor Swift
BEST NEW ARTIST - Camila Cabello
COLLABORATION OF THE YEAR - Camila Cabello ft. Young Thug: Havana
TOUR OF THE YEAR - Taylor Swift: Reputation World Tour
VIDEO OF THE YEAR - Camila Cabello ft. Young Thug: Havana
FAVOURITE SOCIAL ARTIST - BTS
FAVOURITE MALE ARTIST (POP/ROCK) - Post Malone
FAVOURITE FEMALE ARTIST (POP/ROCK) - Taylor Swift
FAVOURITE DUO OR GROUP (POP/ROCK) - Migos
FAVOURITE ALBUM (POP/ROCK) - Taylor Swift: Reputation
FAVOURITE SONG­ (POP/ROCK) - Camila Cabello ft. Young Thug: Havana
FAVOURITE MALE ARTIST (COUNTRY) - Kane Brown
FAVOURITE FEMALE ARTIST (COUNTRY) - Carrie Underwood
FAVOURITE DUO or GROUP (COUNTRY) - Florida Georgia Line
FAVOURITE ALBUM (COUNTRY) - Kane Brown: Kane Brown
FAVOURITE SONG (COUNTRY) - Kane Brown: Heaven
FAVOURITE ARTIST (RAP/HIP­HOP) - Cardi B
FAVOURITE ALBUM (RAP/HIP­HOP) - Post Malone: Beerbongs & Bentleys
FAVOURITE SONG (RAP/HIP­HOP) - Cardi B: Bodak Yellow (Money Moves)
FAVOURITE MALE ARTIST (SOUL/R&B) - Khalid
FAVOURITE FEMALE ARTIST (SOUL/R&B) - Rihanna
FAVOURITE ALBUM (SOUL/R&B) - XXXTentacion: 17
FAVOURITE SONG (SOUL/R&B) - Bruno Mars & Cardi B: Finesse
FAVOURITE ARTIST (ALTERNATIVE ROCK) - Panic! At The Disco
FAVOURITE ARTIST (ADULT CONTEMPORARY) - Shawn Mendes
FAVOURITE ARTIST (LATIN) - Daddy Yankee
FAVOURITE ARTIST (CONTEMPORARY INSPIRATIONAL) - Lauren Daigle
FAVOURITE ARTIST (DANCE) - Marshmello
FAVOURITE SOUNDTRACK - Black Panther: The Album