Sir Quentin Blake brings science pioneers to life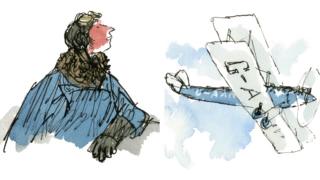 Illustrator Sir Quentin Blake has brought his own unique style to pictures of some of the world's most celebrated scientists.
Sir Quentin, known for humorous work in children's books, has made a set of five works depicting 20 women and men.
Pilot Amy Johnson is there, as is spinning machine creator Sir Richard Arkwright.
The pictures were the idea of the Science Museum and will hang outside its Wonderlab: The Equinor Gallery.
Sir Quentin said he found the project an interesting change from illustrating imaginary people and situations.
"Making drawings of real people from reference is rather different from depicting the characters in a story," he told BBC News.
"You are given visual information where you would normally expect to be interpreting someone's words."
"I think the advantage of these drawings is that they do in some sense make the scientists more informal and accessible to the newcomer," he went on.
Johnson, who flew the first solo flight from Britain to Australia in her de Havilland Gipsy Moth in 1930, is one of the female pioneers given the Blake touch.
Another is Ada Lovelace, daughter of "bad boy" Romantic poet Lord Byron, who was known as "the enchantress of numbers".
Considered the first computer programmer, she came up with a new explanation of Charles Babbage's "analytical engine" - a forerunner to the modern computer - in the early 1840s.
"It was interesting to have such a varied dramatis personae," said Sir Quentin. "I could not help being fascinated by Ada Lovelace both by her incredible skills and the striking behaviour one might expect from a daughter of Lord Byron.
"It was also very satisfactory that there was such a variety of women scientists holding their proper place in this company."
Among the other male scientists and technicians in the pictures is Jagadis Chandra Bose, who found a new way to detect radio waves in the late 1890s.
Sir Quentin was particularly happy to draw James Lovelock, creator of the Gaia hypothesis, which is now accepted as the founding principle of most climate science.
"I very much admired James Lovelock as someone who obviously had a very vivid and live sense of the environment and its importance," said Sir Quentin.
All the subjects of Sir Quentin's pictures are featured within the London attraction's collection and those of other science museums in Britain.
Blake, 85, started drawing from an early age. His first illustrations were published in Punch when he was 16 years old and still at school.
He started creating for children's books in 1960 and is best known for his collaborations with writer Roald Dahl.
The artist recently released a series of drawings re-imagining his beloved character Matilda as an adult, 30 years on from the publication of Dahl's original book.
What is Roald Dahl's Matilda doing now?
Sir Quentin has also created work to bring cheer to the patients and staff at some of the UK's hospitals, including Addenbroke's Hospital in Cambridge and Stoke Mandeville Hospital in Aylesbury.
His new works will be on display at London's Science Museum from 19 October.
Follow us on Facebook, on Twitter @BBCNewsEnts, or on Instagram at bbcnewsents. If you have a story suggestion email entertainment.news@bbc.co.uk.