Comic Con: Cosplayers explain how they support their art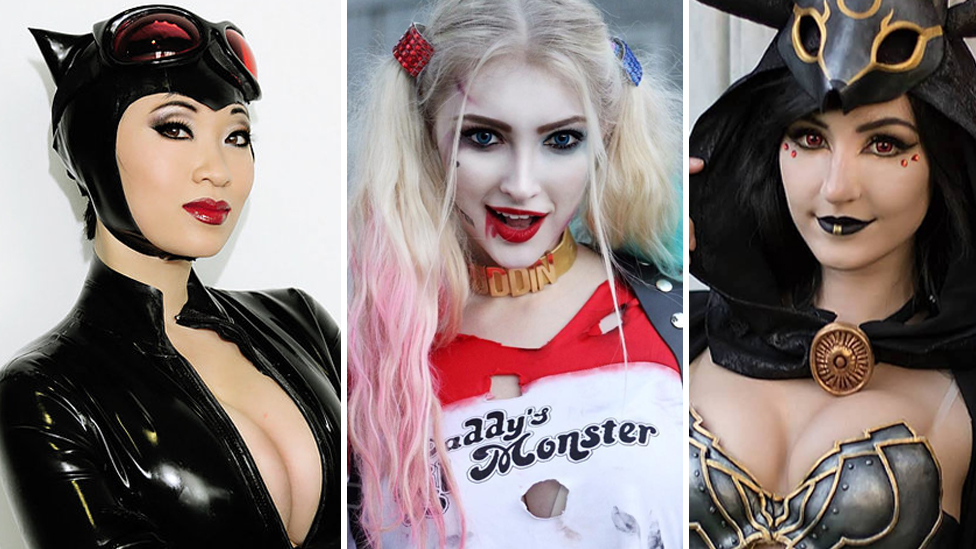 This weekend, the Excel Centre in London will be packed with superheroes, Disney princesses and anime heroes for the latest MCM London Comic Con.
The event has grown significantly, with an estimated 133,000 attendees at the three-day version in October 2016, compared with a more modest 47,000 attendees only six years earlier.
For those not in the know, cosplay (a portmanteau of "costume" and "play") can be broadly summarised as the act of wearing a costume to represent a character.
The key thing that differentiates cosplay to simply dressing up is the time invested into the hobby - cosplayers can spend hundreds of hours creating costumes, and similar amounts of time wearing them at conventions.
As cosplay has grown in popularity, so have the chances for participants.
We spoke to a variety of people in the community to understand how they found opportunities, and in particular, how they can support themselves through cosplay.
Yaya Han explains fabric lines and accessories
She has found her niche within the community, but only through trial and error.
"It's still brand new to all of us," she says.
"I have a line of cosplay accessories that I designed back in the early 2000s. I have been selling online as well as at conventions as a vendor or exhibitor.
"People saw me at conventions for years, and this was how I built my name and brand recognition.
"I did all of this without knowing what I was doing. I just wanted to live at cons [conventions].
"Now it's a small business, there are just under 10 people on my payroll.
"I had to go through the process of learning how to run a business. To pay people fairly, to pay taxes, to do all these very boring business things."
On top of her cosplay and accessories business, Yaya has become known for one particular thing - fabrics.
"I have a fabric line," she explains. "It's in the biggest craft store chain in the United States.
"It's really neat to go into a store and see signs with my name on it, and to know I represent our community.
"I had to educate the fabric company on what type of fabrics cosplayers need - unique finishes, very specific patterns, and fabrics that are very durable but still breathable."
Yaya explained to the fabric companies exactly what cosplayers needed.
"It makes me very happy to know that people are liking what I've designed," she said. "As a cosplayer who has grown up in this community, it's the best way I can give back.
Regan & Kelly explain guides, tutorials and charity
If you have any doubts about the quality of Yaya's fabrics, Regan Cerato and Kelly Kullman will set you straight.
"Yaya is awesome," Regan says. "A lot of cosplayers looked up to her back when there were very few resources available.
"I admire her a lot as a businesswoman in this community."
The pair have found success on Patreon - a website where people can pay monthly fees to support creators.
They currently receive $814 (£636) in donations, which the pair say goes directly to charity.
"It's been really nice," says Kelly. "We can ask our patrons where they're from and put it towards small animal charities near them.
"The nice thing about Patreon that sets it apart, is it's one of the few social media where people can dictate what they see.
"It's better for communicating with your audience."
"For us it wasn't a calculated effort to grow," she says. "It was a natural progression of doing what you love and being enthusiastic about it.
"That resonates with people - we're just lucky there's an audience for what we wanted to do."
Anna Faith explains Patreon
Anna Faith has 1,569 Patreon donators.
Each person donates between $1 and $60 per month, in exchange for various rewards including videos and photo prints.
But she warns it is more work than people think.
"It's very time consuming," she says. "Especially each month when it's time for the prints to go out.
"You have to confirm the address for every person, order supplies, personally sign all the prints and much more.
"Fortunately, I have help from my sister, Lexie, and my family."
But she has a word of warning for anyone looking to do the same thing.
"Just understand that people will always ask for more," she says. "It can be overwhelming at times.
"It can be stressful, but I wouldn't change what I do for a living."
Luxlo explains smart social media
Luxlo is also popular on Patreon.
She puts her success down to the different rewards available to donators, and the work she does promoting herself on social media.
"I offer different things," she said. "Signed prints and cute pins of my cosplays, exclusive content and group chats.
"I just mention my Patreon every couple of posts on social media, so people know what I offer."
"Once a day is a good amount," she says. "Pay attention to what time of day your followers seem most active.
"Try not to compare yourself to others. Make friends in the community and support each other.
"The reality for most doing cosplay is that it is a supplementary income, not a full-time job."
Chaozrael explains commissions
Chaozrael earns money through commissions, but warns it can be inconsistent.
"For all self-employed artists, it really depends," she says. "If I sell a few small commissions, it's enough.
"One month, I just sold nothing. The next month I was commissioned to make a full set of armour and more - I made almost €3,000 (£2,660).
"It has a lot to do with savings and managing your money."
Chaozrael says the best advice she can give to people is to start with something they love.
"I started in the Transformers fandom," she said. "There are fewer cosplayers there compared to big fandoms like Disney.
"If you get popular within that niche you can develop faster.
By Tom Gerken, BBC UGC & Social News