Kanye West designs anti-Democrat 'Blexit' merchandise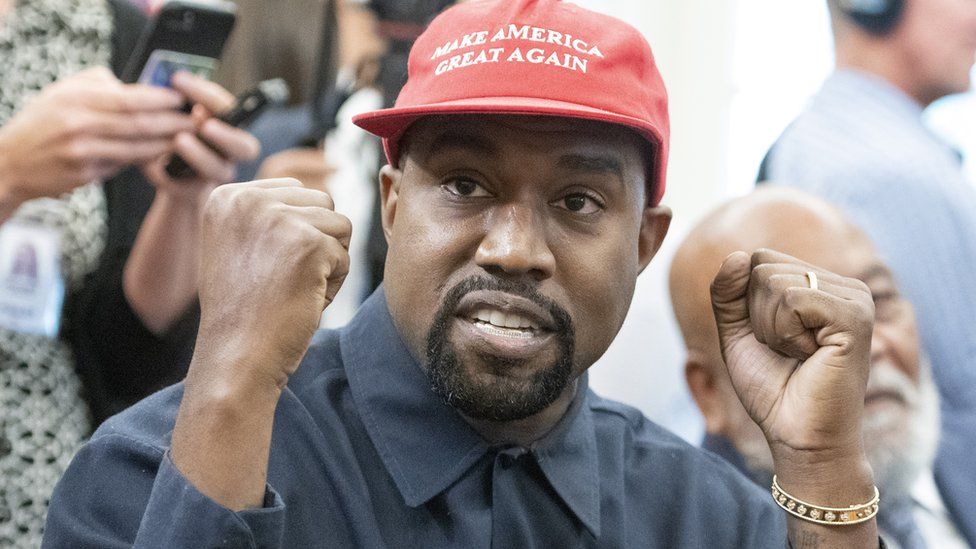 Kanye West has designed merchandise for Blexit - a campaign to encourage black Americans to quit the Democratic Party.
The movement, led by conservative commentator and social media star Candace Owens, launched at the weekend.
Owens said the rap star designed the logo - with human figures forming letters to spell the word Blexit - which appears on shirts and hats.
She said the pair's recent trip to Uganda "motivated Kanye and inspired what came to be the Blexit design".
Owens flew with West and wife Kim Kardashian West to Uganda. Owens wrote on Breitbart: "It's hard to put into words what that level of innovative energy felt like.
"We were overwhelmed with inspiration as soon as we landed in Uganda. There was a real rooted tribal vibe and hora around us.
"That feeling of going back to our homeland, being in Africa - the feeling of family and togetherness that we as a people have moved away from - motivated Kanye and inspired what came to be the Blexit design."
The rapper created two different designs for the Blexit campaign - one spells out the name of the movement and the other has the slogan "We free".
The former GQ Most Stylish Man winner and owner of the Yeezy clothing label has high fashion credentials, with his Adidas collaborations often an instant sell-out.
His Blexit designs were revealed at the Young Black Leadership Summit in Washington DC, ahead of the US mid-term elections on 6 November.
The event was organised by conservative group Turning Point USA, for whom Owens acts as director of communications.
She said Blexit was "for those who have taken an objective look at our decades-long allegiance to the left and asked ourselves, 'what do we have to show for it?'"
The name Blexit is adapted from Brexit, which refers to the UK's withdrawal from the European Union.